User Reviews
Review Summary
0.0 out of 5 stars (based on 0 reviews)
Recent Reviews
There are no reviews yet. Be the first one to write one.
Submit a Review
123Loadboard offers load board solutions for carriers, shippers, owner-operators and broker organisations of all sizes. They were founded in 2004 and have locations in Houston, Montreal and Toronto.
They provide a freight matching service that operates a web and mobile app marketplace with trucking tools to help find loads and increase their loaded miles. They provide freight matching services as well as credit, compliance issues, mileage and routing services through the system.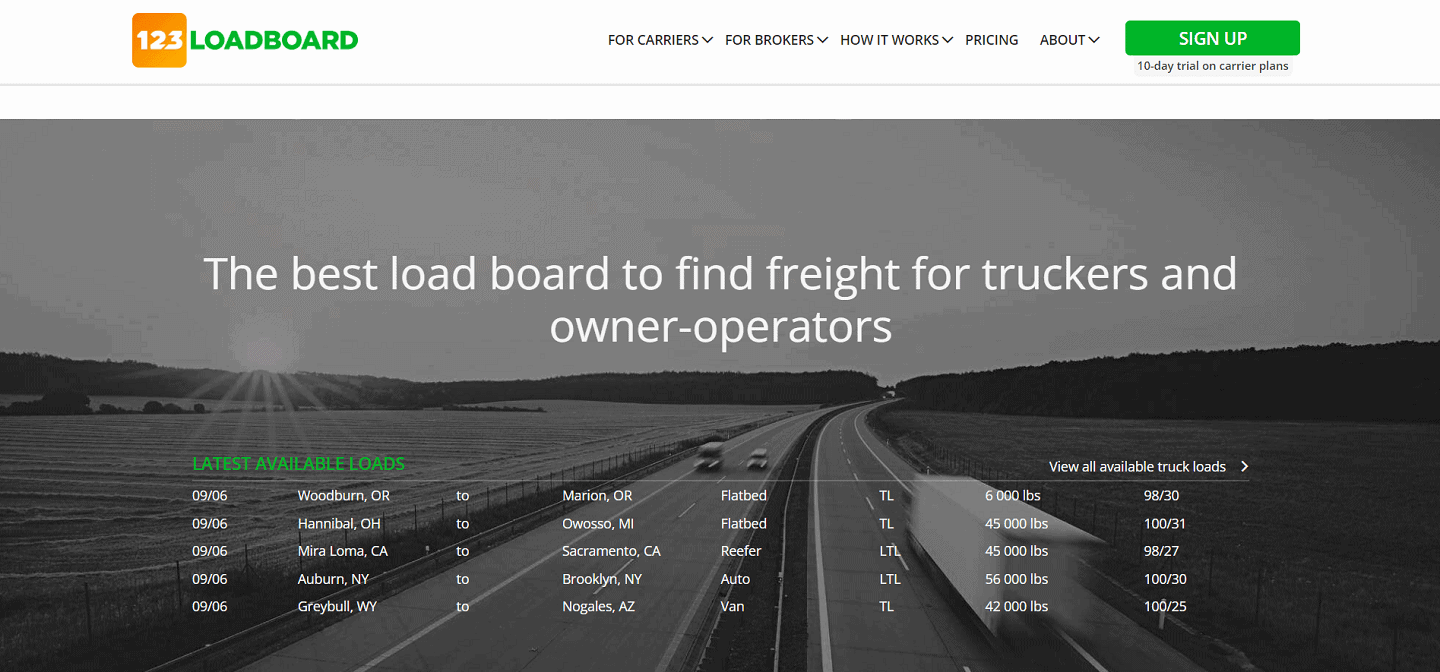 123Loadboard Services
Load boards
Factoring partner program
Load boards
123Loadboard offers load boards that allow you to find loads quickly and easily so that you can earn more by reducing your empty miles. They provide a mobile app so that you can access the load boards from anywhere, find loads near your location based on city, zip or GPS, and get alerts about loads. You can get a demo of their load boards by downloading their mobile app.
123Loadboard's load boards have a range of tools to support you in getting the best loads which include being able to find the highest paying available loads, map the best routes and negotiate the best rates through their Rate Check tool.
They offer a choice of plans for carriers and brokers that allow you to select a package that meets your needs and budget. All carrier plans also offer a 10-day free trial.
123Loadboard Reviews and Ratings
There are a considerable number of reviews for 123Loadboard on two of the review sites as detailed below. Trustpilot has the most reviews with 943 and Capterra only two reviews, both of which have highly positive reviews and scores. Trustpilot reviews have 69% 5 star reviews, 20% 4 stars and only 11% 3 star or less scores.
Positive comments include it enables me to check rates are competitive, the ability to receive inquiries or bids, unlimited searches and posts, a range of good tools, good market rate feature for bidding, a user-friendly interface, good support in explaining the system by customer reps, easy to set up, and good customer service.
Negative comments include slightly fewer loads than other platforms, poor coverage in Canada, odd account issues, a case of being unable to close an account, issues setting selected alerts, duplicate loads and low rates.
Trustpilot – 4.8/5 (based on 943 reviews)
Capterra – no reviews
G2 – 4/5 (based on 2 reviews)
Featured Customers – no reviews
Facebook – no reviews
Pros
Offers plans that cater for carriers and brokers
Offers a free 10-day trial
Positive customer reviews especially for customer service
Cons
Only offers load boards
Good coverage for US only, poor for Canada
Website: https://www.123loadboard.com/
Disclaimer: Fleetlogging.com is a general business information website only. The material and information on this website should not be relied upon for making any business or legal decisions. We cannot recommend any company and/or product, nor assess your suitability for any product and/or company listed here.