User Reviews
Review Summary
0.0 out of 5 stars (based on 0 reviews)
Recent Reviews
There are no reviews yet. Be the first one to write one.
Submit a Review
Amazon Relay is a way for experienced and reliable carriers to get involved with the Amazon network and utilise their technology as well as be part of their safety-first culture. The Amazon Relay load board system has been designed to help transportation businesses build and grow.
They offer a load board for drivers and carriers that allows them to boost their growth by accessing thousands of additional loads. Their system provides users with hassle-free payments, rewards and discounts. Shippers can also access the platform to seek carriers for their loads.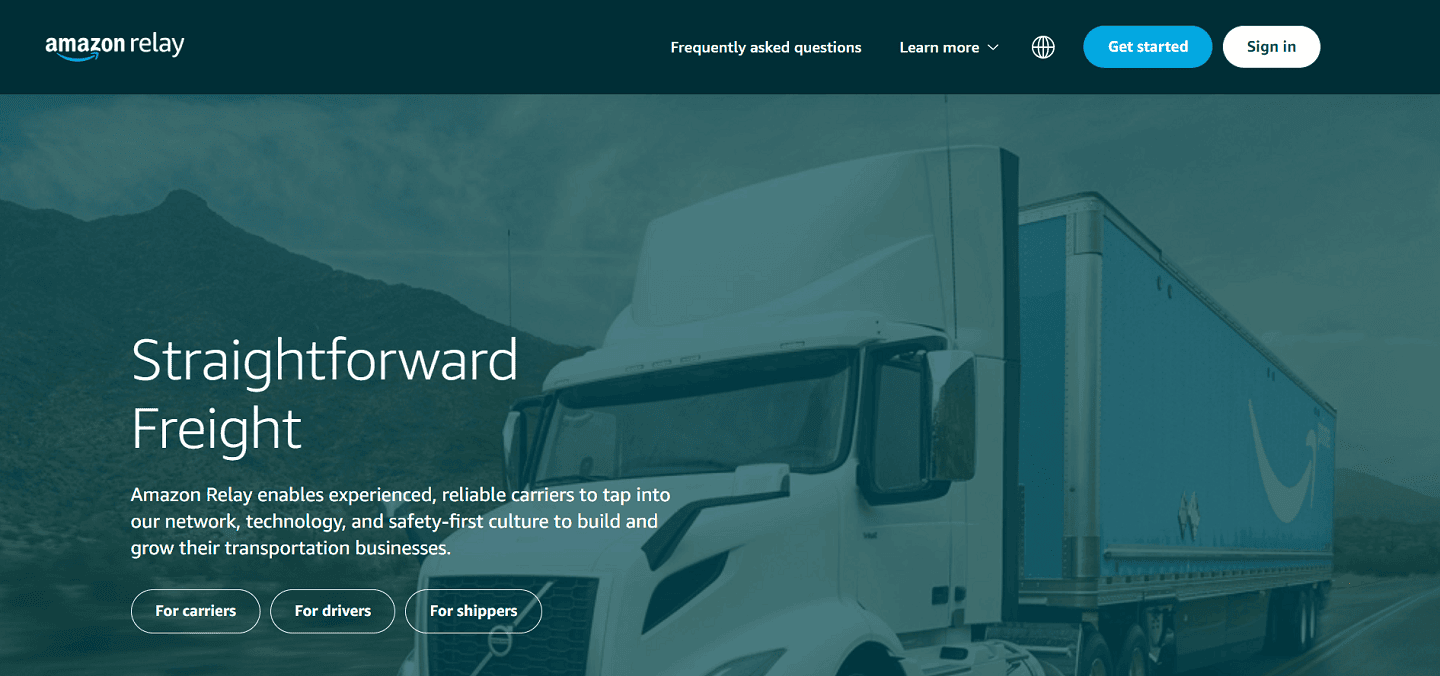 Amazon Relay Services
Load boards
Amazon Relay has designed its load boards to support drivers, carriers and shippers.
They offer carriers a way to grow their business by providing a selection of work which can include trailer-provided and box truck loads. They can offer short-term contracts that allow you to secure work with single or multiple week contracts for several weeks in advance. You can also bid on auctions with clear transparency on the timing and lowest bid. It also enables you to Post a Truck so that you can automatically book loads that can reduce your empty miles and any idle time. They offer rewards which include discounts on fuel, tyres, maintenance and more.
Drivers benefit from access to the highly rated Amazon Relay app which gives commercial navigation that takes into account vehicle restrictions and fast check-ins on sites. It allows drivers to see their assigned work and receive real-time alerts for any changes. They can also add stops for points of interest on their routes for things like fuel, food or parking.
Shippers can access a reliable network that offers flexible booking and 24/7 dedicated shipper support and network monitoring. They can cater for small family-owned businesses through to enterprise customers. Their system allows you to book, manage and track shipments as well as integrate with systems with EDI or API.
Amazon Relay Reviews and Ratings
There are surprisingly no reviews for Amazon Relay on any of the below listed review sites but as you can imagine there are a lot for Amazon as a wider business.
Despite this, there are quite a few articles and forums that discuss the value of being a carrier or driver for Amazon Relay. There tends to be a lot of negative discussion about the low rates and when the loads are available. However, there are some positive comments about the efficiency of the software for finding loads.
Trustpilot – no reviews
Capterra – no reviews
G2 – no reviews
Featured Customers – no reviews
Facebook – no reviews
Pros
Provides a large network of carriers and drivers
Offers a large number of loads
Allows you to book work for several weeks
Cons
Only offers load boards and no other fleet management tools
Lack of reviews about the system
A perception that load prices are low
Website: https://relay.amazon.com/
Disclaimer: Fleetlogging.com is a general business information website only. The material and information on this website should not be relied upon for making any business or legal decisions. We cannot recommend any company and/or product, nor assess your suitability for any product and/or company listed here.