User Reviews
Review Summary
0.0 out of 5 stars (based on 0 reviews)
Recent Reviews
There are no reviews yet. Be the first one to write one.
Submit a Review
ArcBest is an integrated logistics company that offers a range of shipping and logistics solutions. They were founded in 1923 as a freight haulier before growing into a global $5 billion logistics company. They provide an integrated approach to logistics with solutions regardless of the size of shipment, product type or speed of delivery.
They offer solutions for every supply chain which includes managing supply chain processes and custom logistics solutions in the US, Canada, Mexico, Puerto Rice and Dominican Republic. They offer a range of solutions for carriers who have different equipment types to find loads and driving opportunities.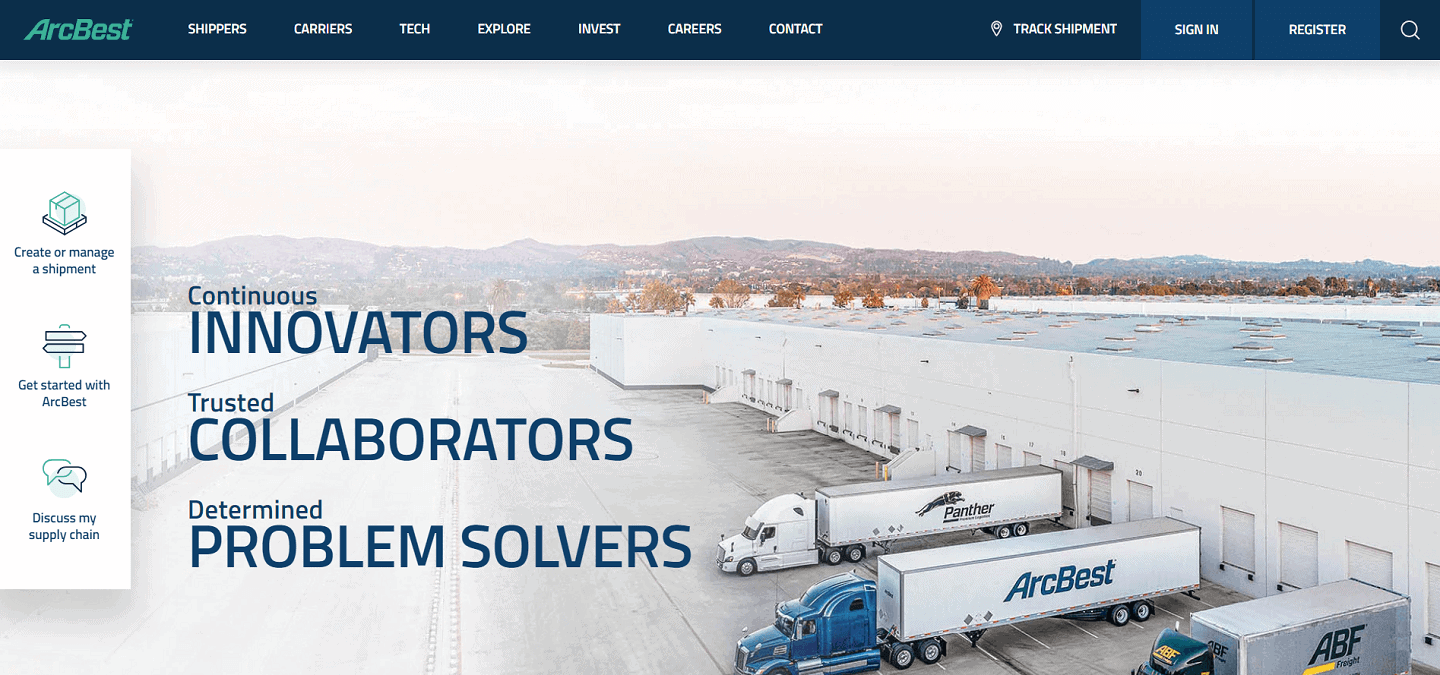 ArcBest Services
Load board
Managed logistics services
Load board
ArcBest provides opportunities to access over 5,000 unique shipments every day with a diverse range of freight with fast and easy payments. They offer consistent loads, preferred lanes, around-the-clock support and use innovative technology to make the process simpler.
They offer Panther for hauling premium freight by cargo van, straight truck or tractor-trailer which is suitable for owner-operators, solo drivers, team drivers and fleet owners. It provides consistent freight, weekly pay and a rewards program.
ABF Freight provides LTL solutions for class A CDL drivers that offer frequent home time and great benefits. ArcBest Truckload allows you to find opportunities to find the loads you want and operate more efficiently whilst earning more money. ArcBest Dedicated is a specialist service for power-only fleets with consistent lanes and regular schedules.
You can join ArcBest by submitting your details and paperwork so that you can access their load board. You can search the load board by date, location, equipment type and shipment type.
Managed logistics services
ArcBest offers a range of managed logistics services to help businesses thrive through reliable capacity, better visibility and dedicated support in improving your supply chain. This can include managing inbound and outbound freight through to coordinating complicated projects.
They provide managed transportation solutions which offer resources, technology and expertise to your operations to assist you in gaining efficiencies and reducing costs whilst maintaining as much or as little control as you want. They can also help optimise your supply chain to help you to move your freight faster and more efficiently through their network of carriers and technology platform.
ArcBest can also help with product launches with a dedicated project manager who will assist with creating load plans and coordinate deliveries that manage the rollout from start to finish. They also offer warehouse and distribution through their national network which enables you to manage your inventory, deliver seasonal projects and meet distribution demands.
ArcBest Reviews and Ratings
There are only a small number of customer reviews available for ArcBest on the leading customer review sites. The only reviews available are on Trustpilot where they have an average score of 1.9 based on 29 reviews which were split between 7% 5 star reviews and 93% 1 star reviews.
Positive comments include great drivers, fragile items delivered safely and good communication.
Negative comments include poor customer service, billing issues with additional charges and non-payment, slow delivery, lost shipment, bad driver experience, failure to deliver on time, poor communication, cancelling loads after arriving to collect them, and making petty deductions from carriers fees.
Trustpilot – 1.9/5 (based on 29 reviews)
Capterra – no reviews
G2 – no reviews
Featured Customers – no reviews
Facebook – no reviews
Pros
Offers a range of carrier options catering for different equipment
Provides a load board with a large number of daily loads
Vetted network of carriers
Cons
Only offers limited fleet products and services
Not clear whether there is a charge for the load board
Low number of customer reviews with poor feedback
Website: https://arcb.com/
Disclaimer: Fleetlogging.com is a general business information website only. The material and information on this website should not be relied upon for making any business or legal decisions. We cannot recommend any company and/or product, nor assess your suitability for any product and/or company listed here.