User Reviews
Review Summary
0.0 out of 5 stars (based on 0 reviews)
Recent Reviews
There are no reviews yet. Be the first one to write one.
Submit a Review
Arrive Logistics is a transportation and technology company providing solutions for shippers and haulers. They provide automated processes and digital tools that make it easier for shippers and carriers to do business. They have six locations in the US as well as a location in Canada and Mexico.
They offer a load board called ARRIVEnow which is a technology platform that includes a suite of digital tools to help streamline operations, improve productivity, visibility and reduce wasted miles. They also provide data analysis and insights on what is happening in the industry.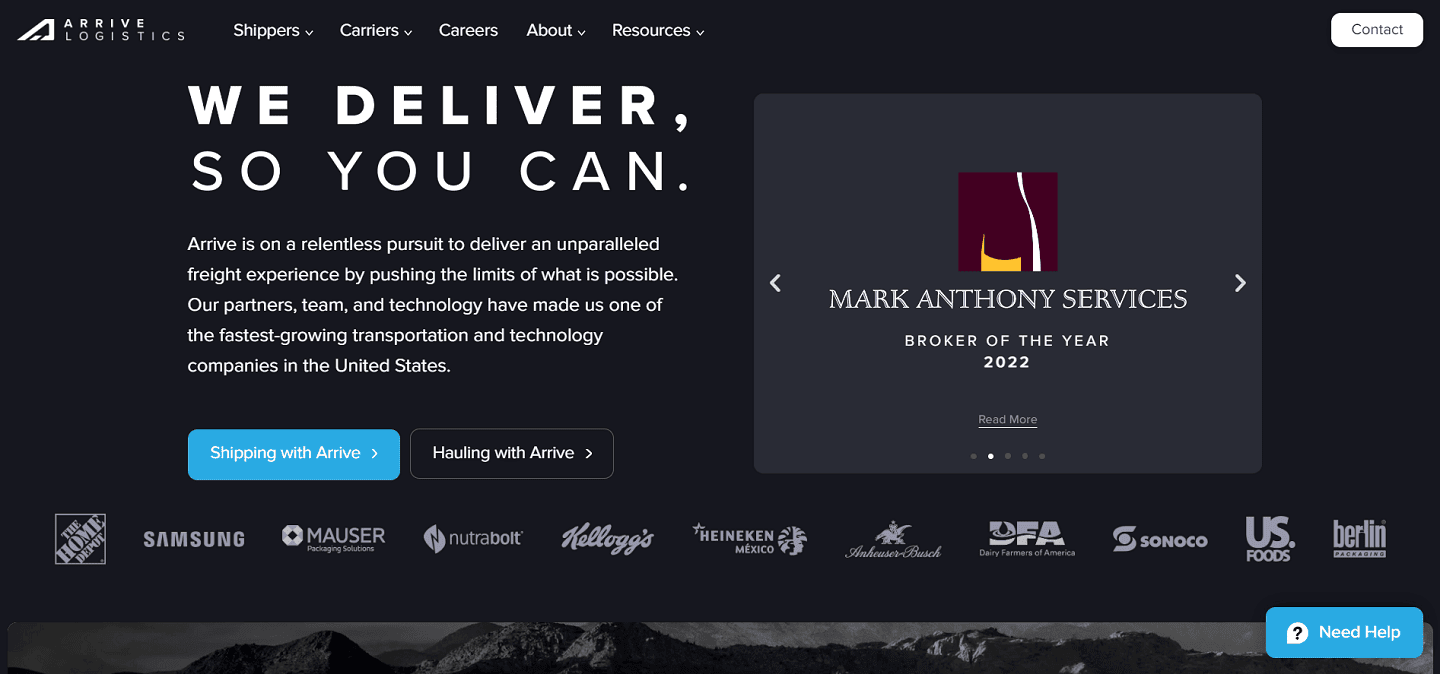 Arrive Logistics Services
Load board
Arrive Logistics offers a load board that helps shippers and haulers to streamline their supply chains or keep their wheels moving and fill their empty miles. Their load board is called ARRIVEnow which is an online booking and management portal that can help carriers to increase revenue and reduce waste. Carriers have a choice of sourcing loads directly through the load board or through one of their representatives.
To register with Arrive Logistics you need to have the following – MC, MX, DOT or state reg, Tax ID and W9, certificate of insurance with sufficient liability coverage, Active Common or Contract Authority, and a Safety Rating of at least satisfactory. They have over 2,000 loads available daily that can be searched and filtered easily, then you can bid on the ones that suit your business and negotiate on the price. You can ask questions to the Arrive Logistics team who are only a click away.
They offer multimodal solutions with proven carriers for shippers at compelling rates and enhanced efficiency. Their network includes over 70,000 carriers and over 6,000 shippers. They also provide shippers with around-the-clock support and real time market data.
Arrive logistics Reviews and Ratings
There are very few customer reviews available for Arrive Logistics on the leading customer review sites as listed below. There were only two reviews available and these were on Trustpilot and had a split response. The average score was 3.4 based on one 1 star review and one 5 star review.
Positive review comments included good dispatch and logistics team, great rates and no deadhead, ethical brokerage and great service.
Negative review comments included dishonest broker after completing a load successfully the load wasn't paid after a month because it was rejected without any notification.
Trustpilot – 3.4/5 (based on 2 reviews)
Capterra – no reviews
G2 – no reviews
Featured Customers – no reviews
Facebook – no reviews
Pros
Comprehensive load board
Large vetted network of carriers
Coverage of the US, Canada and Mexico
Cons
Doesn't offer other fleet services or tools
No details about fees or subscription
Low number of customer reviews with split feedback
Website: https://www.arrivelogistics.com/
Disclaimer: Fleetlogging.com is a general business information website only. The material and information on this website should not be relied upon for making any business or legal decisions. We cannot recommend any company and/or product, nor assess your suitability for any product and/or company listed here.