User Reviews
Review Summary
0.0 out of 5 stars (based on 0 reviews)
Recent Reviews
There are no reviews yet. Be the first one to write one.
Submit a Review
Bridgeway is one of America's largest speciality transportation providers. They have a network of over 100,000 freight professionals including agents, owner-operators and third-party carriers that they work with. They have a purpose-built platform that is designed to help support shippers to get the best transport solutions for their needs and assist their carrier network in accessing and managing loads.
They handle a range of freight options which includes handling the toughest transport challenges for critical industries. They offer a load board to carriers to help them increase their profitability and grow their business, and assist shippers in finding freight transportation solutions.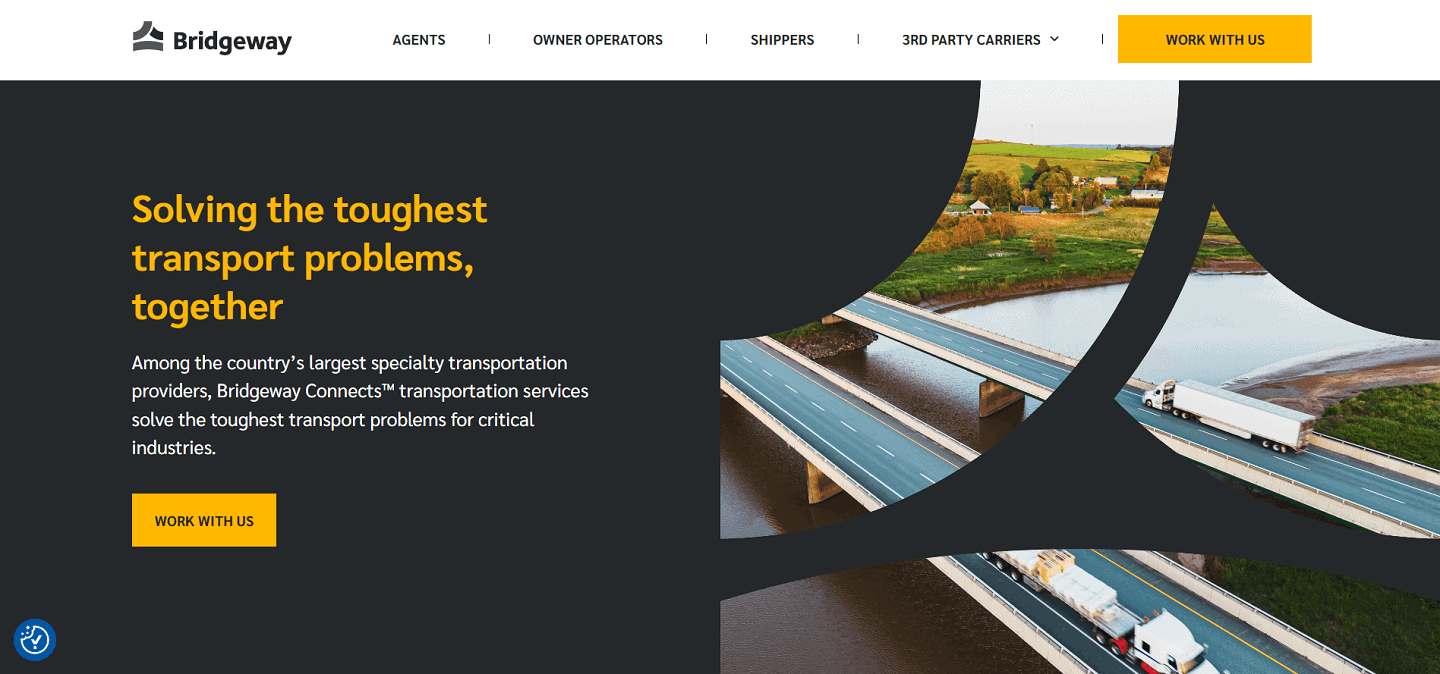 Bridgeway Services
Load board
Bridgeway offers a comprehensive load board that provides carriers with more opportunities which can assist with growing businesses in the volume of the loads they handle, the margin and profits they achieve. Bridgeway offers carriers competitive rates and savings on fuel and equipment.
They provide opportunities for owner-operators and third parties with a variety of freight types including drive-away, van, reefer, flatbed, step deck, heavy haul and specialised. Bridgeway provides experienced staff and personalised service to support carriers as well as resources to assist carriers. You will need to register with Bridgeway to become one of their third-party or owner-operator carriers.
They provide shippers with a vast network of over 100,000 freight professionals who provide reliable and safe freight transport services through the load board. Bridgeway provides shippers with efficient and effective freight delivery and can lower costs through automation.
Bridgeway Reviews and Ratings
There are very few customer reviews available for Bridgeway on the leading customer review sites as listed below. Facebook has the only reviews which has 13 reviews with an average score of 4.6. Several of the reviews are not relevant to Bridgeway as they reference investments and cryptocurrencies, plus some reviews have no comments. There were only a couple of relevant comments which were:
Positive comments include great people, good loads and great rates.
Negative comments include an issue over a payment dispute.
Trustpilot – no reviews
Capterra – no reviews
G2 – no reviews
Featured Customers – no reviews
Facebook – 4.6/5 (based on 13 reviews)
Pros
Comprehensive load board
Caters for specialist loads
Large vetted network of carriers
Cons
Only offers a load board, no other fleet management tools
Not clear if there are any charges for their load board
Very few relevant customer reviews
Website: https://bridgewayconnects.com/
Disclaimer: Fleetlogging.com is a general business information website only. The material and information on this website should not be relied upon for making any business or legal decisions. We cannot recommend any company and/or product, nor assess your suitability for any product and/or company listed here.