User Reviews
Review Summary
0.0 out of 5 stars (based on 0 reviews)
Recent Reviews
There are no reviews yet. Be the first one to write one.
Submit a Review
Brokered Loads is a load board provided by ATS Logistics and Sureway Transportation Company, which are wholly owned subsidiaries of Anderson Trucking Service. They offer a load board that allows you to access all types of freight and move the types of freight you prefer whilst working directly with whichever agent you like.
They assist carriers by helping them to find loads to move and getting them paid faster. They have partnered with Transflo to get paperwork processed quicker so that payment is made sooner.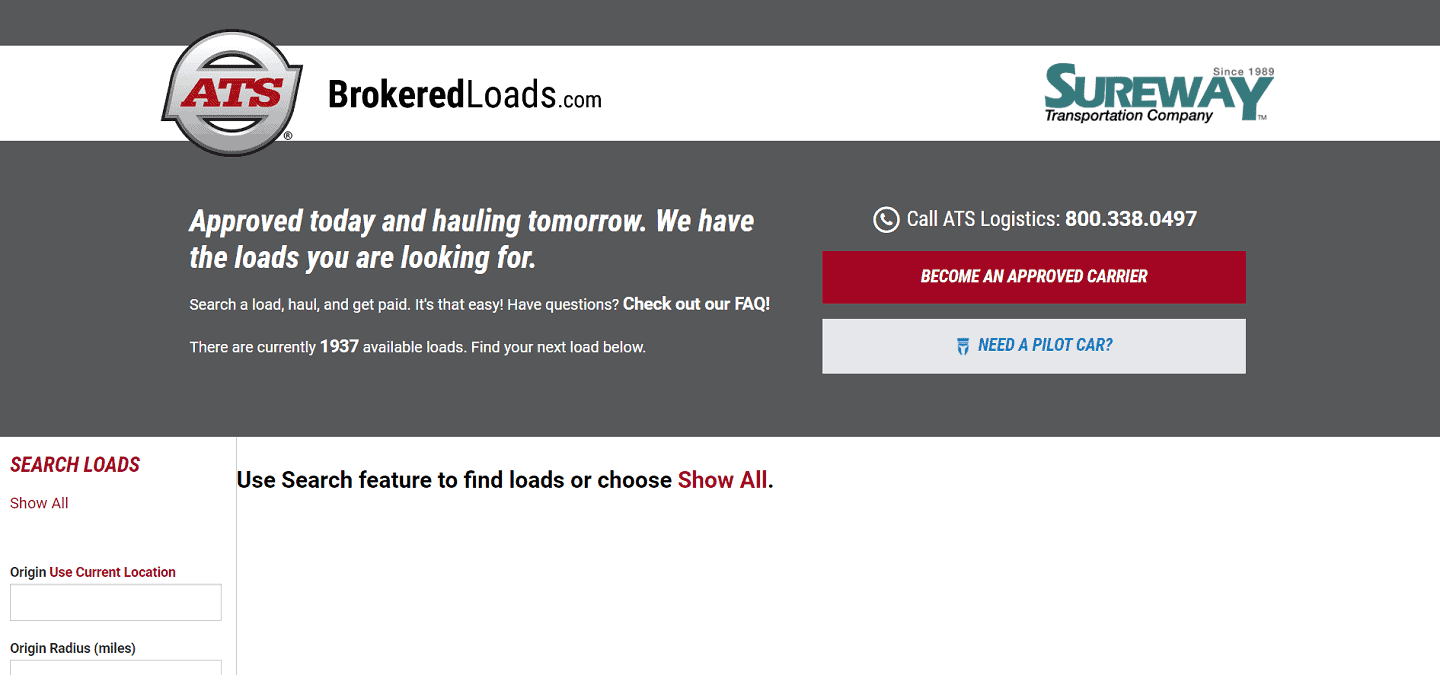 Brokered Loads Services
Load board
Brokered Loads offers a load board that is a real time load board that is not open to the public, you need to register and be approved before you get access to take loads. Once approved, you can search for loads and select appropriate loads through self-service booking.
The load board details the origin, destination, pickup date, mileage, equipment and load size. You can search the load board based on origin and destination within a certain radius, date, equipment and load size. They cater for loads including full and partial loads, flatbed, stepdeck, double drop or RGN, hotshot, van, power only and reefer.
Shippers can access a network of registered and approved carriers. Shippers can't post their loads, but they can send their loads to ATS Logistics to have them included on the load board. The load can be tracked in real-time and documentation will be available on their Customer Portal.
Brokered Loads Reviews and Ratings
There are no customer reviews for Brokered Loads or the parent company ATS Logistics on the leading customer review sites as listed below.
Trustpilot – no reviews
Capterra – no reviews
G2 – no reviews
Featured Customers – no reviews
Facebook – no reviews
Pros
Only provides registered and approved carriers
Covers a broad range of freight and truck types
Large numbers of loads available daily
Cons
Not clear whether a membership or subscription fee applies
Doesn't state what geographic areas they cover
No customer reviews
Website: https://brokeredloads.com/
Disclaimer: Fleetlogging.com is a general business information website only. The material and information on this website should not be relied upon for making any business or legal decisions. We cannot recommend any company and/or product, nor assess your suitability for any product and/or company listed here.