User Reviews
Review Summary
0.0 out of 5 stars (based on 0 reviews)
Recent Reviews
There are no reviews yet. Be the first one to write one.
Submit a Review
CentralDispatch is a vehicle shipper and carrier load board that was founded in 1999. They helped transform the auto transport industry from being reliant on paper, faxes and phones to evolving to use an efficient online central database that is now one of the largest real-time auto transport marketplace providers.
They now support thousands of transport brokers, dealers, auctions, manufacturers and other industry professionals across North America to save time and money transporting vehicles. They provide a database of almost every car carrier in the US which is over 16,000 carriers.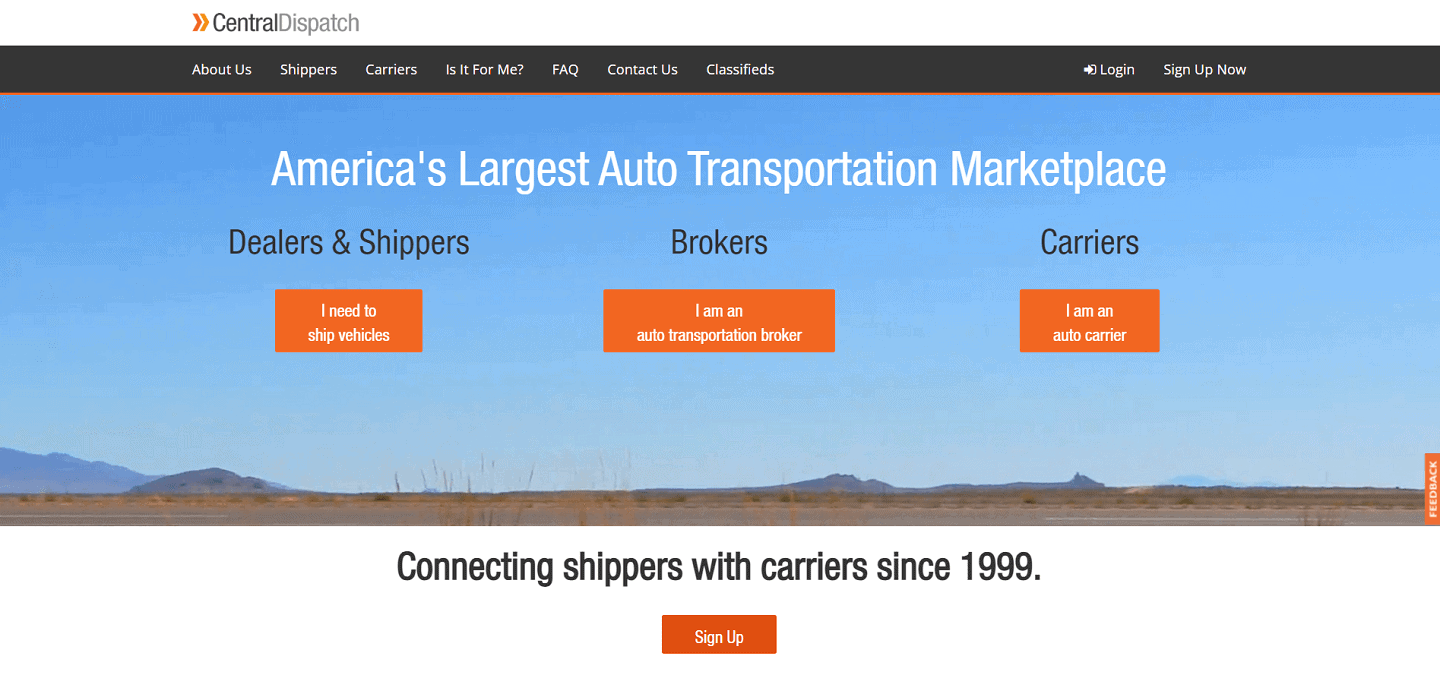 CentralDispatch Services
Load board
CentralDispatch's load board is dedicated to the auto transport industry, and they help transport vehicles of all types on a daily basis. They have more than 16,000 carriers across North America that are members of the platform. To access the load board, you need to sign up with CentralDispatch by applying for a username and password.
Their load board allows users to post and search for vehicles quickly and easily. The posts include complete shipping information including origin, destination, vehicle description, shipping date, company name and contact details. Carriers can search millions of loads posted on CentralDispatch and use their tools to help them work smarter, faster and better.
Shippers and brokers can access a network of auto transportation companies to move vehicles efficiently. They can check the details of member companies in their system which include contact details, equipment, carrier insurance, ICC MC number and references.
CentralDispatch Reviews and Ratings
There are very few customer reviews available for CentralDispatch on the leading customer review sites with only Trustpilot having any reviews. Trustpilot has 43 reviews which has an average score of 1.7 with 16% of reviews giving them 5 stars but the majority at 75% giving them 1 star, and the remaining 9% is split between 2-4 stars.
Positive comments include being easy to use, has transported lots of loads through them, friendly and courteous staff, prompt delivery, good communication, and great rates.
Negative comments include issues of damage to property, problems with load information, issues with the companies not being vetted or managed once onboard, fraud concerns regarding losing money on loads and vehicles being stolen, not delivering to the agreed terms, and poor customer service.
Trustpilot – 1.7/5 (based on 43 reviews)
Capterra – no reviews
G2 – no reviews
Featured Customers – no reviews
Facebook – no reviews
Pros
Specialist load board for auto transport carriers
Covers most auto transport carriers in the US
Provides tools that make shipping and transportation more efficient
Cons
Only provides a low board for auto transport carriers and no other fleet tools
Low number of poorly rated customer reviews
Reviews mention issues of fraud and theft of vehicles
Website: https://www.centraldispatch.com/
Disclaimer: Fleetlogging.com is a general business information website only. The material and information on this website should not be relied upon for making any business or legal decisions. We cannot recommend any company and/or product, nor assess your suitability for any product and/or company listed here.