User Reviews
Review Summary
0.0 out of 5 stars (based on 0 reviews)
Recent Reviews
There are no reviews yet. Be the first one to write one.
Submit a Review
Coyote Logistics is a freight and logistics company that has 16 offices worldwide that handle 10,000 loads per day and have a network of 100,000 carriers. They have offices in the US, Mexico and Europe.
They can provide a range of specialist logistics services including fleet optimisation, network optimisation, transportation RFP management, reporting and analysis, project logistics and warehousing. They are one of the largest carrier networks in North America and have over 10,000 shipments daily supported by trained specialists. Their load board is called CoyoteGO which is an easy-to-use digital freight platform.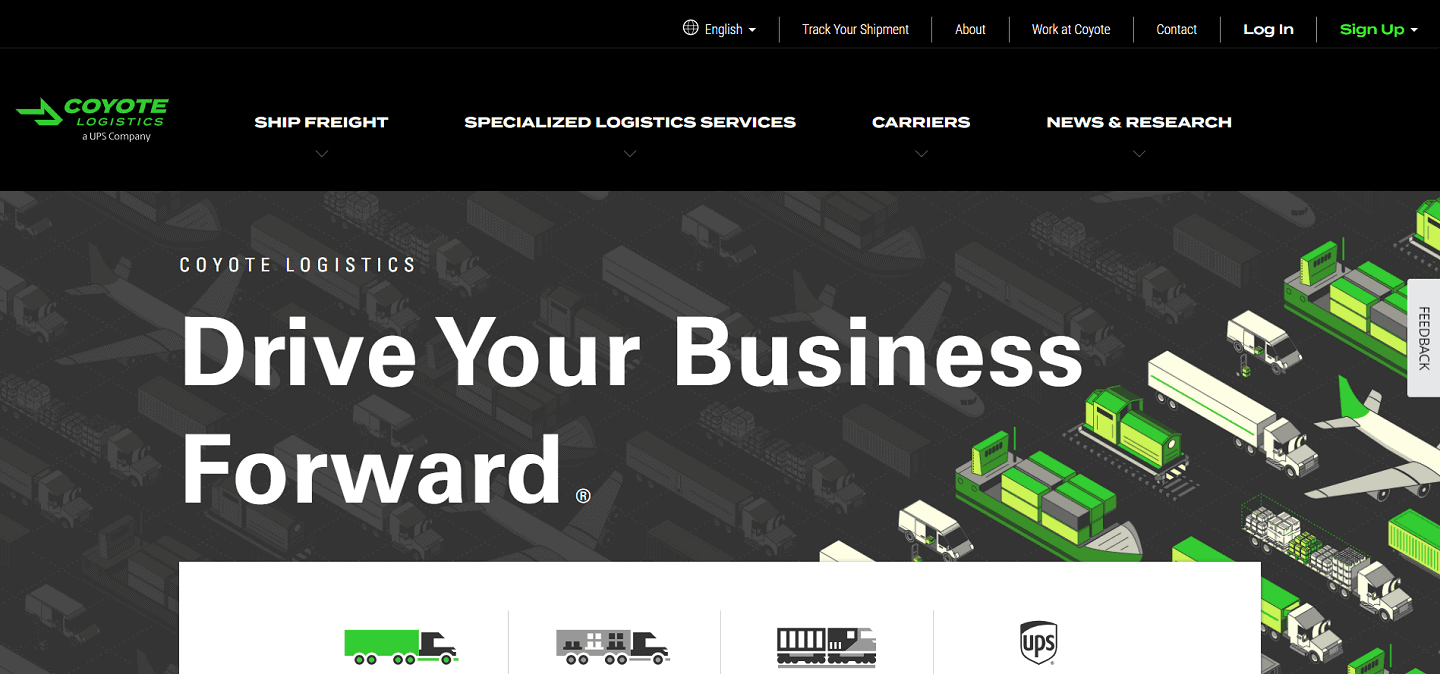 Coyote Logistics Services
Load board
Coyote Logistics offers a load board that is called CoyoteGO which makes it easier for carriers to find freight, get paid and stay on the road. CoyoteGO is available on any connected device so you can access loads from anywhere. CoyoteGO allows you to negotiate rates and book loads, submit invoices and track loads.
They offer a range of freight that allows carriers to find backhauls through to high-volume dedicated contracts and everything in between. To become a carrier for Coyote Logistics, you need to register with them and have a valid MC/MX or USDOT number, a completed Broker-Carrier Agreement, a Tax Identification Number, and a certificate of insurance.
They offer a reward program which can enable you to become a Carrier of Choice through regular high performance and consistent use of automated load tracking. Being a Carrier of Choice provides additional benefits such as financial benefits and early access to bids.
Coyote Logistics Reviews and Ratings
There are no customer reviews for Coyote Logistics on the leading customer review sites as listed below.
Trustpilot – no reviews
Capterra – no reviews
G2 – no reviews
Featured Customers – no reviews
Facebook – no reviews
Pros
Worldwide freight operator
Handles a large number of loads per day
Offers a Carrier of Choice program with benefits
Cons
Doesn't offer other fleet products
Doesn't state whether there are any charges or fees for using the load board
No customer reviews
Website: https://coyote.com/
Disclaimer: Fleetlogging.com is a general business information website only. The material and information on this website should not be relied upon for making any business or legal decisions. We cannot recommend any company and/or product, nor assess your suitability for any product and/or company listed here.