User Reviews
Review Summary
0.0 out of 5 stars (based on 0 reviews)
Recent Reviews
There are no reviews yet. Be the first one to write one.
Submit a Review
Direct Freight Services offers load board services that cater for drivers, brokers and shippers. They assist drivers in finding loads to fill their trucks for empty miles or find jobs when needed. They support brokers and shippers in finding cost-effective delivery solutions for their goods.
Direct Freight Services is an American based company located in Chillicothe Missouri and they offer load services across the states. They cater for drivers who have flatbeds, vans, reefers and box trucks.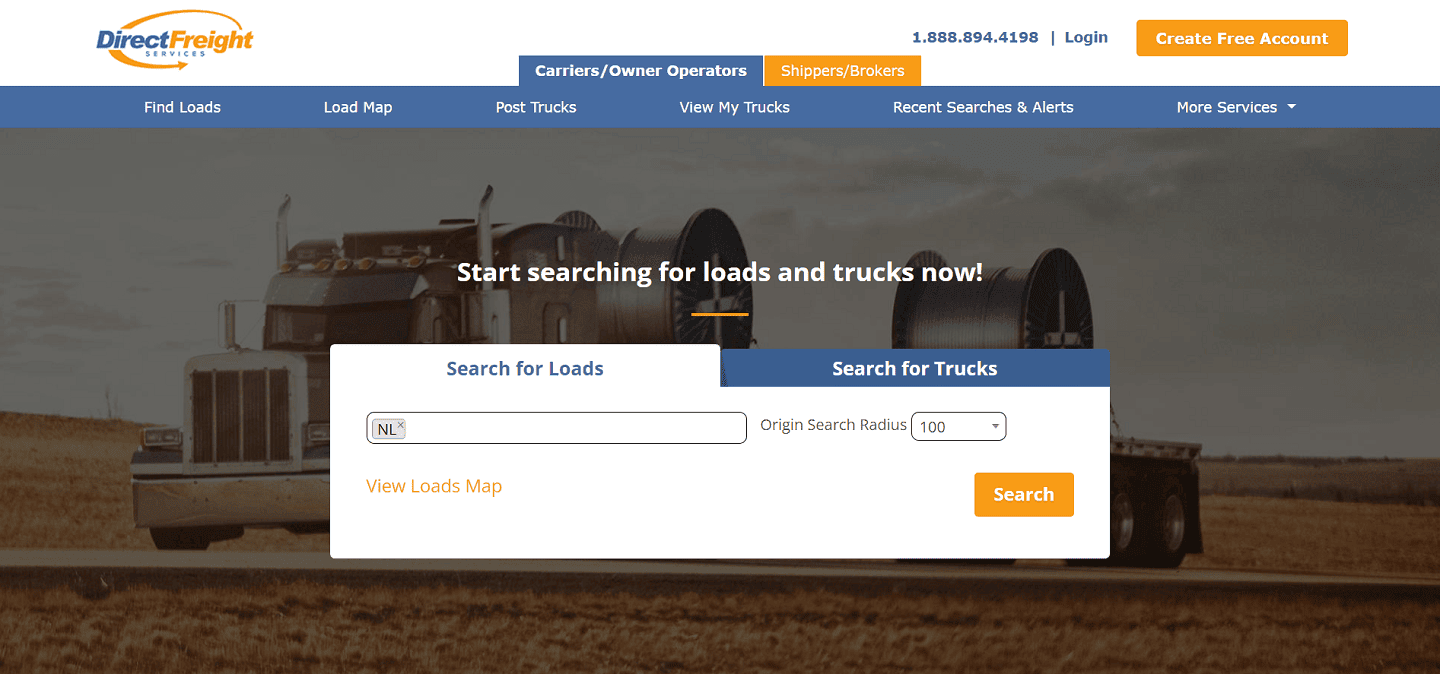 Direct Freight Services' Services
Load Boards
Direct Freight Services offers load boards that are packed with features to support drivers to find loads and to help shippers find drivers for their goods. They have made searching for load easy by improving load filtering and custom columns and categories. They also provide alert services by email and text to keep you informed.
Their load boards include additional features which include full credit reports and credit scores to aid selection. They also help with deadhead miles and trip miles, truck specific routing and weather to assist with planning and costing.
They provide a Driver App that provides drivers with unlimited searches of over 300k loads daily on their network of reputable brokers and shippers. You can search their load boards on their website without signing up and can sign up for a free account to view full load details and contact companies. Brokers and shippers can post unlimited posts for free.
Direct Freight Services Reviews and Ratings
There are a limited number of reviews for Direct Freight Services which are directly related to their products with only two of the review sites featuring them.
G2 has only two reviews which are both 4 star reviews and these both complement them their service, stating that it helps them keep their trucks full and manage shipments. Dislikes were that there aren't enough freight loads, there could be better subscription prices for what is on offer, and it could be more user-friendly.
The vast majority of Facebook reviews refer to Forex trading and Bitcoin with only one seemingly being directly related to the products they offer which complemented them on their service.
Trustpilot – no reviews
Capterra – no reviews
G2 – 4/5 (based on 2 reviews)
Featured Customers – no reviews
Facebook – 4.6/5 (based on 19 reviews)
Pros
Comprehensive load boards with lots of features
Includes credit checks and reports
Free account available
Cons
Only offer load boards and no other fleet management tools
Lack of reviews relating to their products
Website: https://www.directfreight.com/
Disclaimer: Fleetlogging.com is a general business information website only. The material and information on this website should not be relied upon for making any business or legal decisions. We cannot recommend any company and/or product, nor assess your suitability for any product and/or company listed here.