User Reviews
Review Summary
0.0 out of 5 stars (based on 0 reviews)
Recent Reviews
There are no reviews yet. Be the first one to write one.
Submit a Review
Expedite offers a dedicated load board that caters for expedited loads. They provide users with access to over 70,000 expedited loads every month. They cater for loads suited to cargo vans, sprinter vans and box trucks that can be owned by independent contractors, small expediting companies or freight companies.
They cover the US and Canada with two tiers of plans that cater for different types of vehicles. They have over 2,000 carriers and brokers signed up to their load board.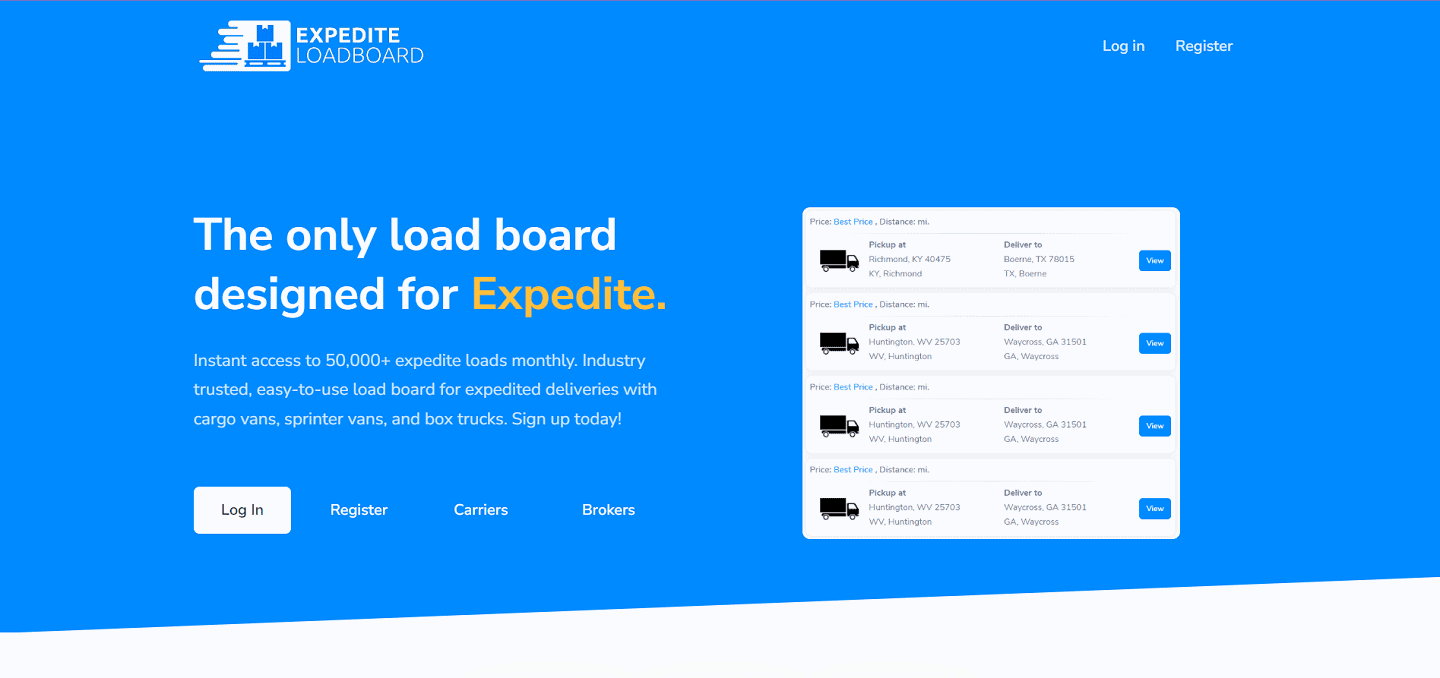 Expedite Services
Load board
Expedite offers a load board that displays load information and company contact information in a simple and easy-to-use load board. They have thousands of expedited loads across North America available on their load board. They offer a simple bidding system for loads, and they will be introducing carrier ratings and reviews soon. To book loads through their load board, carriers need to meet some necessary requirements.
They offer two load board plans which are the Basic Expediter and Expedite Pro. Basic Expediter is designed for cargo vans and sprinter vans operating in the US and Canada. Basic Expediter offers access to over 25,000 loads per month for sprinter and cargo vans on a dashboard optimised for web, tablet and mobile with limited email support. Expedite Pro is designed for cargo vans, box trucks and semi-truck freight and offers access to over 70,000 loads per month on a dashboard optimised for web, tablet and mobile with unlimited email support.
Brokers can post loads easily from a desktop, laptop or mobile device. They offer the same plans to brokers as carriers with the Basic Expediter suitable for cargo vans and sprinter vans, and the Expedite Pro for freight of all types.
Expedite Reviews and Ratings
There are no customer reviews for Expedite on the leading customer review sites as listed below.
Trustpilot – no reviews
Capterra – no reviews
G2 – no reviews
Featured Customers – no reviews
Facebook – no reviews
Pros
Dedicated load board for expedited freight
Caters for small carriers and vans
Covers the US and Canada
Cons
Doesn't offer other load types
Doesn't offer other fleet tools or services
No customer reviews
Website: https://expediteloadboard.com/
Disclaimer: Fleetlogging.com is a general business information website only. The material and information on this website should not be relied upon for making any business or legal decisions. We cannot recommend any company and/or product, nor assess your suitability for any product and/or company listed here.