User Reviews
Review Summary
0.0 out of 5 stars (based on 0 reviews)
Recent Reviews
There are no reviews yet. Be the first one to write one.
Submit a Review
FindFreightLoads.com is a load board provider that uses artificial intelligence and machine learning for better freight matching. Their load board is called RightNowLoad.com and it doesn't broker the loads for you but allows you to search for suitable loads and get in direct contact with shippers, brokers or manufacturers posting loads.
The load board is a free service for brokers and shippers to post on but carriers need to pay a membership fee to access the loads and be able to contact the post owner. As part of the membership carriers can conduct five free credit report lookups per month.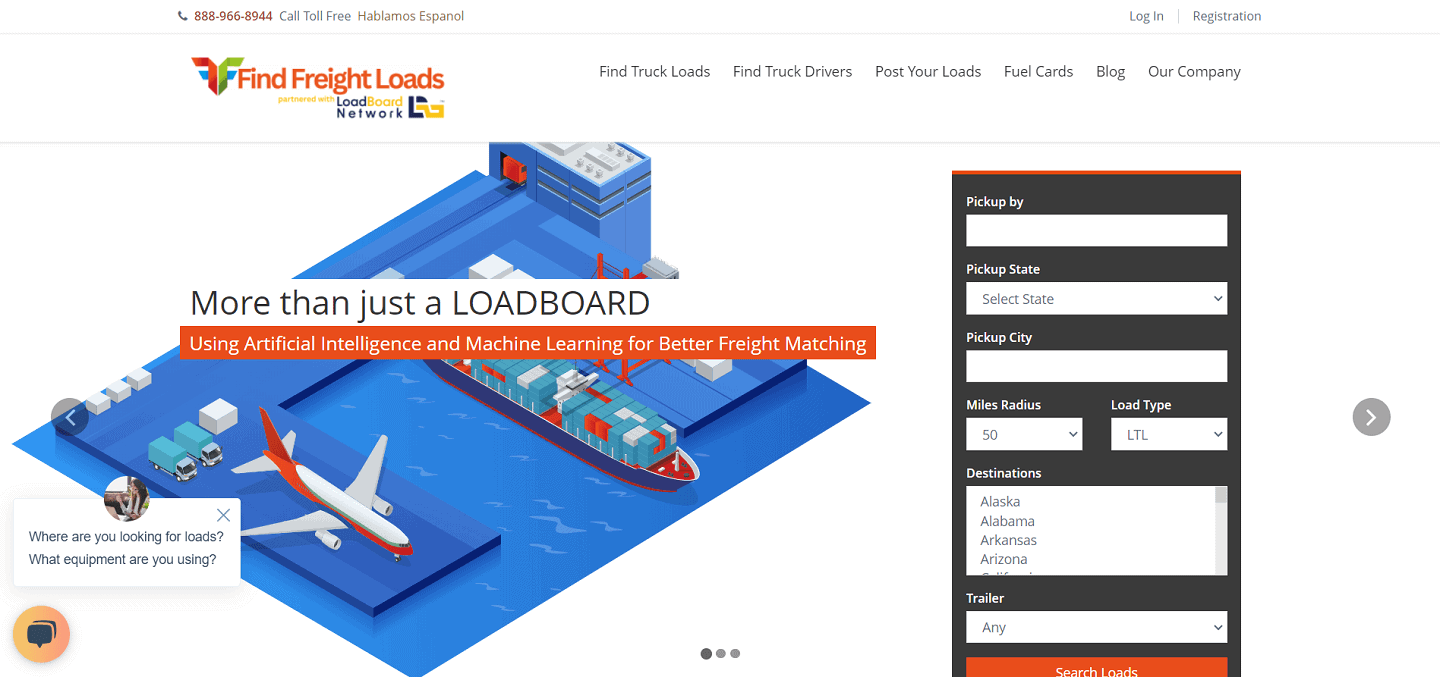 FindFreightLoads.com Services
Load board
FindFreightLoads.com offers a load board called RightNowLoads.com that has a membership fee for carriers but there is no contract so it can be cancelled at any time. They offer a free three day trial for carriers. The load board can be used by carriers, brokers and shippers. Uniquely the load board gives the option to view available backhauls which can be done by state-to-state, city-to-state or city-to-city.
FindFreightLoads.com provides a range of benefits which include daily fuel prices and discounts, mileage and routing directions, dead head mileage calculator, credit score reports, auto-match loads and drivers, factoring, weather and load conditions. They offer an affiliate program where you can earn commission on referring other people to their site to be a carrier.
The load board is free to use for brokers and shippers and they offer a free bulk upload service for anyone needing to post over 100 loads daily which can be sent as an Excel file. There is a charge for searching their owner-operator directory.
FindFreightLoads.com Reviews and Ratings
There are no customer reviews available for FindFreightLoads.com on the leading customer review sites as listed below.
Trustpilot – no reviews
Capterra – no reviews
G2 – no reviews
Featured Customers – no reviews
Facebook – no reviews
Pros
Offers a backhaul functionality to increase efficiency and ease of booking
Provides a range of useful tools and benefits
Offers an attractive affiliate scheme for referrals
Cons
Posted loads don't include rates and payments are managed separately to the platform
Charges carriers for access to the load
No customer reviews
Website: https://findfreightloads.com/
Disclaimer: Fleetlogging.com is a general business information website only. The material and information on this website should not be relied upon for making any business or legal decisions. We cannot recommend any company and/or product, nor assess your suitability for any product and/or company listed here.