User Reviews
Review Summary
0.0 out of 5 stars (based on 0 reviews)
Recent Reviews
There are no reviews yet. Be the first one to write one.
Submit a Review
FlockFreight offers smarter freight solutions that can help make a more efficient and sustainable supply chain. Their software brings together shippers and carriers to create cost-effective shipping solutions and helps keep trucks full. They offer a load board that is free to use but requires signup to access.
They provide specialist solutions for shippers that allow them to get terminal-free LTL shipping and enable shippers to only pay for the space they use. For carriers, they minimise out-of-route mileage and can pay more per load by providing access to high-paying partial freight.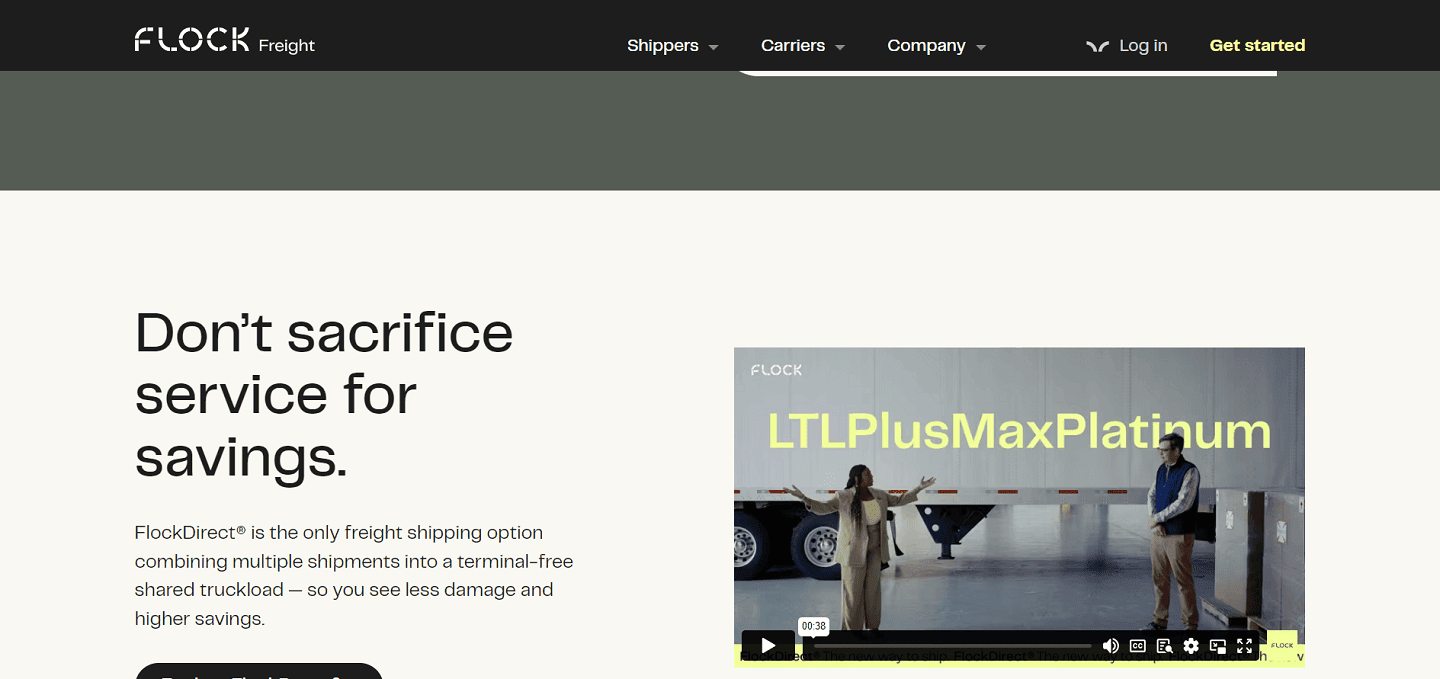 FlockFreight Services
Load board
FlockFreight's load board offers truckload and LTL loads but is unique because it offers more partial freight options than anyone else. By booking shared truckloads, carriers can maximise their space and gain extra money per mile. FlockFreight helps carriers to match shared truckloads through tailored load suggestions.
They provide an online signup to their load board which can be completed and have you booking loads within 30 minutes. When you sign up to be a FlockFreight carrier, you will go through a certification process. Once approved you can search for loads at any time from anywhere by either submitting a bid or booking a load which you can do in an instant.
The load board is free to use and they currently offer loads for dry vans, refrigerated trucks, box trucks and Sprinters. For shippers, they offer pooled freight that reduces costs and carbon emissions as well as a system that can seamlessly integrate with their systems and the ability to track shipments in real time.
FlockFreight Reviews and Ratings
There are a reasonable number of customer reviews available for FlockFreight on two of the leading customer review sites which are Trustpilot and Featured Customers. G2 also has a listing for FlockFreight but there are no reviews linked to it.
Trustpilot only has two customer reviews and an average score of 2.9 although both reviews gave them a 1 star review. The comments included an issue with billing as a shipper and an issue with a deduction from a carrier.
Featured Customers has the largest number of reviews with 593 and an average score of 4.8, this is made up of 315 testimonials and 278 case studies. Comments included high standards, good communication, great for partial/shared loads, saving money on rates, arriving and delivering on time, flexible shipping is great, fast quotes, and helped to eliminate damage claims.
Trustpilot – 2.9/5 (based on 2 reviews)
Capterra – no reviews
G2 – no reviews
Featured Customers – 4.8/5 (based on 593)
Facebook – no reviews
Pros
Offers a free load board
Offers a specialist shared load service
Positive customer reviews
Cons
Offers load board only and no other fleet tools
Only offers a limited type of loads
Website: https://www.flockfreight.com/
Disclaimer: Fleetlogging.com is a general business information website only. The material and information on this website should not be relied upon for making any business or legal decisions. We cannot recommend any company and/or product, nor assess your suitability for any product and/or company listed here.