User Reviews
Review Summary
0.0 out of 5 stars (based on 0 reviews)
Recent Reviews
There are no reviews yet. Be the first one to write one.
Submit a Review
The Forest Commodities Board is a global electronic trading platform created by the Forest Commodities that is used by the Forest Industry. Forest Commodities adds value to and promotes the Forest Industry whilst focusing on excellence and the environment.
They have developed relationships with the transportation industry on behalf of their industry to make it easier for them to source trucks and for carriers to access loads. Transportation Advantages is free to join and use for carriers wanting to access the lumber trade and logistics facilities.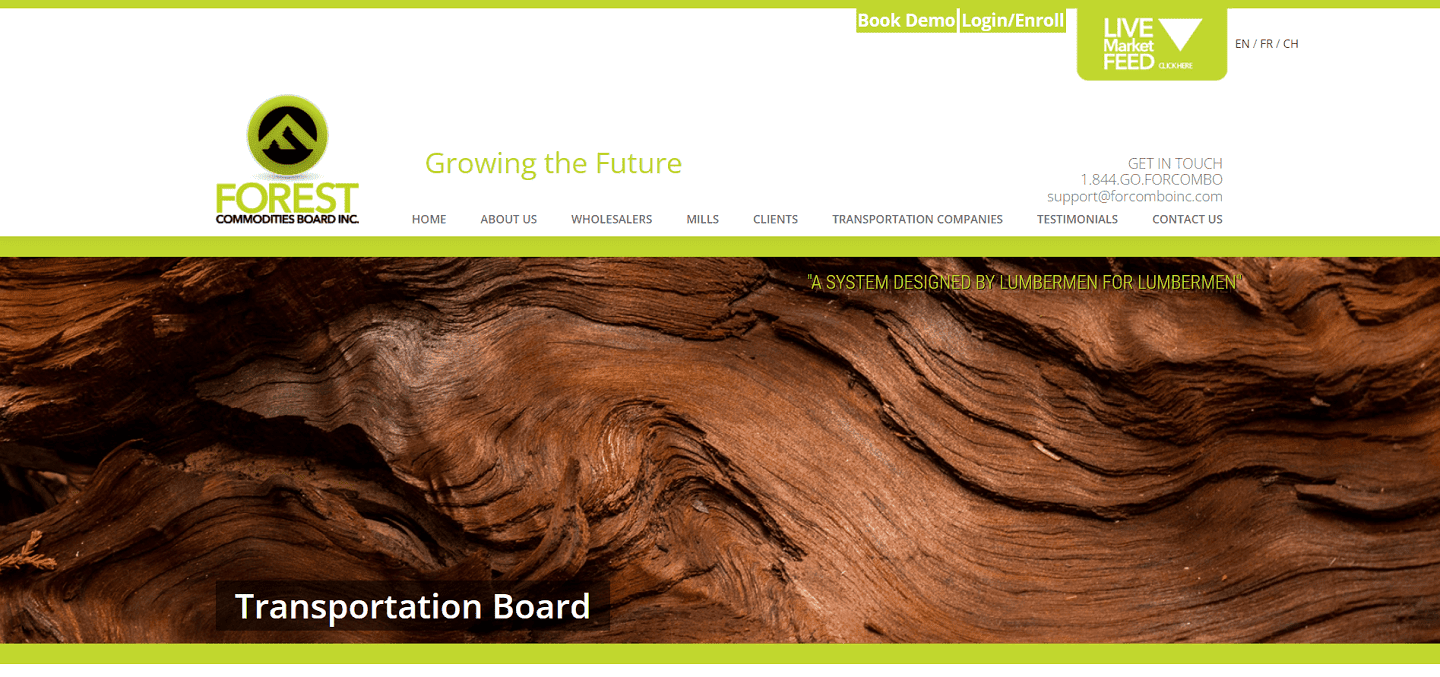 Forest Commodities Board Services
Load board
The Forest Commodities Board provides a load board specifically for transporting lumber for the Forest Industry which is a central platform for hauling contracts. The Board or FCB Transportation Advantages is free for carriers to use, they just need to register to get access to loads in Canada, the US and Mexico. To register you will need to complete a form and upload copies of your certificates for checking before being granted access.
The Board serves over 200,000 destinations across Canada and mainland US and you can become a preferred transport company for participating sawmills which allows you to be one of the first to access their loads.
The Board has been designed to be user-friendly making it easy to book loads through to printing dispatch sheets. Some of the benefits of their load board are that it helps with automated scheduling, secure document transfer between users, automatically generates invoices, and a dedicated messaging system for users.
Forest Commodities Board Reviews and Ratings
There are no customer reviews for the Forest Commodities Board on the leading customer review sites as listed below.
Trustpilot – no reviews
Capterra – no reviews
G2 – no reviews
Featured Customers – no reviews
Facebook – no reviews
Pros
Free load board
Supportive system that assists with documentation and invoicing
Coverage of Canada, the US and Mexico
Cons
Only offers lumber loads
Currently doesn't have an app but is developing one
No customer reviews
Website: https://www.forcombo.com/lumber-transportation-board.aspx
Disclaimer: Fleetlogging.com is a general business information website only. The material and information on this website should not be relied upon for making any business or legal decisions. We cannot recommend any company and/or product, nor assess your suitability for any product and/or company listed here.