User Reviews
Review Summary
0.0 out of 5 stars (based on 0 reviews)
Recent Reviews
There are no reviews yet. Be the first one to write one.
Submit a Review
FreeFreightSearch.com claims to be one of the largest free load boards in the world which has over 143,000 registered members who are carriers, brokers and shippers. They provide support to the industry with a range of other services including factoring and weekly articles.
Their load boards are designed to decrease dead time and increase profitability by helping connect you with backhauls. They have thousands of posted loads from brokers and shippers which are easy and quick to search.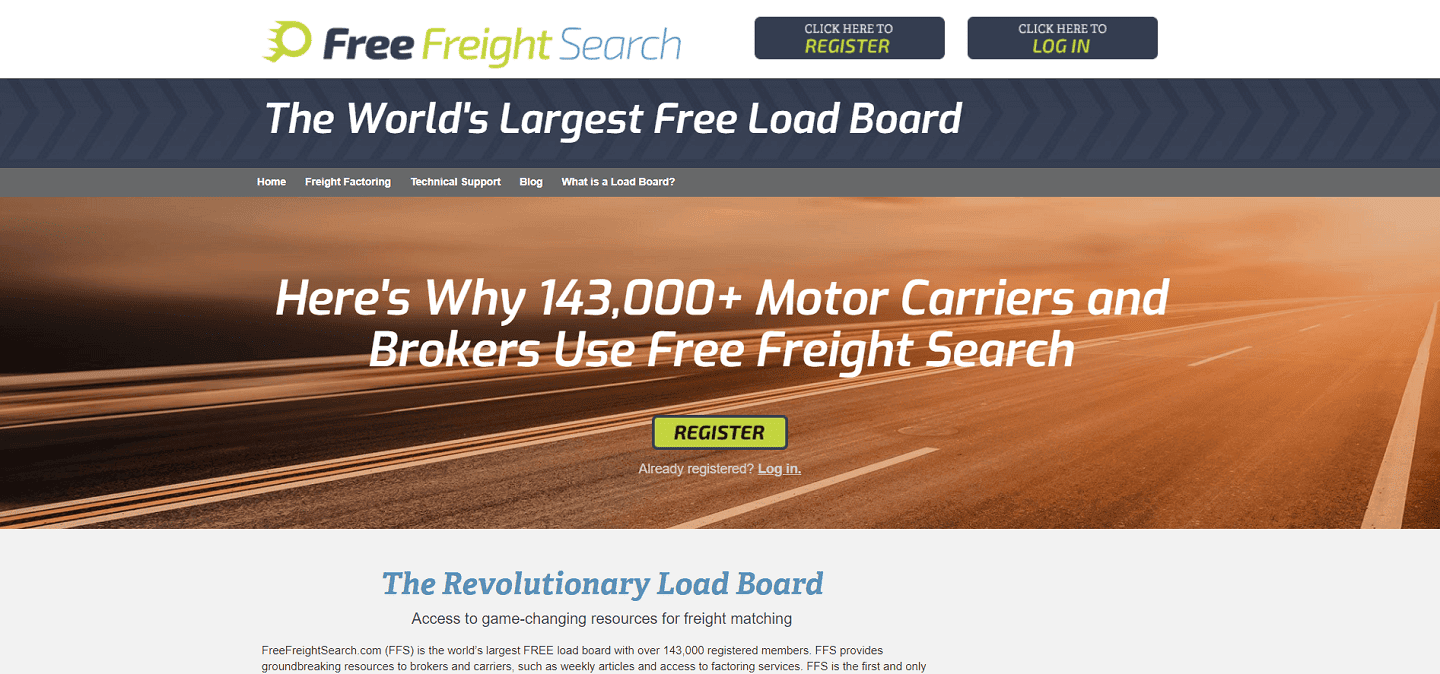 FreeFreightSearch.com Services
Load board
FreeFreightSearch.com offers a free load board that allows unlimited truck posts, unlimited load searches, and unlimited broker credit reports. They also offer options that include 50% fuel advance loads and quick payloads. You can register for FreeFreightSearch.com's load board and get a free membership.
They provide a load board for carriers that allows them to search for posted loads from freight brokers and shippers as well as view over 10,000 freight broker credit reports. It also allows carriers to post available trucks for freight brokers and shippers to book. Alerts can also be set for real time notifications by email for loads that match their criteria.
Freight brokers and shippers can post their freight for thousands of carriers to see. They also enable brokers and shippers to search for available trucks. They are alerted by real time emails when a truck is posted that matches your load and location.
Factoring
Factoring allows owner-operators and fleet owners to get the money owed from invoices quicker by advancing the invoice value as soon as the invoice is raised instead of waiting weeks or months. The factoring company takes a small fee for advancing the money and then collects the invoice amount owed on the agreed payment terms.
There may also be added benefits at no additional cost such as free credit checks on your customers to protect your business against losses. Their collections team will carry out the time-consuming task of collecting payments on your behalf.
FreeFreightSearch.com customers can access unique time and money-saving benefits from Triumph Business Capital which includes fast funding fuel advance, 100% funding within 24 hours, and a professional collection service. They also offer fuel discount cards that can save you up to $0.10 per gallon.
FreeFreightSearch.com Reviews and Ratings
There are no customer reviews for FreeFreightSearch.com on the leading customer review sites as listed below.
Trustpilot – no reviews
Capterra – no reviews
G2 – no reviews
Featured Customers – no reviews
Facebook – no reviews
Pros
Free load board
A large number of members
Offers factoring through a partnership
Cons
Doesn't offer any other fleet management services
Not clear how searchable the load boards are
No customer reviews
Website: https://freefreightsearch.com/
Disclaimer: Fleetlogging.com is a general business information website only. The material and information on this website should not be relied upon for making any business or legal decisions. We cannot recommend any company and/or product, nor assess your suitability for any product and/or company listed here.