User Reviews
Review Summary
0.0 out of 5 stars (based on 0 reviews)
Recent Reviews
There are no reviews yet. Be the first one to write one.
Submit a Review
FreightFinder.com is a free load board that was established in 1998 and is designed to post truck loads and offer truck listings for freight brokers, trucking companies and owner-operators. They have an integrated load board that works with LoadBoardNetwork giving greater visibility for loads.
They support a wide range of truck types and help them increase backhauls and reduce deadhead miles to improve revenue. Companies can create their personalised load board to improve their user experience.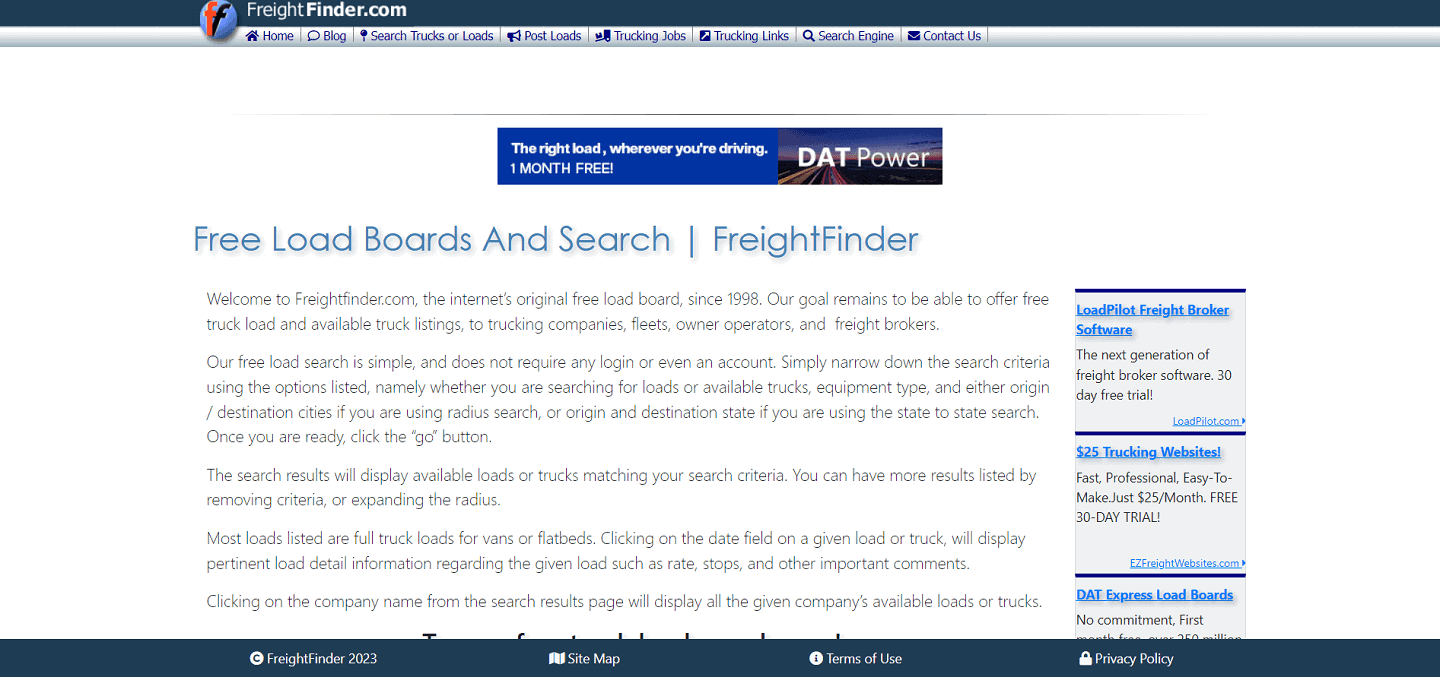 FreightFinder.com Services
Load board
FreightFinder.com offers a free load board that is simple to search and doesn't need you to set up an account. It is available to freight brokers posting loads and trucking companies and owner-operators who are seeking loads who can either search for loads or post their trucks for hire.
Truckers can narrow down the loads available to their preferences using the options listed including equipment type, origin or destination locations, and radius searches. Similarly, brokers can search for available trucks using the same search criteria. Thousands of loads are available each day with thousands of transportation companies having visibility across the LoadBoardNetwork. Their load board can provide additional information including mileage and routing information.
The load board is a secure service with real time information on loads and truck availability. They also offer a range of other related industry services which include a trucking job site, an industry directory, and a refined industry search engine for trucking and freight.
FreightFinder.com Reviews and Ratings
There are no customer reviews for FreightFinder.com on the leading customer review sites as listed below.
Trustpilot – no reviews
Capterra – no reviews
G2 – no reviews
Featured Customers – no reviews
Facebook – no reviews
Pros
Offers a free load board to all
No account needed
Back by the LoadBoardNetwork
Cons
Only offers load boards and no other fleet services
Doesn't offer payment services or support
There are no customer reviews
Website: https://www.freightfinder.com/
Disclaimer: Fleetlogging.com is a general business information website only. The material and information on this website should not be relied upon for making any business or legal decisions. We cannot recommend any company and/or product, nor assess your suitability for any product and/or company listed here.