User Reviews
Review Summary
0.0 out of 5 stars (based on 0 reviews)
Recent Reviews
There are no reviews yet. Be the first one to write one.
Submit a Review
Getloaded is a trucking platform designed for truckers and brokers with an affordable and easy-to-use load board. They were formed in 1999 in Richmond, Virginia and they can help people and businesses get authority to start trucking, find loads and fill their truck for more cost-effective loads, and get paid quicker through factoring.
They offer DAT's load board after they combined forces in 2017 and they claim it is one of the biggest load boards in the trucking industry. 400 million loads were posted in 2022 and 130.5 million were posted first or exclusively on their load board.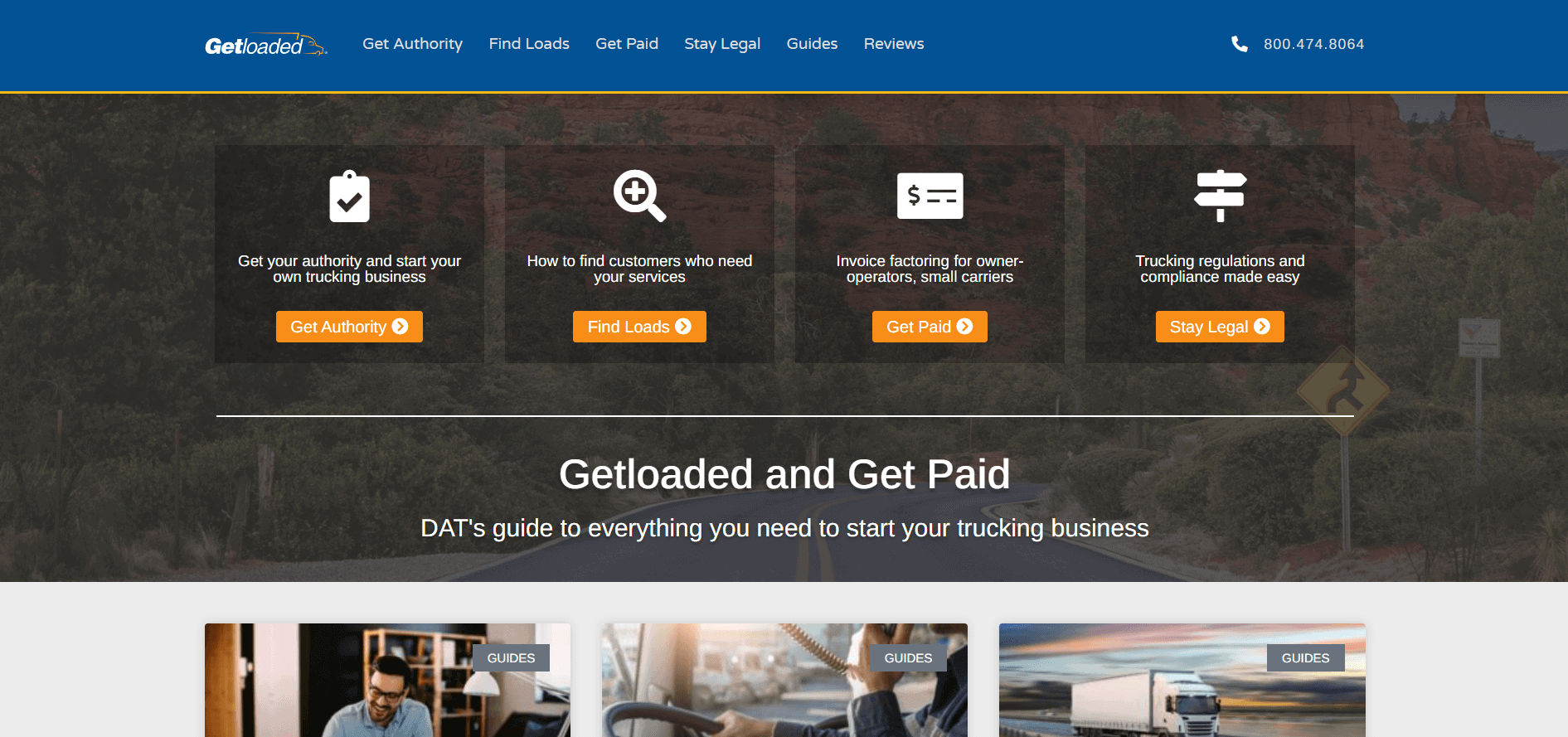 Getloaded Services
Load board
Getloaded offers the DAT load board which is a combined 'super-database' between the two companies. The DAT One Standard load board is designed for owner-operators and small carriers and the price starts at $45 per month. DAT One Express is the best package for brokers which starts at $145 per month. They also offer DAT One Combo which is a state-of-the-art load board for brokers and carriers that starts at $180 per month for carriers and $395 for brokers.
All of the load board packages include unlimited searches and posts, mileage and routing, weather and road conditions, and access to the platform through the mobile app. Additional features on DAT One Express include average spot market rates, carrier safety information, and load-to-truck ratios. DAT One Combo also includes monitoring multiple searches, audible alarms when a match is found, DAT Insurance, credit scores, and collaboration tools.
Factoring
Getloaded also offers factoring services in conjunction with OTR Solutions for owner-operators and small carriers which allows them to access the money tied up in invoices straight away without having to wait for the payment period to be up. This is done by selling the invoice to the factoring company which will pay you the invoice value minus a small fee. Factoring allows business owners to increase their cash flow and avoid taking on any additional debt.
When you use the DAT load board you are able to see which loads are eligible for factoring straight away as they will have a blue check mark next to it so you can select loads that can be paid more quickly.
You can register for OTR Solutions' factoring service through Getloaded's website and one of their representatives will contact you to get you set up.
Getloaded Reviews and Ratings
There are no customer reviews for Getloaded on the leading customer review sites as listed below.
Trustpilot – no reviews
Capterra – no reviews
G2 – no reviews
Featured Customers – no reviews
Facebook – no reviews
Pros
Provides an extensive load board with a large number of loads
Combined expertise of two companies
Offers factoring collaboration which is integrated into the load board
Cons
Doesn't offer other fleet solutions
No free plan
No customer reviews
Website: https://www.getloaded.com/
Disclaimer: Fleetlogging.com is a general business information website only. The material and information on this website should not be relied upon for making any business or legal decisions. We cannot recommend any company and/or product, nor assess your suitability for any product and/or company listed here.