User Reviews
Review Summary
0.0 out of 5 stars (based on 0 reviews)
Recent Reviews
There are no reviews yet. Be the first one to write one.
Submit a Review
Hoploads is a system for posting loads that is specifically designed for hopper bottom trucking companies and those shipping goods via hopper bottom trucks. Their load board works on a subscription model that has an annual subscription with a range of levels of service. They offer a trial account that can be used for 24 hours so that you can try out the load board before committing to it.
Their load board caters for both carriers and shippers who need the specialist services of hopper bottom trucks. The load board is available online and through the app so you can book and find loads on the move.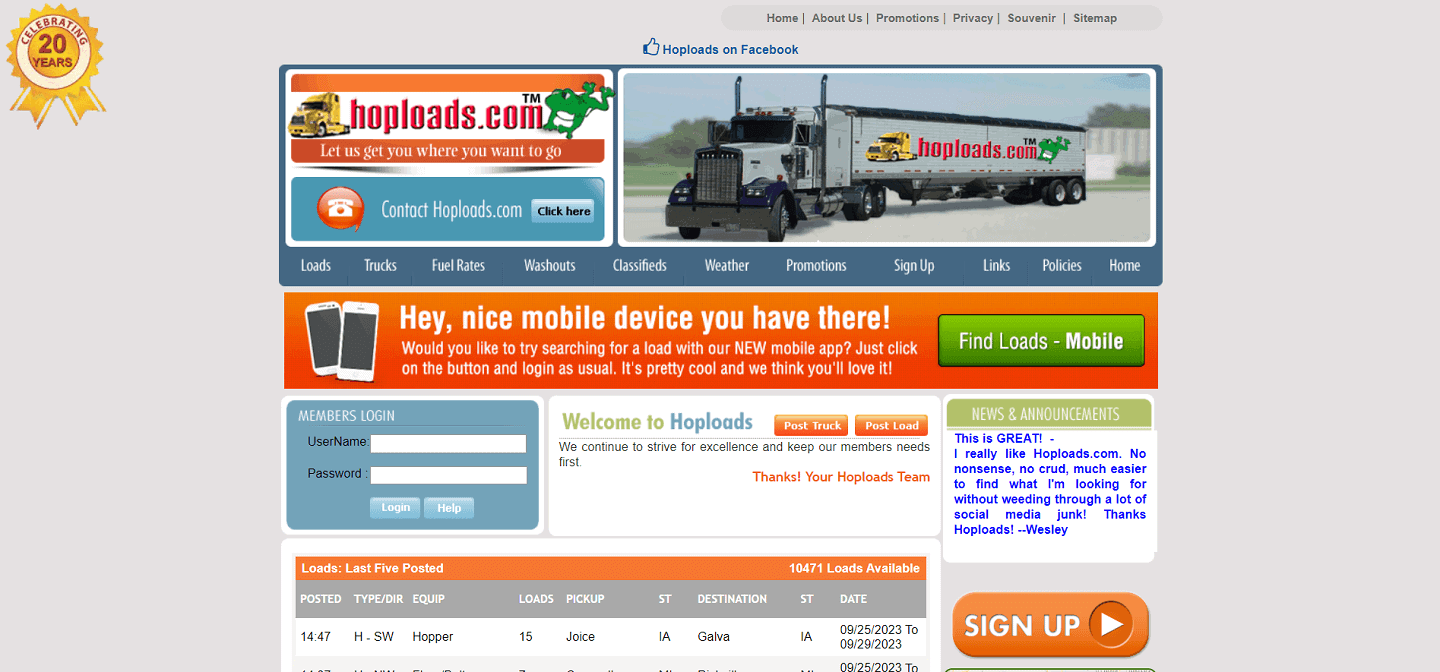 Hoploads Services
Load board
Hoploads offers a load board that is specifically designed for those with hopper bottom trucks or those who need to transport goods by hopper bottom trucks. The load board operates on a yearly subscription basis which gives both shippers and carriers access to the load board to post loads and search for suitable loads. The monthly subscription starts at $50 and the monthly amount will be dependent on the level of service you want.
The load board posts include details such as the load origin and destination, the product information, full or partial load, and contact details. The load board also allows carriers to post their empty trucks and that they are looking for loads so that shippers can search for trucks that match their loads. They can access the contact details for the truck and contact them directly.
Hoploads' load board is not competitive and is a live and interactive load board that is constantly changing as loads are taken and more become available. Individuals can post loads or a bulk upload can be done by Hoploads by sending a file to them.
Hoploads Reviews and Ratings
There are no customer reviews for Hoploads on the leading customer review sites as listed below.
Trustpilot – no reviews
Capterra – no reviews
G2 – no reviews
Featured Customers – no reviews
Facebook – no reviews
Pros
Specialist load board for hopper bottom trucks
Comprehensive load details
Enables carriers to list their available trucks
Cons
Doesn't offer other fleet management tools
Only caters for hopper bottom trucks
No customer reviews
Website: http://hoploads.com/
Disclaimer: Fleetlogging.com is a general business information website only. The material and information on this website should not be relied upon for making any business or legal decisions. We cannot recommend any company and/or product, nor assess your suitability for any product and/or company listed here.