User Reviews
Review Summary
0.0 out of 5 stars (based on 0 reviews)
Recent Reviews
There are no reviews yet. Be the first one to write one.
Submit a Review
JB Hunt provides a range of freight transportation services throughout the United States, Canada and Mexico. They have over 60 years of industry experience and have grown to be a Fortune 500 company providing leading industry digital freight matching solutions.
JB Hunt offers carrier solutions for owner-operators and small and large fleets. They provide shipment solutions from single shipments to complex supply chain solutions that include final mile services, highway services, intermodal, international, and managed logistics.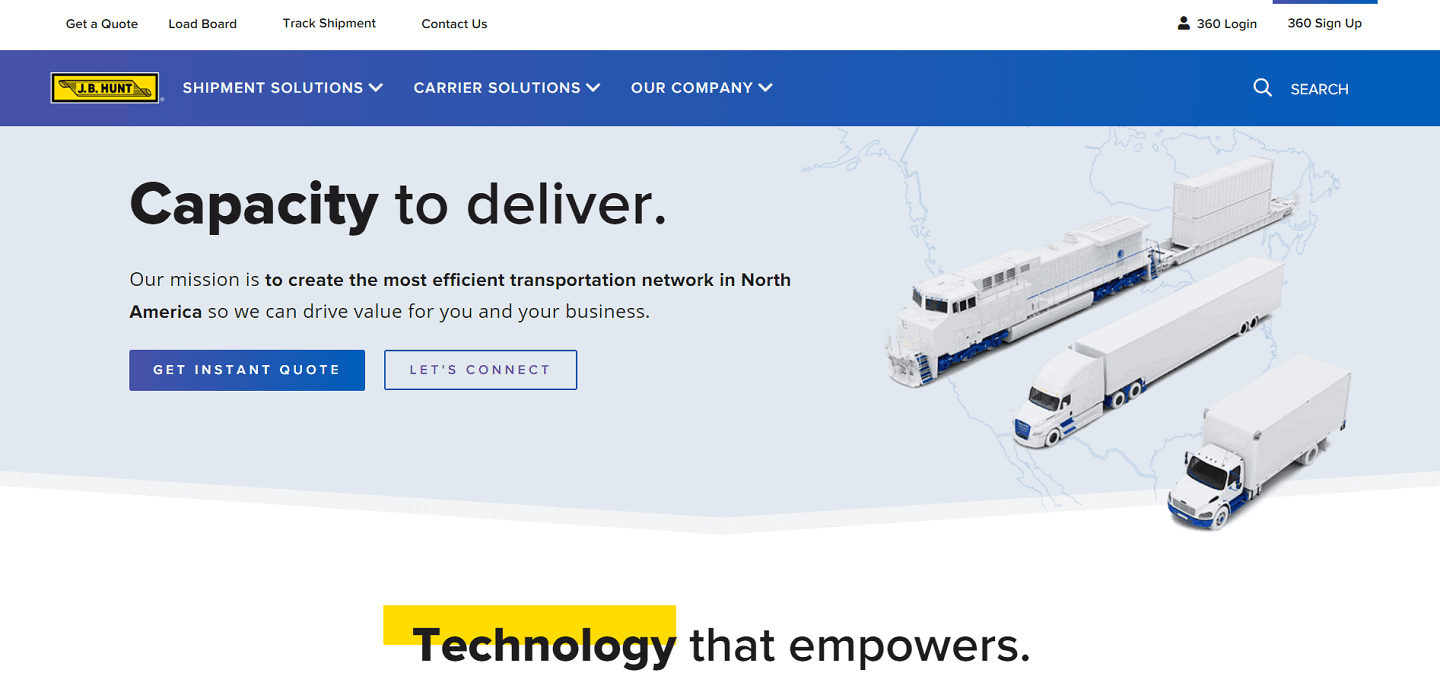 JB Hunt Services
Load board
The JB Hunt 360 platform helps to eliminate inefficiencies as it provides a single platform to manage every step of the transportation process. They offer two options – Shipper 360 and Carrier 360. Shipper 360 offers multimodal capacity options with access to almost 1 million trucks with an easy to quote and book shipments. Its features include 24/7 tracking and API and EDI integrations.
Carrier 360 offers a free load board with personalised load recommendations. They also provide a quick pay facility with visibility to see shipper reviews as well as a robust rewards program. Their load board allows you to search by origin, destination, equipment type including dry vans, flatbeds, temperature control and power only, and job type based on either load or tour.
Their load board caters for a variety of trucks and load types including intermodal, dedicated, truckload, last mile, fulfilment and LTL. Their carrier solutions include owner-operated, small fleets, large fleets, home delivery carriers and power only carriers.
JB Hunt Reviews and Ratings
There are very few customer reviews available for JB Hunt on the leading customer review sites listed below with Trustpilot having the only reviews. There are only 49 reviews that give an overall low score of 1.5 which comprises 8% 5 star reviews, 2% 4 star reviews and 90% 1 star reviews.
The five positive reviews are about their last mile and home delivery services where they are complimented for their customer service and communication.
The negative reviews also relate to the home delivery service and issues with rescheduling deliveries, not delivering on time, stock issues, poor communication, damage to delivered goods or items in the home, poor installation, and rude staff.
These reviews don't however review the platform performance or the service that carriers get from it but the service delivered by carriers providing home delivery services.
Although there are no reviews on G2 for JB Hunt there is a page for them with product information for Shipper 360.
Trustpilot – 1.5/5 (based on 49 reviews)
Capterra – no reviews
G2 – no reviews
Featured Customers – no reviews
Facebook – no reviews
Pros
Large network of almost 1 million trucks
Caters for a broad range of load types
Free load board for carriers
Cons
Only offers load board solutions
Low number of customer reviews
Poor reviews that don't relate to their platform
Website: https://www.jbhunt.com/
Disclaimer: Fleetlogging.com is a general business information website only. The material and information on this website should not be relied upon for making any business or legal decisions. We cannot recommend any company and/or product, nor assess your suitability for any product and/or company listed here.