User Reviews
Review Summary
0.0 out of 5 stars (based on 0 reviews)
Recent Reviews
There are no reviews yet. Be the first one to write one.
Submit a Review
Jones Logistics is a logistics company that was formed over 24 years ago and is part of the Jones Capital. They offer a range of services which includes freight brokerage, managed transportation, dedicated operations and more. They claim to be one of the top 10 providers of flatbed transportation in the US with over 2,300 assets and a network of over 26,000 trusted carrier partners.
Jones Logistics works with their carriers to help them maximise their loads and dollars per mile. They build long-lasting relationships with them, have open lines of communication and offer Quick Pay to make payments better.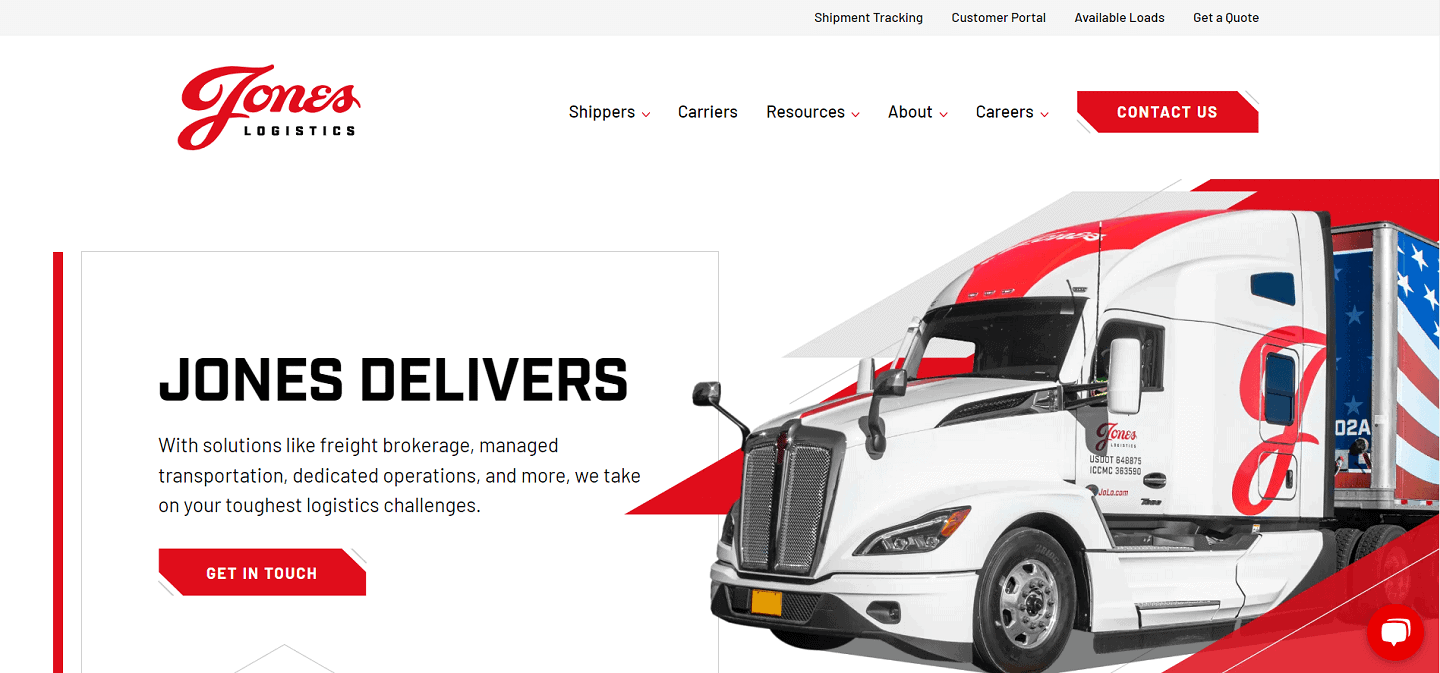 Jones Logistics Services
Load board
Jones Logistics offers a load board which allows their carrier network to access loads to maximise their trips. Their load boards include information such as equipment type, origin, destination, weight, and distance. The load boards can be filtered by the locations, equipment and when it's available such as today or this week. They claim to pay well and fast as they utilise Quick Pay.
To become a carrier for Jones Logistics you need to be approved by them first which requires you to complete a carrier profile and provide copies of MC/MX or DOT number, W9 and certificate of insurance.
For shippers, they provide a freight brokerage service that will optimise their freight spend and they will seek out the right and trusted carriers to deliver your goods. They will assist with managing schedules, billing and claims management with custom tariffs and delivery tracking.
Jones Logistics Reviews and Ratings
There are very few customer reviews for Jones Logistics on the leading customer review sites as listed below with only Facebook having any reviews. There are 33 reviews on Facebook with an average score of 3.8 out of 5 but several of the reviews are unrelated to Jones Logistics as they talk about trade investments, Forex and herbal supplements.
Several drivers commented saying that they are a good company to work for, friendly staff and provide good rates. A couple of carriers left negative reviews which included incorrect load weights advertised/communicated, issues with the trucks provided and problems with payments.
There were also several reviews from employees who stated that they are a good employer, that they make good money and have good benefits. There were a few negative reviews from employees one had a bad experience at the company, and one had an issue with management.
Several reviews just recommended Jones Logistics with no comments, but these were over five years old.
Trustpilot – no reviews
Capterra – no reviews
G2 – no reviews
Featured Customers – no reviews
Facebook – 3.8/5 (based on 33 reviews)
Pros
Comprehensive load board
Has a large network of trusted carriers across the US
Fast payment through Quick Pay
Cons
Offers load boards only no other fleet management tools
Not clear whether there are any charges for using the load board
Lack of customer reviews although the score isn't that bad
Website: https://www.joneslogistics.com/
Disclaimer: Fleetlogging.com is a general business information website only. The material and information on this website should not be relied upon for making any business or legal decisions. We cannot recommend any company and/or product, nor assess your suitability for any product and/or company listed here.