User Reviews
Review Summary
0.0 out of 5 stars (based on 0 reviews)
Recent Reviews
There are no reviews yet. Be the first one to write one.
Submit a Review
Landstar is a Fortune 500 company that offers integrated transportation management solutions to a broad range of customers. They provide technology-enabled and asset light solutions that are safe and specialised for the transportation industry.
Landstar has a network of over 1,100 freight agents and over 108,000 trucks that are independent agents and owner-operators. They provide customised shipping solutions in North America and across the world. In 2023 they were chosen by the editors of Inbound Logistics as one of the Top 100 3PL Providers.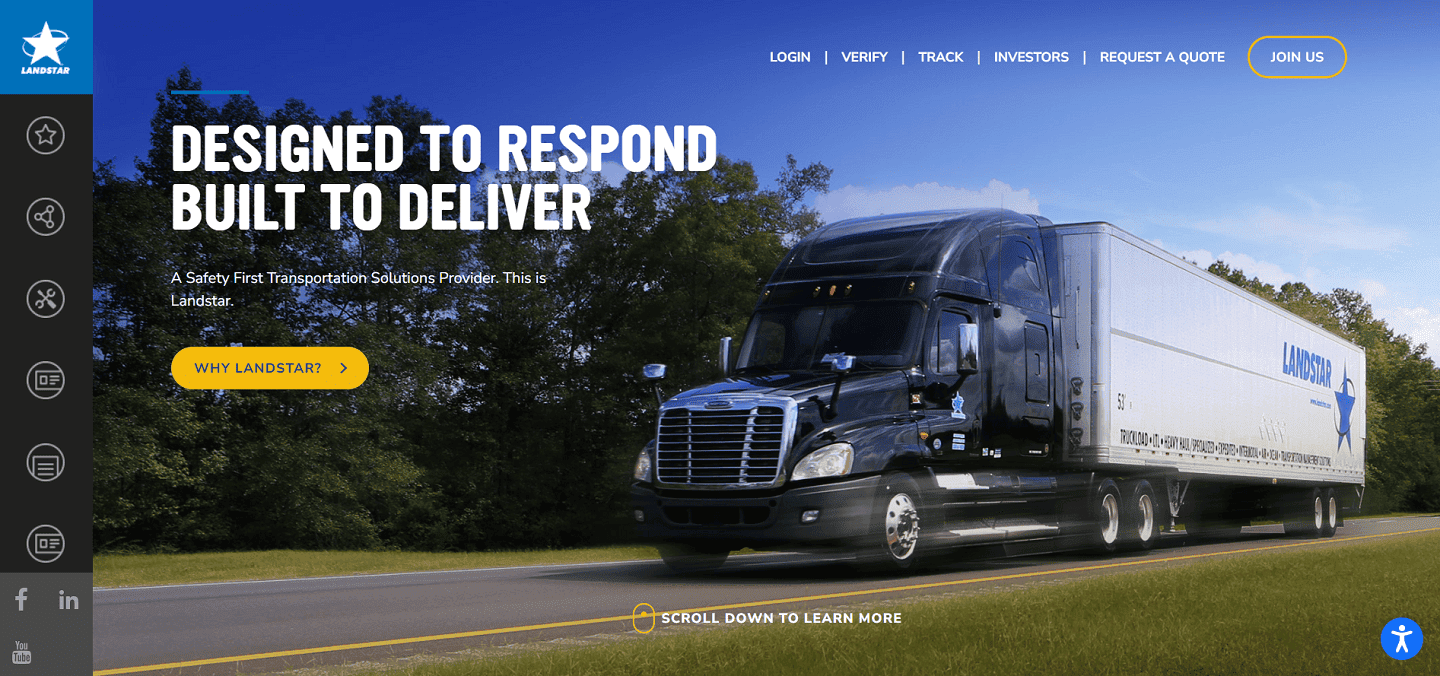 Landstar Services
Load board
Landstar offers a load board that enables carriers, owner-operator truck drivers and agents to access a system that connects them with shippers to provide transportation solutions. For owner-operators, the load boards enable you to choose the loads that meet your requirements from thousands of available loads each day. Carriers can also find the best loads and post when your truck is available to get loads.
Businesses can post single loads to complex projects with a variety of freight requirements. They are provided with a personalised service from Landstar's network of agents and truck owner-operators who are assisted by Landstar's back-office support and resources.
LandstarOne mobile app allows load providers to find loads and set load alerts against their criteria to receive notifications about potential loads that meet their criteria. Agents can access real-time data about their business using tools that provide them with in-depth analytics, information on pricing and available capacity.
Landstar Reviews and Ratings
There are virtually no reviews available for Landstar on most of the leading customer review sites as you can see list below.
The only reviews available for Landstar are on Trustpilot and these two reviews don't really relate to the services that they provide. One reviewer didn't agree with them for political reasons and the other referred to getting spam emails from them.
Trustpilot – 2.9/5 (based on 2 reviews)
Capterra – no reviews
G2 – no reviews
Featured Customers – no reviews
Facebook – no reviews
Pros
Offers a broad network of trucks
Provides data and insights on your activities
Voted one of the Top 100 3PL Providers
Cons
Doesn't offer any other fleet services
No relevant customer reviews
Website: https://www.landstar.com/
Disclaimer: Fleetlogging.com is a general business information website only. The material and information on this website should not be relied upon for making any business or legal decisions. We cannot recommend any company and/or product, nor assess your suitability for any product and/or company listed here.