User Reviews
Review Summary
0.0 out of 5 stars (based on 0 reviews)
Recent Reviews
There are no reviews yet. Be the first one to write one.
Submit a Review
Livestock Haulers Hub offers a specialist self-serve platform that connects shippers and haulers to match loads for moving livestock. They help haulers fill their trucks and assist shippers in moving their livestock across the US.
They have a growing and diverse network of 5,500 users that use their load board and its self-serve nature allows you to build relationships with haulers or shippers. They support livestock breeders, producers, feeders, veterinarians, fairs, shows and more.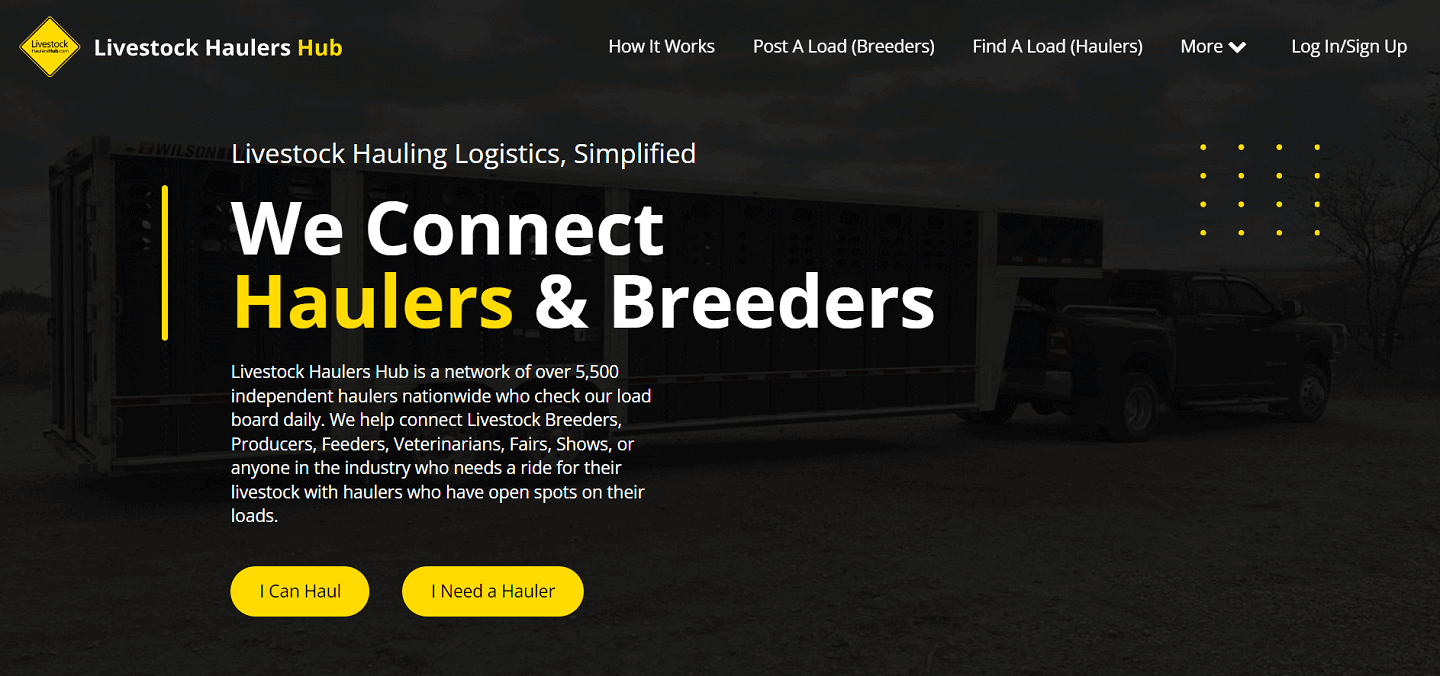 Livestock Haulers Hub Services
Load board
Livestock Haulers Hub offers a load board that is a self-serve directory allowing registered users to search for haulers or loads from shippers. Their load board is free to use for both haulers and shippers but you need to register for an account which requires just a few details.
Once haulers have an account they can search for loads that match your requirements. They have an interactive map that has a number on each state to show how many loads are available in each state. When you find a load that you like, you can view the contact details and contact the person about the load. The exchange and negotiation of rates is between the two parties and Livestock Haulers Hub is not involved.
Once shippers have set up an account, they can post loads by completing a load form and submitting it. When the load is live, a notification will be sent to all haulers to alert them to the new load. You will receive quotes directly from haulers and once the load has been allocated, you will need to remove the load from the load board.
Livestock Haulers Hub Reviews and Ratings
There are no customer reviews for Livestock Haulers Hub on the leading customer review sites as listed below.
Trustpilot – no reviews
Capterra – no reviews
G2 – no reviews
Featured Customers – no reviews
Facebook – no reviews
Pros
Specialist livestock load board
Free to join and use
Direct contact with shippers
Cons
Only acts as a directory and doesn't support shipping processes and transactions
Doesn't offer other services
No customer reviews
Website: https://livestockhaulershub.com/
Disclaimer: Fleetlogging.com is a general business information website only. The material and information on this website should not be relied upon for making any business or legal decisions. We cannot recommend any company and/or product, nor assess your suitability for any product and/or company listed here.