User Reviews
Review Summary
0.0 out of 5 stars (based on 0 reviews)
Recent Reviews
There are no reviews yet. Be the first one to write one.
Submit a Review
Loadup offers a freight load board that helps connect people and businesses wanting to move goods with drivers and hauliers that can transport them. Their load board is free to use and caters for anyone including freight brokers, manufacturers, private individuals, and house and furniture movers.
Loadup has been providing its load board since April 2000 with load boards available in various countries including a combined one for US and Canadian freight, and an international one for moving freight across the world.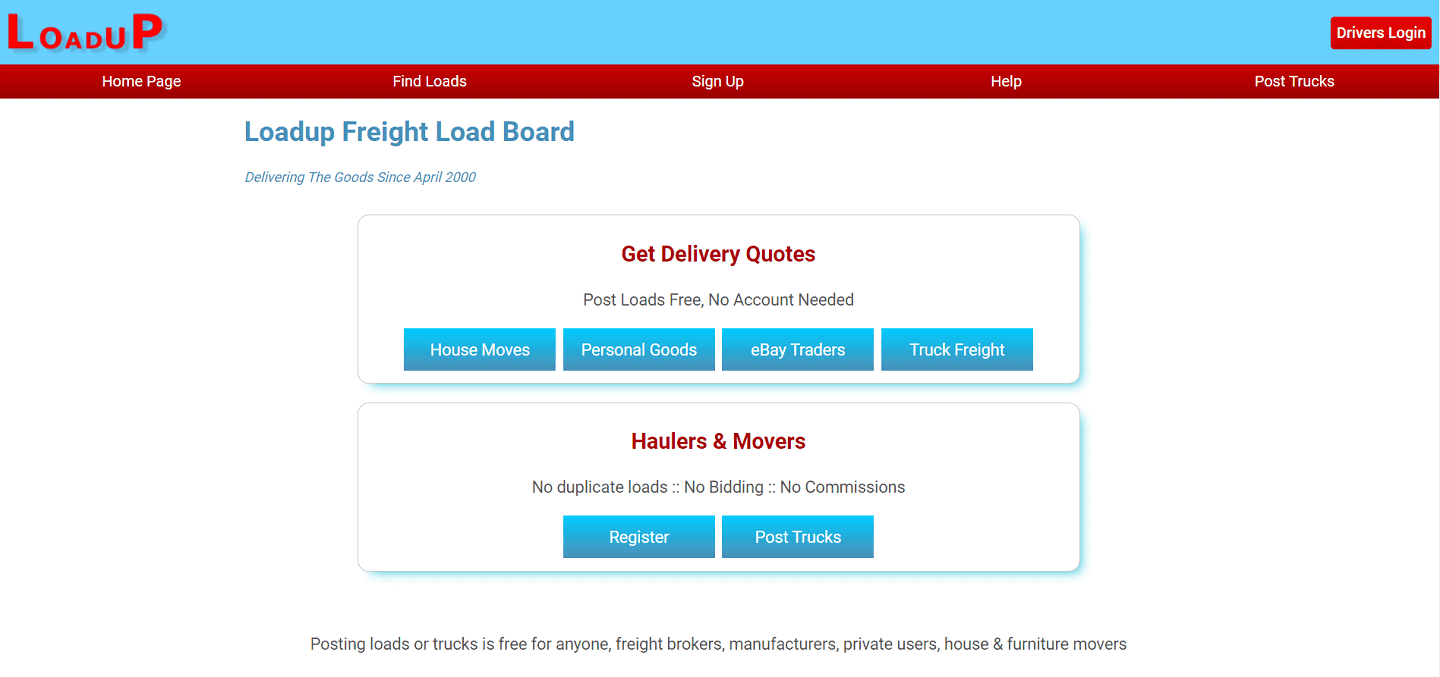 Loadup Services
Load board
Loadup offers a load board that is free to use for those posting loads and trucks but to take loads you will need to register with them and there is a membership fee for some truck types. The membership includes all charges and allows truckers to view the newest load details and set up email alerts for specific loads that meet their requirements.
Membership includes unrestricted access to loads posted, view tenders, direct access to shippers and brokers, there is no bidding, auctions or commission payable. They also include all courier and haulier members in their directory.
Loads can be posted by house movers, personal goods, eBay traders and truck freight. The load posts include details of where it is going to and from, collection date, weight, vehicle requirements and additional description. Their listings include 35 different types of vehicles to assist with specifying the right haulier for the job.
Loadup Reviews and Ratings
There are no customer reviews for Loadup on the leading customer review sites listed below.
Trustpilot – no reviews
Capterra – no reviews
G2 – no reviews
Featured Customers – no reviews
Facebook – no reviews
Pros
Free to post loads and trucks
Clear descriptions of vehicle requirements
Not a bidding or auction-style platform
Cons
No pricing information available for memberships
No customer reviews
Website: http://www.usacanadaloadup.com/
Disclaimer: Fleetlogging.com is a general business information website only. The material and information on this website should not be relied upon for making any business or legal decisions. We cannot recommend any company and/or product, nor assess your suitability for any product and/or company listed here.