User Reviews
Review Summary
0.0 out of 5 stars (based on 0 reviews)
Recent Reviews
There are no reviews yet. Be the first one to write one.
Submit a Review
Movers Dispatch Board was created to help move household goods locally and long distance for moving companies that aren't part of a national van line but could benefit from utilising carriers nationwide in the US. Their platform was the first of its kind in supporting moving companies to expand their business and operational areas whilst maintaining budgets and healthy margins.
Their dispatch board connects moving companies, brokers and carriers moving household goods. It helps to streamline processes, track loads and find loads near you. It provides a reputable, licensed and insured network to work with in delivering household goods nationwide.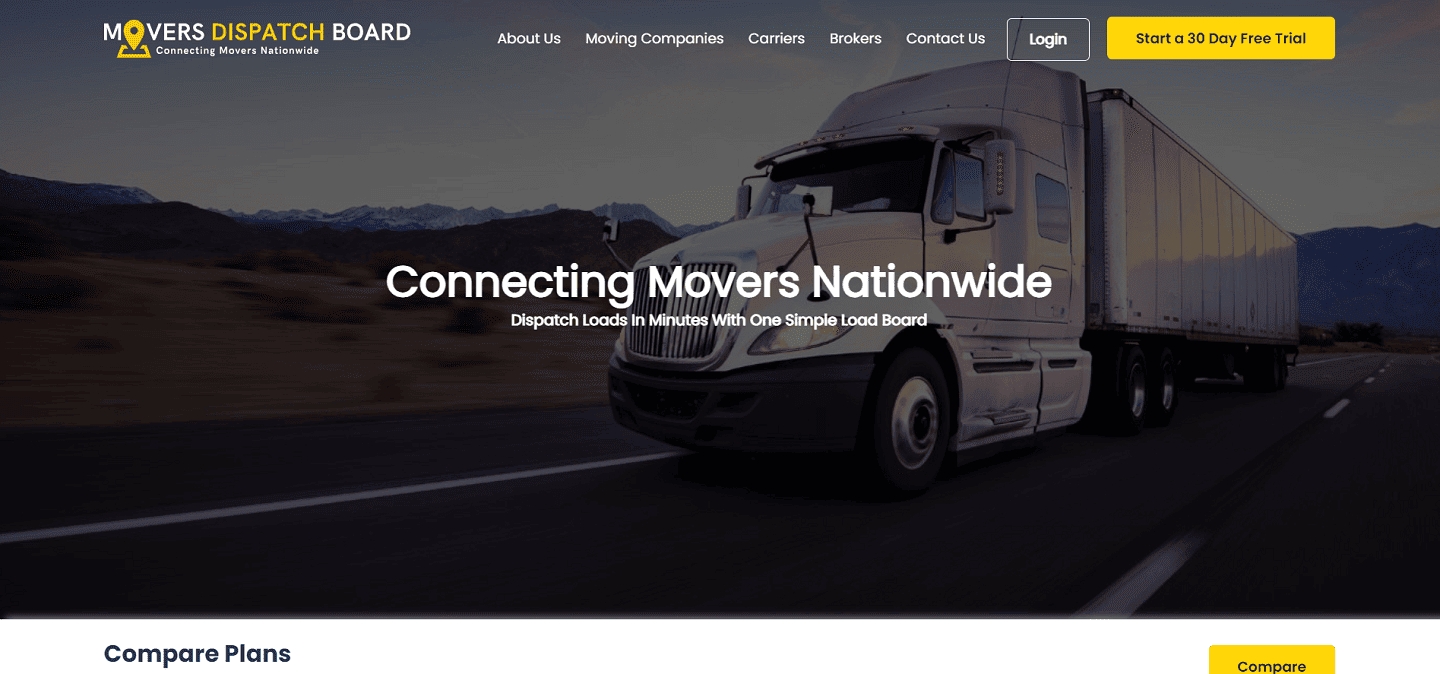 Movers Dispatch Board Services
Load board
Movers Dispatch Board is a load board dedicated to moving companies and supporting them in reaching a broader market by enabling them to deliver services nationally rather than just locally. It connects moving companies, brokers and carriers across the US to find loads and post loads in an open marketplace. It operates on a subscription service and offers a 30 day free trial.
Their load board provides a range of features and tools which include enabling you to post loads, search, negotiate, communicate and assign loads to drivers on your company dashboard. The load board also provides a document sharing facility to reduce paperwork and streamline processes.
They provide a driver and user portal which makes it accessible to everyone to access information and upload documentation. They also offer other features which include automated texts and email alerts that meet your preferences and help you to maximise your fleet. They enable you to search for loads by a list, grid or map view and you can save loads to your favourite list whilst you ask questions. The board also allows you to rate the performance of the companies you work with after each load and the average rating is displayed on the company's profile page.
Movers Dispatch Board Reviews and Ratings
There are no customer reviews for Movers Dispatch Board on the leading customer review sites as listed below.
G2 has a listing for Movers Dispatch Board but there are no customer reviews against it.
Trustpilot – no reviews
Capterra – no reviews
G2 – no reviews
Featured Customers – no reviews
Facebook – no reviews
Pros
Specialist load board for moving companies
Vetted and rated companies
Offers a 30 day free trial
Cons
Caters only for household goods
Only offers a load board and no other fleet tools or services
No customer reviews
Website: https://moversdispatchboard.com/
Disclaimer: Fleetlogging.com is a general business information website only. The material and information on this website should not be relied upon for making any business or legal decisions. We cannot recommend any company and/or product, nor assess your suitability for any product and/or company listed here.