User Reviews
Review Summary
0.0 out of 5 stars (based on 0 reviews)
Recent Reviews
There are no reviews yet. Be the first one to write one.
Submit a Review
NTG (Nolan Transportation Group) with Transportation Insight Holding Company bring two decades of multimodal expertise and technology to the logistics industry. They claim to be ranked among the top logistics companies in North America. They have over 14,000 shippers and 80,000 carriers on their logistics platform and they have 14 locations across North America.
They offer domestic freight and parcel transportation solutions, warehousing, data intelligence and supply chain consultation in North America. They provide on-demand brokerage solutions that are designed to provide shippers and carriers with the intelligence, tools and support they need.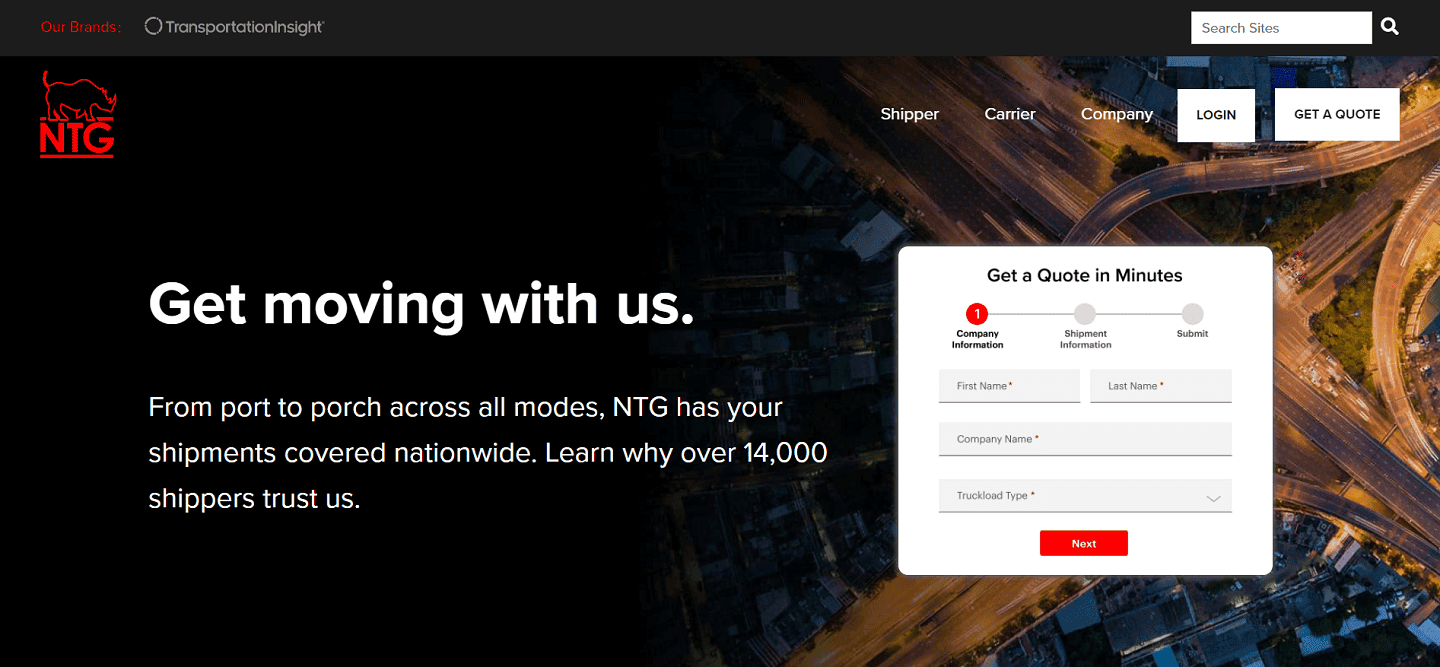 NTG Services
Load board
NTG offer a load board solution called Beon Carrier which is a fast and free enhanced technology system to help carriers. Dispatchers and owner-operators can search for loads using enhanced search filters, bid for them and win them at the best rates. They offer a range of freight services which include full truckload, less than truckload, final mile, drayage and expedited.
They offer web-based portal and mobile app-based solutions that are easy to use which can save you time and money in finding loads and keeping your trucks on the road. With the mobile app, you can find loads at any time from anywhere. They provide an instant bid and book feature to place up to three bids on a load or book straight away. They offer a choice of flexible 1-day pay and 2-day pay options so you can be paid faster.
They offer Beon Shipper to shippers for free which allows shippers to streamline their transportation operations and find the best rates for their shipments. They can request bids from a network of over 80,000 carriers and track freight 24/7. It also stores all past shipments, invoices and PODs in the document management feature.
NTG Reviews and Ratings
There are no customer reviews for NTG on the leading customer review sites as listed below.
Trustpilot – no reviews
Capterra – no reviews
G2 – no reviews
Featured Customers – no reviews
Facebook – no reviews
Pros
Offers a free load board
Caters for shippers and carriers on their load board
Large network of carriers
Cons
Only offers a load board and no other fleet tools or services
No customer reviews
Website: https://ntgfreight.com/
Disclaimer: Fleetlogging.com is a general business information website only. The material and information on this website should not be relied upon for making any business or legal decisions. We cannot recommend any company and/or product, nor assess your suitability for any product and/or company listed here.