User Reviews
Review Summary
0.0 out of 5 stars (based on 0 reviews)
Recent Reviews
There are no reviews yet. Be the first one to write one.
Submit a Review
Online Freight Services offers a range of freight systems to support businesses in better managing their loads and shipments. They are well known in the freight industry and were founded in 1997 and are backed by Echo Global Logistics. In the past 20 years, they have delivered hundreds of thousands of loads and developed strong relationships with 50,000 reliable carriers.
They offer transportation management software for agents, a self-service web portal for shippers, a platform for carriers to access information, and integration to streamline processes and improve efficiencies.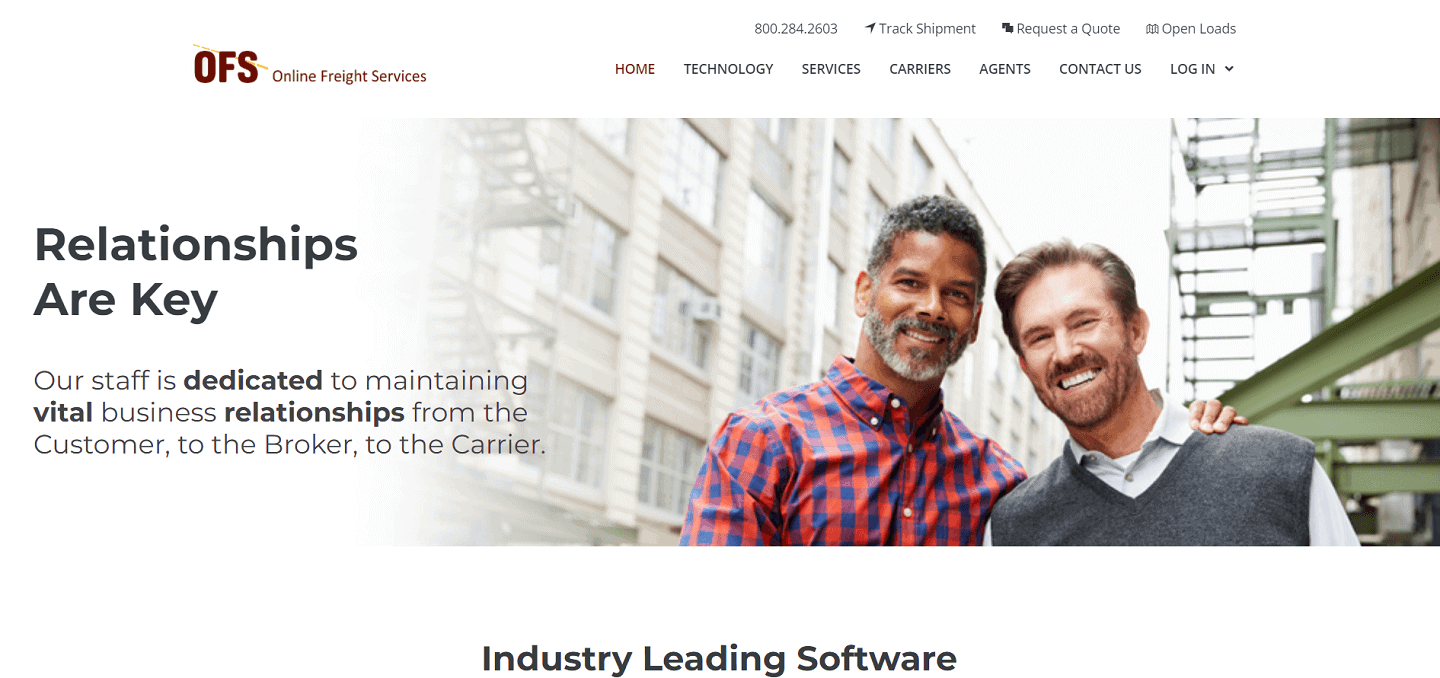 Online Freight Services' Services
Load board
Online Freight Services offers an opportunity for owner-operators to join them as a carrier to deliver their large number of freight contracts each year. They want to forge relationships with solid and reliable carriers in return for consistent loads, fair rates and respect. This includes competitive rates, quick payments and after-hours support.
They provide a load board which uses innovative technology tools to find loads which also allows you to check your payment status and details. They have a broad range of customers with different types of shipments and locations so you can find loads that best fit your needs. It can help you in securing backhaul shipments.
They offer shippers a broad network of over 50,000 carriers who can deliver loads for them. They can help take the hassle out of managing shipments as they will provide their TMSPro software, issue invoices, handle collections and pay all carriers.
Online Freight Services Reviews and Ratings
There are very few customer reviews for Online Freight Services on the leading customer review sites with only Facebook having any reviews. There are 20 reviews on Facebook with an average score of 3.6. Several of the reviews need to be discounted as they are not relevant to Online Freight Services as they are related to investments and cryptocurrencies.
Positive comments include a great company to work for, good staff, honest broker and quick payment.
Negative comments include issues with loads, discounting payments unfairly, slow payments, poor communication, and issues with making deliveries due to lack of communication.
Trustpilot – no reviews
Capterra – no reviews
G2 – no reviews
Featured Customers – no reviews
Facebook – 3.6/5 (based on 20 reviews)
Pros
Leading software to manage shipments
Manages a large number of loads that owner-operators can access
Has a large number of vetted and reliable carriers
Cons
Doesn't offer any other fleet management tools
Not clear if they charge a fee for using their load board
Very few reviews with some negative reviews
Website: https://onlinefreight.com/
Disclaimer: Fleetlogging.com is a general business information website only. The material and information on this website should not be relied upon for making any business or legal decisions. We cannot recommend any company and/or product, nor assess your suitability for any product and/or company listed here.