User Reviews
Review Summary
0.0 out of 5 stars (based on 0 reviews)
Recent Reviews
There are no reviews yet. Be the first one to write one.
Submit a Review
Prime Inc is a trucking company with family values that was founded in 1970. They claim to be one of the largest freight trucking operations and transport companies in America. They have the latest trucking technology and equipment to deliver loads safely, with better mileage and good drivers.
They have four locations across the US with a range of amenities that can be accessed by their associates which includes their training centres, stores, doctor's office, salon and spa. They have over 9,000 truck drivers nationwide who stay connected through the Prime mobile app. They have a vast network of carriers that cover the US, Canada and Mexico through their brokerage service and can access load through their load board.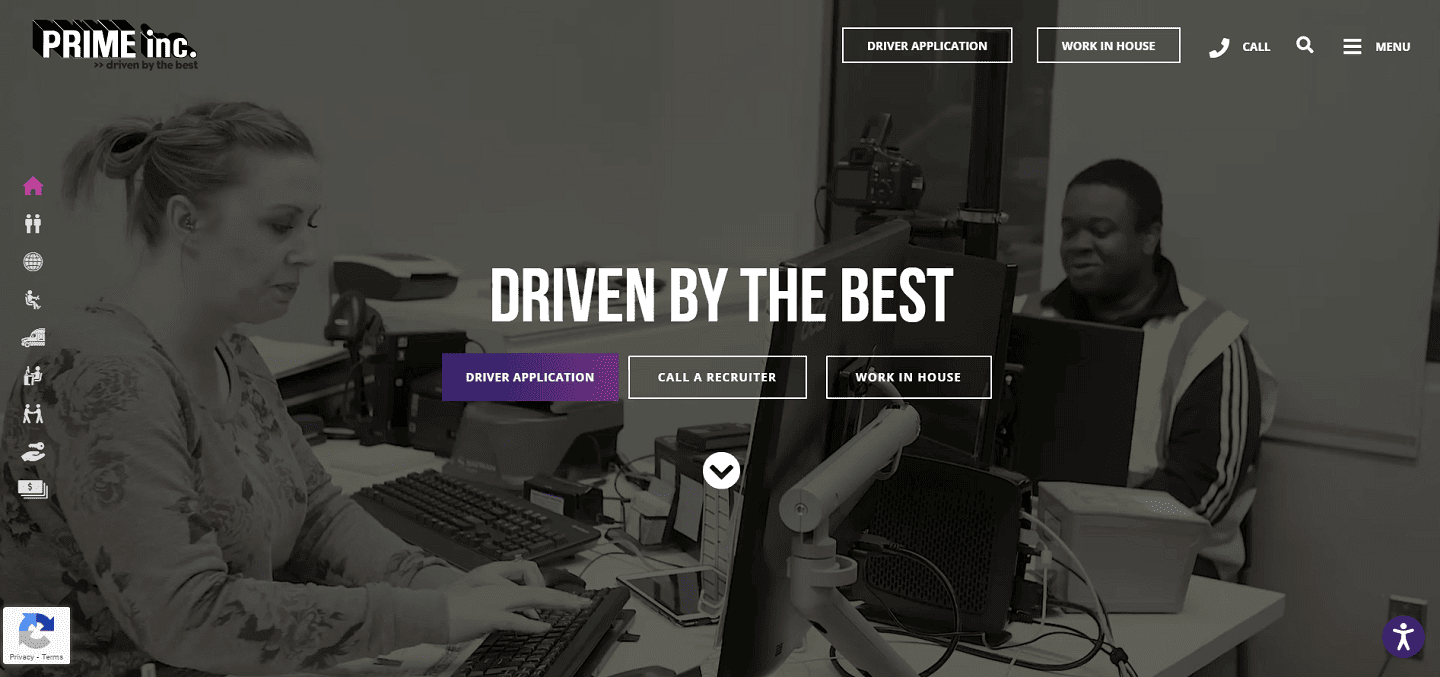 Prime Inc Services
Load board
Prime Inc has a carrier network of owner-operators and fleet owners across the US whom they provide a freight broker and logistics service for. They allow you to search on their website for the types of loads that are available through them, but you will need to sign up with them and check that you qualify to work with them before you can take on a load.
Prime Inc's freight brokerage service provides a range of benefits for carriers which include a freight and fuel network to keep you loaded as well as 24/7 phone or email support. Carriers are paid weekly and can access flexible load options and reduce paperwork. This allows carriers to reduce their operating costs, make loads more profitable, have fewer expenses, minimise deadhead miles and grow their business.
They have several divisions which include refrigerated, flatbed, tanker and intermodal. They also provide the facilities to track loads in transit through their load tracing.
Prime Inc Reviews and Ratings
There are a large number of customer reviews available for Prime Inc but these are only on Facebook and not on any of the other leading customer review sites as listed below.
The reviews on Facebook are largely positive with an average score of 4.2 based on 3,178 reviews. However, a large proportion of these positive reviews are not related to the services that Prime Inc offers as they talk about investments, cryptocurrencies and herbal remedies.
Positive comments that related to the company mentioned good service in the repair shop, praise for the CDL program, great training for starting a career in trucking, good driver amenities, great to drive for, good support staff, good pay and benefits.
Negative comments that related to the company mentioned issues with payments, an issue with resolving a vehicle collision, critical about driver behaviour such as throwing rubbish and disobeying road rules, bad recruitment experience, training needs improving, and poor communication.
Trustpilot – no reviews
Capterra – no reviews
G2 – no reviews
Featured Customers – no reviews
Facebook – 4.2/5 (based on 3,178 reviews)
Pros
Comprehensive load board
Coverage of the US, Canada and Mexico
Offers great benefits and amenities to carriers and staff
Cons
Only offers brokerage services and no other fleet management services
Not clear if there are any charges for using the load board
Mixed customer reviews with many unrelated
Website: https://www.primeinc.com/
Disclaimer: Fleetlogging.com is a general business information website only. The material and information on this website should not be relied upon for making any business or legal decisions. We cannot recommend any company and/or product, nor assess your suitability for any product and/or company listed here.