User Reviews
Review Summary
0.0 out of 5 stars (based on 0 reviews)
Recent Reviews
There are no reviews yet. Be the first one to write one.
Submit a Review
Ryan Transportation is a transportation services, finance and technology company that was founded over 35 years ago. They are part of the Shamrock Family of Brands. They have a network of over 100,000 carriers that span all modes and equipment types covering all of North America. They have nine locations across the US.
They offer freight brokerage and managed transportation service providers. They bring together shippers and carriers whilst helping them to cut costs, improve efficiencies and streamline operations. They specialise in supporting industries such as agriculture, food and beverage, construction, automotive, chemical and more.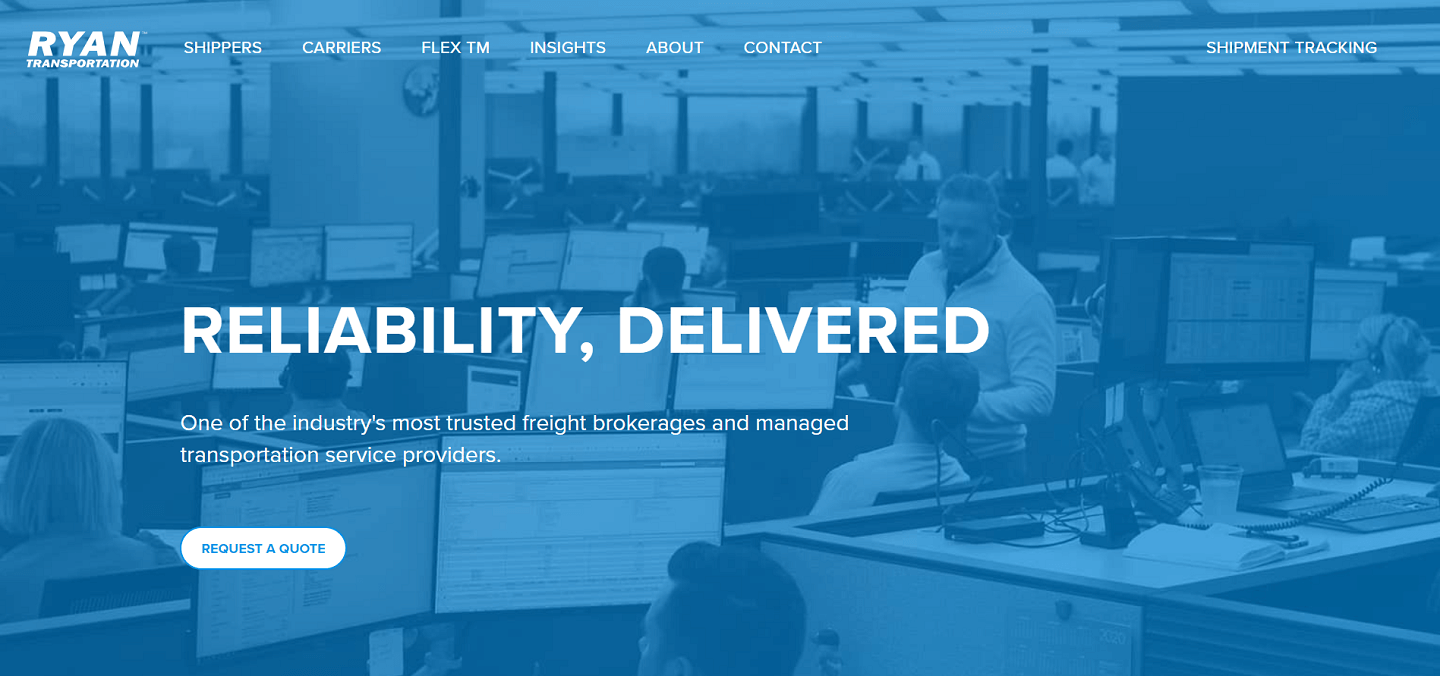 Ryan Transportation Services
Load board
Ryan Transportation offers a load board called RTS Pro which is available on the web or mobile app. It allows you to find, quote, negotiate and book thousands of available loads with free access. They offer fast and easy payments with payments within 10 days. They allow you to find loads on a map view and see the key details.
To become a carrier for Ryan Transportation you can register on their website by completing a carrier profile and agreement as well as providing insurance broker information and sample certificate.
As a carrier for them, they provide some exclusive services which include same-day funding on freight invoices, discounts on fuel, maintenance and retread tyres, customisable trucking software, access broker credit data, and additional savings when bundling fuel and factoring. As a load board user, you can easily upload invoices to the factoring account to access money quickly.
Ryan Transportation Reviews and Ratings
There is only one review for Ryan Transportation on the leading customer review sites as listed below. The review is on G2 and the reviewer gives them a 2 star review because they didn't like how many tasks needed to be done manually and integration with other systems was required to make it work. The benefits of it were that you could see it at the individual level and customer visibility.
Trustpilot – no reviews
Capterra – no reviews
G2 – 2.0/5 (based on 1 review)
Featured Customers – no reviews
Facebook – no reviews
Pros
Free access load board
National coverage with a variety of freight solutions
Offers fuel and maintenance discounts
Cons
Doesn't offer other fleet services or tools
Registered but not vetted network of carriers
Low number of customer reviews with poor scores
Website: https://www.ryantrans.com/
Disclaimer: Fleetlogging.com is a general business information website only. The material and information on this website should not be relied upon for making any business or legal decisions. We cannot recommend any company and/or product, nor assess your suitability for any product and/or company listed here.