User Reviews
Review Summary
0.0 out of 5 stars (based on 0 reviews)
Recent Reviews
There are no reviews yet. Be the first one to write one.
Submit a Review
Ryder is a logistics and transportation company that can help improve supply chains and make them more efficient. They offer customised solutions that utilise technology to create solutions that maximise the flexibility, efficiency and sustainability of supply chains.
They can help optimise supply chain solutions, provide transportation solutions and e-commerce fulfilment. They also offer a full-service brokerage service that covers North America with agile solutions that bring together shippers and carriers.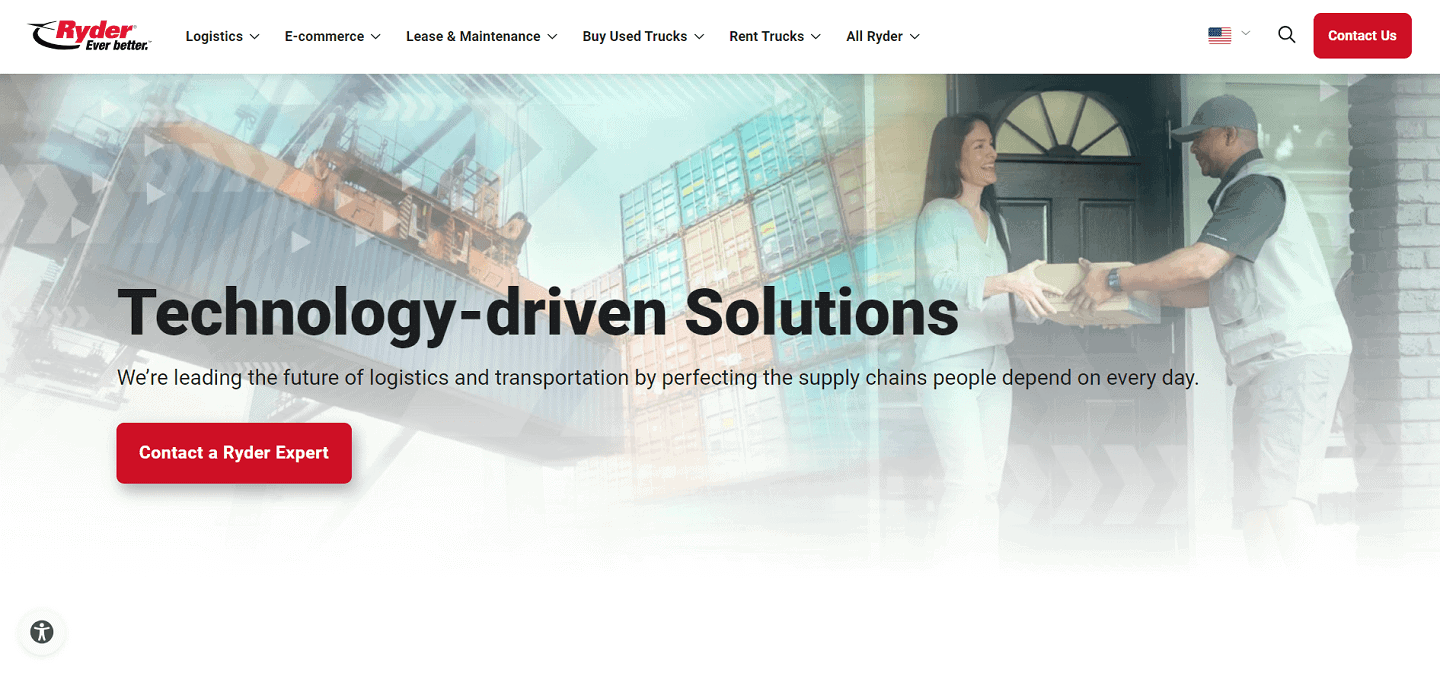 Ryder Services
Load board
Ryder offers a full freight brokerage service that covers North America which connects shippers and carriers to deliver agile supply chain solutions. Their load board provides a one-stop network of carriers and multi-modal transportation. Their load board is supported by a dedicated account expert who will provide assistance as an extension of your business.
They offer a range of transportation mode options including full truckload, LTL, expedited, dry van, temperature-controlled, dedicated capacity, flatbed and intermodal. To become a carrier with Ryder you must provide your MC/MX or DOT registration, W9, complete a Carrier Profile, provide a certificate of insurance, and also meet the requirements of having Active Common or Contract Authority and have a Safety Rating of satisfactory or none.
Shippers can benefit from being able to find the right freight solutions for their business and choose carriers from over 28,000 vetted freight carriers with competitive prices. Once booked shippers can track the shipment in real time. They also provide strategic market intelligence and insight to help you.
Ryder Reviews and Ratings
There are quite a lot of customer reviews for Ryder with most of them being on Featured Customers. Trustpilot has only two reviews with an average score of 2.9 but both reviewers scored them 1 star. G2 had one review that was positive with a score of 4.5 from a 5 star review.
There are 1,120 customer references for Ryder on G2 with an average score of 4.8 based on 531 testimonials and 589 case studies.
Positive comments include easy-to-use system, great partnership with them, good at problem-solving, and improved quality of their fleet.
Negative comments include customers having difficulty scheduling deliveries, incomplete deliveries, and poor driver behaviour.
Trustpilot – 2.9/5 (based on 2 reviews)
Capterra – no reviews
G2 – 4.5/5 (based on 1 review)
Featured Customers – 4.8/5 (based on 1120 reviews)
Facebook – no reviews
Pros
Comprehensive load board
Large vetted network of carriers
Positively rated in most customer reviews
Cons
Doesn't offer other fleet services or tools
No details about fees or charges
Website: https://www.ryder.com/en-us
Disclaimer: Fleetlogging.com is a general business information website only. The material and information on this website should not be relied upon for making any business or legal decisions. We cannot recommend any company and/or product, nor assess your suitability for any product and/or company listed here.