User Reviews
Review Summary
0.0 out of 5 stars (based on 0 reviews)
Recent Reviews
There are no reviews yet. Be the first one to write one.
Submit a Review
Transfix is a transportation and logistics company that uses technology to connect shippers and carriers to match loads and optimise supply chains more efficiently and sustainably. They use AI-driven freight matching software and best in class freight experts to deliver high performance and reliable service.
They help carriers find loads and better plan their capacity to reduce the number of empty miles and optimise their networks. They provide shipper and carrier tools to help them operate sustainably, efficiently and make savings.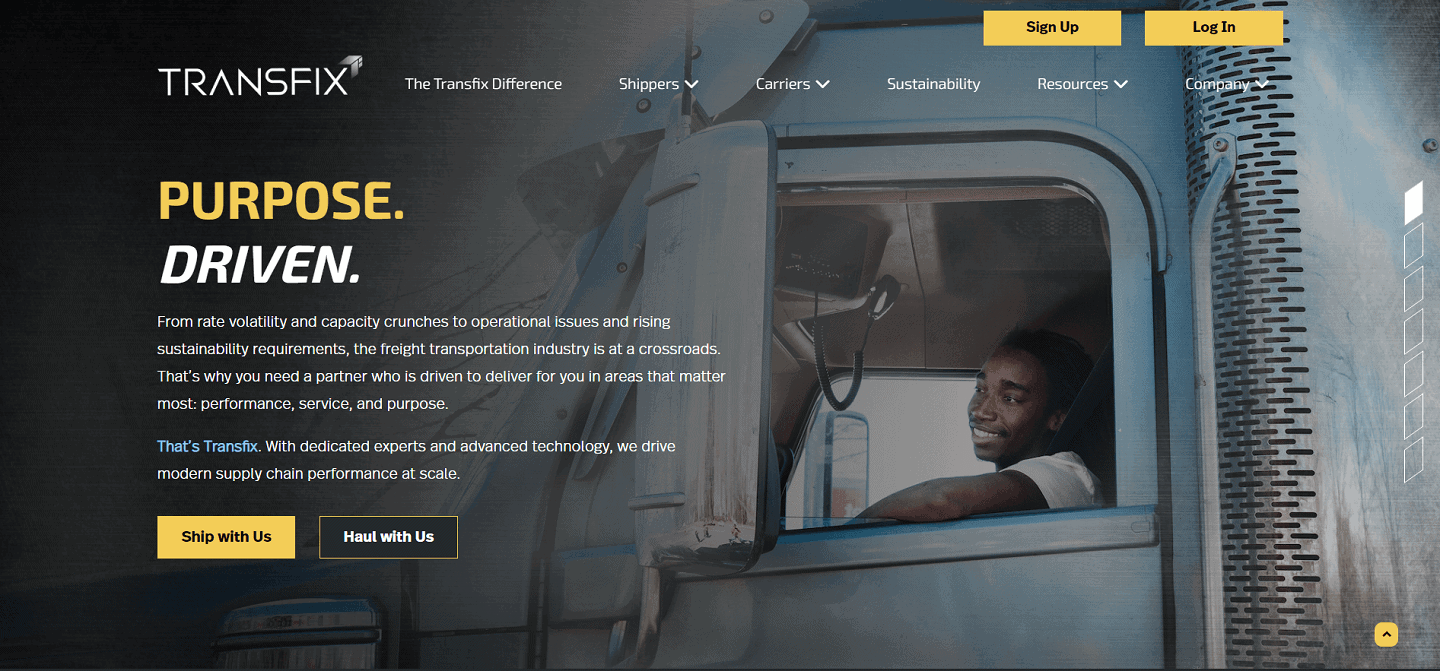 Transfix Services
Load board
Transfix offers a digital freight marketplace for carriers which can provide consistent freight to keep trucks on the road. They provide a desktop platform and mobile app that allows you to search for loads on your preferred lanes, at any time, and book them. This includes being able to use intelligent backhaul to prevent empty return trips.
The load board allows carriers of all sizes to access some of the biggest shippers in the world. It also helps by providing automation and personalisation of the load board such as customised alerts. The software also gives you greater visibility of your fleet allowing you to better control it and making it easier for your drivers and dispatchers. You can also get paid faster with TriumphPay to receive payment in as little as 48 hours.
They provide shippers with access to the load board to enable them to find carriers from their nationwide network. Through the Shipper App, they can review quotes, bookings, track loads and manage shipments. It can also integrate with other systems.
Transfix Reviews and Ratings
There are a significant number of customer reviews for Transfix on the leading customer review sites. There is a single review on Trustpilot that gives them a score of 3.4 based on a 3 star review with them stating that they are a typical broker and you'll get the load and no more.
Featured Customers has the most reviews with 286 customer user ratings which is made up of 215 testimonials and 71 case studies. Some of the feedback included cost savings were achieved and created a long-term partnership with them. Most testimonials are locked so you can't read most of them.
Trustpilot – 3.4/5 (based on 1 review)
Capterra – no reviews
G2 – no reviews
Featured Customers – 4.8/5 (based on 286 reviews)
Facebook – no reviews
Pros
Technology-driven load board
Includes tracking facilities
Positively rated in most customer reviews
Cons
Doesn't offer other fleet tools or services
No pricing information
Not clear if carriers are vetted
Website: https://transfix.io/
Disclaimer: Fleetlogging.com is a general business information website only. The material and information on this website should not be relied upon for making any business or legal decisions. We cannot recommend any company and/or product, nor assess your suitability for any product and/or company listed here.