User Reviews
Review Summary
0.0 out of 5 stars (based on 0 reviews)
Recent Reviews
There are no reviews yet. Be the first one to write one.
Submit a Review
Trinity Logistics is a freight solutions company that has been operating for over 40 years working with businesses to help them with their logistics operations and supply chains. They have been rated as one of the top 20 freight brokerage companies in the US. They have a wide network of authorised carriers and a range of transportation solutions.
They provide transportation solutions to a variety of industries including food and beverage, chemical, and construction and manufacturing. They offer quality loads to carriers through their load board that will keep businesses on the road with full loads.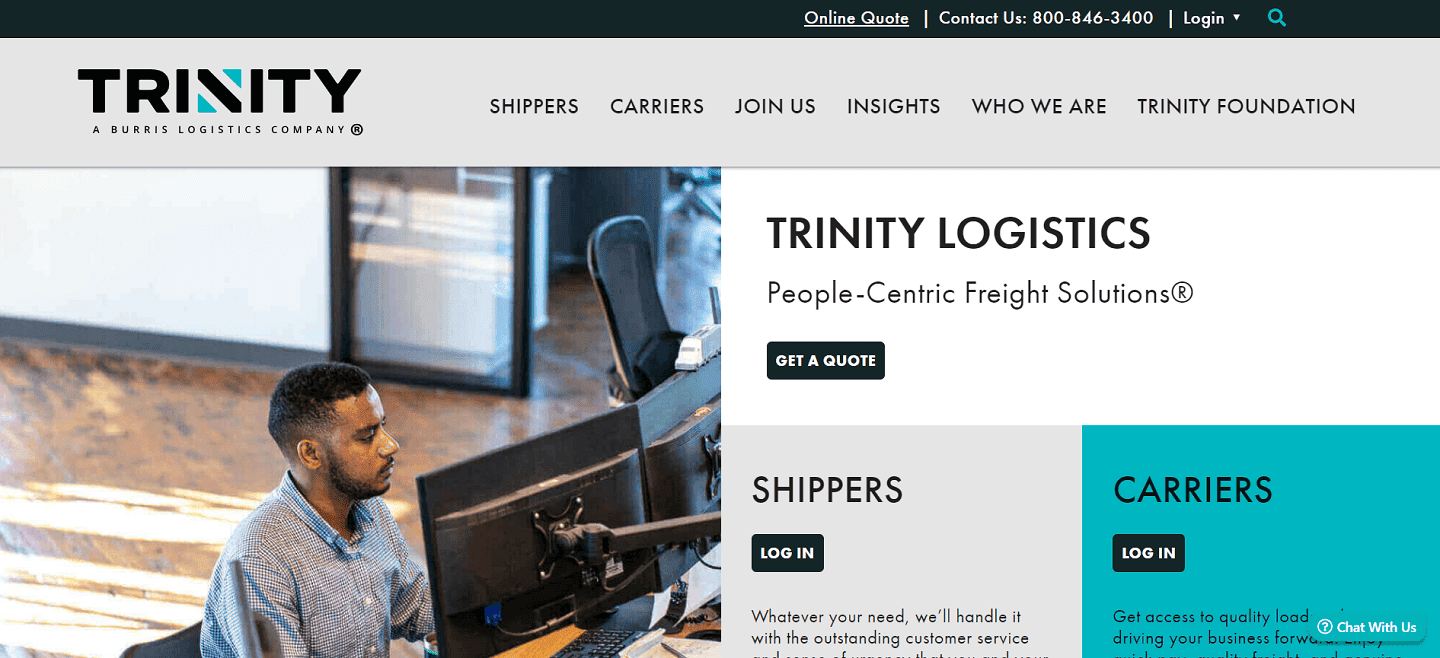 Trinity Logistics Services
Load board
Trinity Logistics' Carrier Portal provides carriers with access to thousands of shipments which can help them to keep their trucks full and increase their profitability. Their load board enables carriers to view all available loads, search loads by pickup and delivery locations, then you can submit a quote and book loads.
The load board also allows carriers to post their available equipment so shippers can search for them. The load board also stores additional information which includes checking your payment status on shipments.
To become a carrier for Trinity Logistics, you need to join the network and be vetted first. As one of their carriers, you will get paid quickly through TriumphPay. They also provide reward schemes and recognition for carriers. They will also make sure carriers stay certified and maintain association memberships.
They offer shippers tailored solutions and access to a network of carriers who offer a range of equipment including truckload, LTL, intermodal, drayage, expedited and international shipments.
Trinity Logistics Reviews and Ratings
There are a large number of customer reviews available for Trinity Logistics on two of the leading customer review sites which are Trustpilot and Facebook.
Trustpilot has 755 reviews with an average score of 4.6 which is made up of 85% 5 star reviews, 5% 4 star, 2% 3 and 2 star reviews, and 6% 1 star reviews.
Facebook has 147 reviews with an average score of 3.8 but many of these reviews were not related to Trinity Logistics as they mentioned trading, investments and cryptocurrency.
Positive review comments included great experience, good service, competitively priced, communicates well, transparent, reliable, high standards, late to pick up, sent wrong equipment to collect shipment, and good QuickPay program.
Negative review comments included unloading dispute, detention issues, unprofessional, dishonest, unable to speak to a person, cutting the rates after agreement, poor communication, rude staff, and issues getting paid.
Trustpilot – 4.6/5 (based on 755 reviews)
Capterra – no reviews
G2 – no reviews
Featured Customers – no reviews
Facebook – 3.8/5 (based on 147 reviews)
Pros
Industry recognised network
Vetted network of carriers
Many positive customer reviews
Cons
Offers no other fleet tools or services
No pricing information
Website: https://trinitylogistics.com/
Disclaimer: Fleetlogging.com is a general business information website only. The material and information on this website should not be relied upon for making any business or legal decisions. We cannot recommend any company and/or product, nor assess your suitability for any product and/or company listed here.