User Reviews
Review Summary
0.0 out of 5 stars (based on 0 reviews)
Recent Reviews
There are no reviews yet. Be the first one to write one.
Submit a Review
Truckstop was founded in 1995 with the drive to deliver a better load board through technology enhancements. Since then, they have expanded beyond standard load boards to offer customers a toolbox of practical solutions to support businesses in succeeding. This includes supporting the entire freight moving lifecycle starting with matching loads through to payment.
They have created a platform that is growing and improving which brings together brokers, carriers and shippers. They have over 250,000 active users with 80 million annual loads. They offer load boards as well as rate and market insights, factoring of payments and cargo insurance.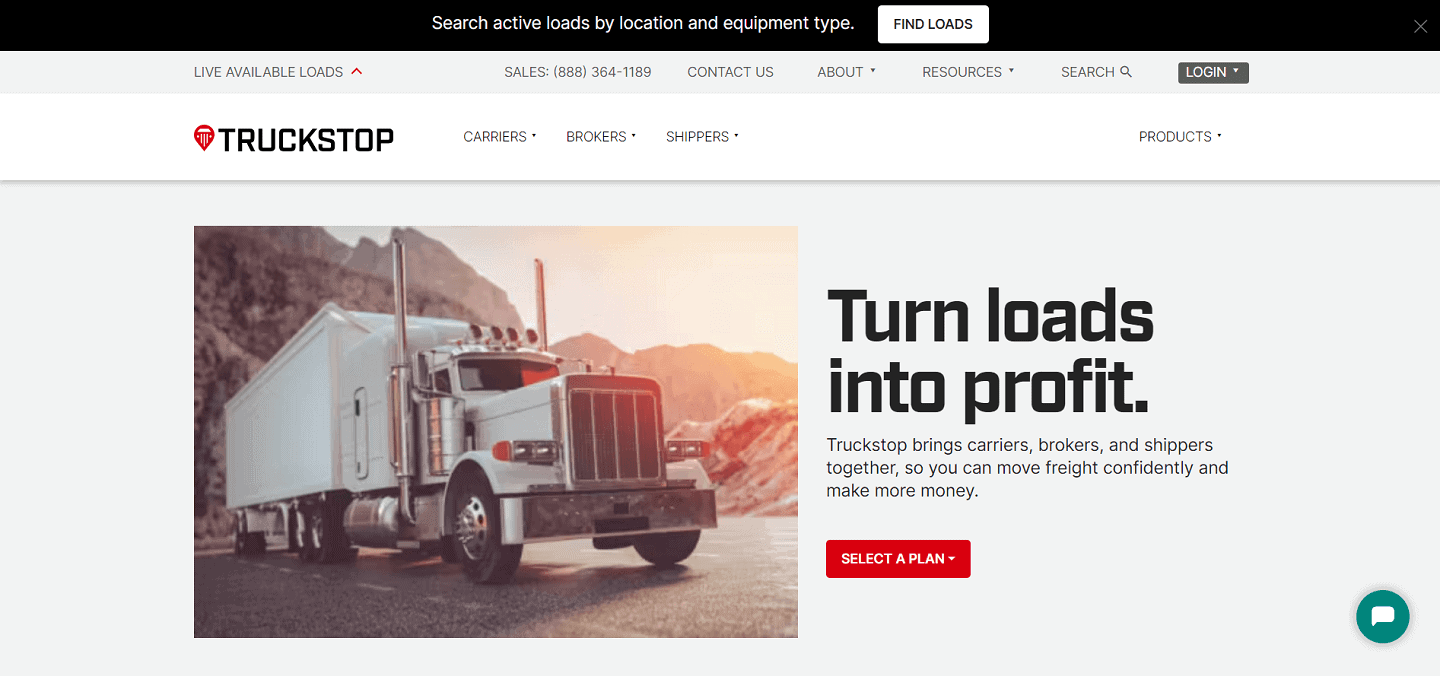 Truckstop Services
Load boards
Factoring
Cargo insurance
Load boards
Truckstop offers load boards that cater for a range of truck types including flatbeds, vans, heavy haul, reefer, specialised and LTL. They offer a range of plans that are tailored to either carriers, brokers, shippers or dual.
Carrier load board plans include a Basic plan which enables you to search for and book loads as well as including decision tools. The Advanced plan also allows you to weed out slow paying brokers through the Credit Stop Broker and a Fuel Desk. The Pro plan includes advanced tools such as load comparisons, real-time updates, rate insights, heat maps, best paying load searches and multi-trip.
Broker load board plans include a Basic plan which allows you to search and post on a single load board with access to decision tools. The Pro plan gives you access to their rate insights and carrier performance tools. The Premium plan in addition includes tools for finding and monitoring carriers.
Shipper load board plans include a Basic plan and a Pro plan that are similar to the Broker plans. They also offer an Advanced plan which gives access to carrier performance rating tools and Credit Stop. The Dual plans are the same as the Broker plans.
Factoring
Factoring allows businesses to be paid straight away once they issue their invoices in exchange for a low fee. Truckstop offers factoring that enables you to get paid within 24 hours and pay a fee as low as 2.99% with no minimum volume requirements.
Factoring allows you to free up money tied up in invoices and saves you from having to wait 30 or more days for payment. Truckstop offers flexible cancellations with agreements that work for customers. They offer full-service invoicing and free back-office support. You can check if you can factor your invoices with brokers through their website and check whether that broker is approved for factoring.
They provide the Truckstop Go app which enables you to factor your invoices whilst on the go and apply for advances. Through the app, you can also view your invoice payment history and scan paperwork.
Truckstop Reviews and Ratings
There are a substantial number of reviews for Truckstop across three of the leading customer review sites with both G2 and Featured Customers having fairly high customer ratings and Trustpilot being more middle of the road with an average score.
Trustpilot reviews are fairly split with an average score of 3.4 which is made up of 45% receiving 5 star scores, 9% 4 stars, 9% 3 stars, 10% 2 stars and 27% 1 star scores.
G2 reviewers are largely positive with an overall score of 4.1 and 59% scoring them 5 stars, 20% 4 stars, 12% 3 stars, 2% 2 stars and 6% 1 star scores.
Featured Customers has an overall rating of 4.8 which is made up of 1,356 testimonials, 311 case studies and 116 customer videos.
Positive comments include good customer care, depth introductory and training, great tools, easy and efficient to use, assists with estimating fuel usage, useful rate insights, good load filtering features, great factoring service, assists in sourcing difficult to find vehicles, access to credit scores is very useful, help with chasing payments, and a lot of freight available to choose from.
Negative comments include website loading times being slow, the interface being less user-friendly compared to competitors, estimated rates are often under the actual price, live bidding would be better, load maps would be useful, slow service on factoring, and unresponsive and poor customer service.
Trustpilot – 3.4/5 (based on 830 reviews)
Capterra – no reviews
G2 – 4.1/5 (based on 274 reviews)
Featured Customers – 4.8/5 (based on 1,783 reviews)
Facebook – no reviews
Pros
Experienced provider managing a high volume of loads annually
Provides a range of plans to suit different budgets and needs
Predominantly positive customer reviews
Cons
Only offers load boards and factoring and no other fleet services
A high number of negative comments are about poor customer service due to not answering phones, although there are a lot of positive comments from those who have spoken to customer service
Website: https://truckstop.com/
Disclaimer: Fleetlogging.com is a general business information website only. The material and information on this website should not be relied upon for making any business or legal decisions. We cannot recommend any company and/or product, nor assess your suitability for any product and/or company listed here.