User Reviews
Review Summary
0.0 out of 5 stars (based on 0 reviews)
Recent Reviews
There are no reviews yet. Be the first one to write one.
Submit a Review
Uber Freight is a load board provider that offers a way to connect shippers and carriers to make shipping goods easier. They have an extensive freight network that offers a wide range of solutions to solve any challenges.
They have built a platform that uses technology and services to provide greater transparency and visibility for shippers and carriers. They provide real time pricing and insights to support carriers in selecting the right loads. They provide tracking technology that helps track loads and load booking tools to remove barriers and improve communication.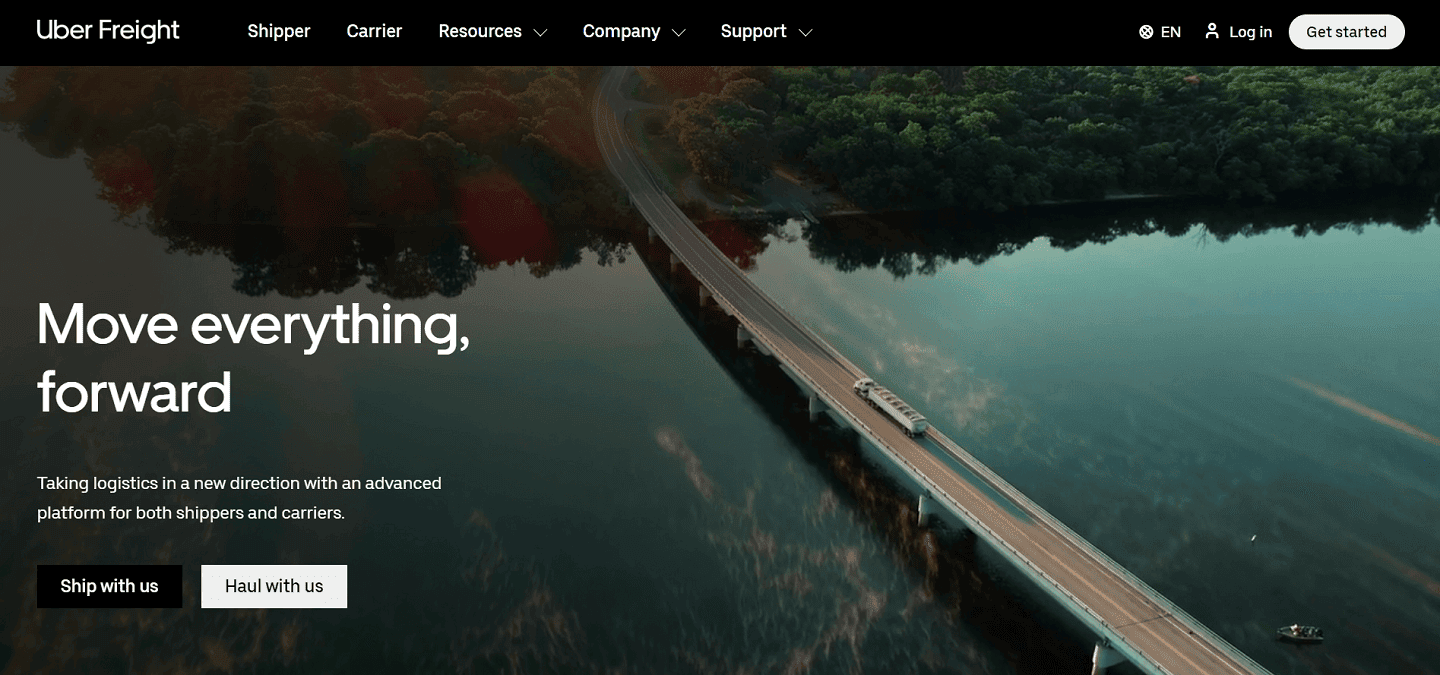 Uber Freight Services
Load board
Uber Freight's load board combines the largest network of digitally enabled carriers with logistics technology and transportation services to provide the best load opportunities for carriers and options for shippers.
For carriers, they provide a load board platform that offers upfront pricing and instant booking so you can manage the loads you take on quickly and easily. It provides customised load suggestions with hassle-free booking and alerts for preferred loads. You can also review facility ratings before making a booking. You can search for loads by trailer type, location, pickup date, length of haul, deadhead, rate per mile, price and weight.
For shippers, they provide instant access to a network of carriers that can help save money and time. They have over 100,000 trusted carriers that can bid for your loads. They provide real time load tracking and invoicing to support the whole shipping process.
Uber Freight Reviews and Ratings
There are very few customer reviews available for Uber Freight on the leading customer review sites as listed below.
There are 16 reviews on Capterra which gives them an overall score of 4.1 which is comprised of 50% 5 stars, 25% 4 stars, 19% 3 stars and 6% 1 star. The ratings for different aspects of the service were 4.4 for ease of use, 3.9 for customer service, 4.2 for features, and 4.1 for value for money.
G2 only had 14 reviews that gave an overall score of 4.2 which is made up of 50% 5 star reviews, 43% 4 star reviews and 7% 3 star reviews.
Positive comments about Uber Freight were it is great for small businesses, easy to coordinate shipments on the go, good for tracking shipments, has competitive pricing, saves time, large network of carriers, is user-friendly, and assists with organising routes and managing shipments.
Negative comments about Uber Freight were it doesn't necessarily cater for unique shipping needs, only a small list of options to search on/use as keywords, limited service area of the US, limited commodity options, a lack of transparency, issues with paperwork, issues changing details once the job is accepted, lack of control over scheduling, problems with reloads, an hours notice of confirmation before collection is insufficient time, driver cancellations or collection times too early or late, and poor customer service.
Trustpilot – no reviews
Capterra – 4.1/5 (based on 16 reviews)
G2 – 4.2/5 (based on 14 reviews)
Featured Customers – no reviews
Facebook – no reviews
Pros
Has one of the largest carrier networks in the US
Easy to use platform
Positively rated in customer reviews
Cons
Only offers load boards and no other fleet services
Low number of customer reviews
Website: https://www.uberfreight.com/
Disclaimer: Fleetlogging.com is a general business information website only. The material and information on this website should not be relied upon for making any business or legal decisions. We cannot recommend any company and/or product, nor assess your suitability for any product and/or company listed here.