User Reviews
Review Summary
0.0 out of 5 stars (based on 0 reviews)
Recent Reviews
There are no reviews yet. Be the first one to write one.
Submit a Review
uShip offers a marketplace that helps carriers generate business and assists shippers in finding the right freight partner to deliver their goods or belongings. Their load board has had 9.1 million shipment listings with new shipments posted every 30 seconds which provides lots of opportunities for carriers.
With 41,000 service providers, they have a wide range of freight types to cater for a variety of goods. Their load board is free to join for both carriers and shippers. Carriers will be vetted before they are given access to the load board.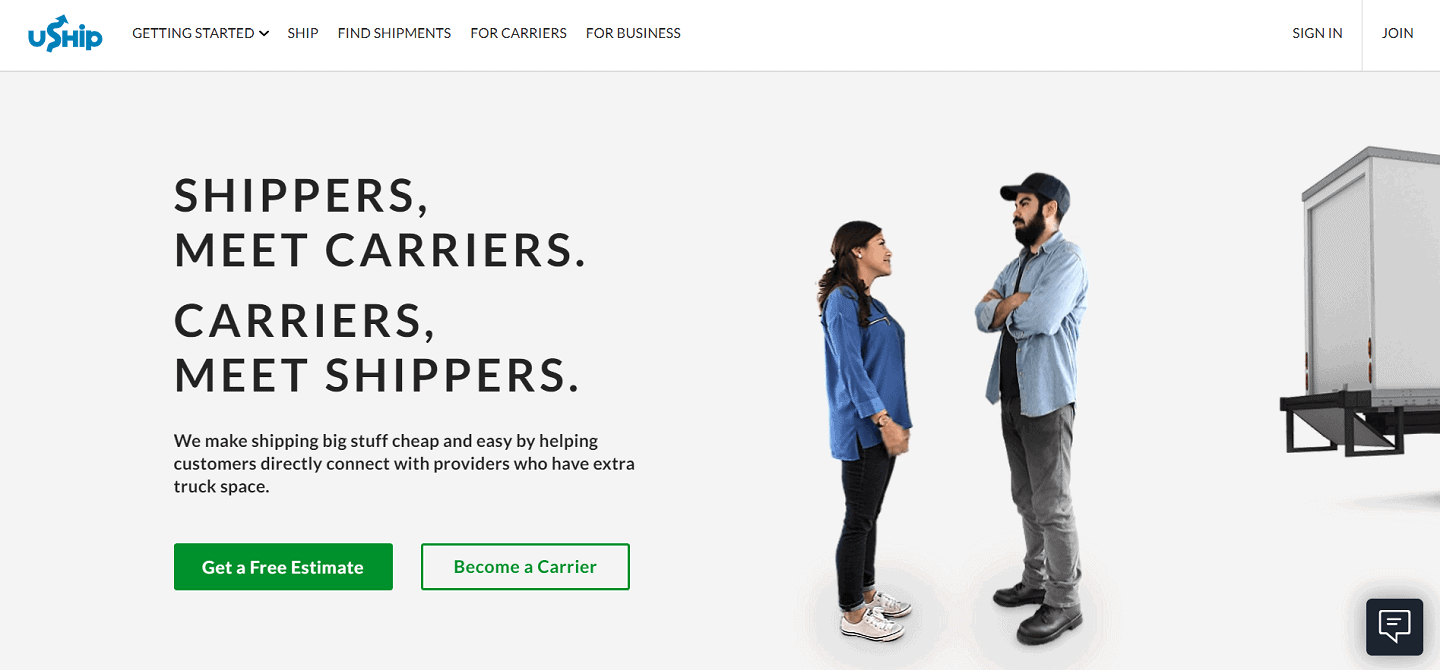 uShip Services
Load board
uShip offers a load board that caters for both carriers and shippers allowing shippers to post loads and registered carriers to submit quotes. Carriers and shippers can sign up for the load board online. Carriers need to provide their details and authority to verify their business and vehicle/s. The load board includes feedback ratings on providers to help select the right one to work with. Their load board is free to join but a match fee is charged for each load which can be factored into your quote so that it doesn't cost you anything.
They have 41,000 service providers and 9.1 million shipment listings which can help transport freight faster, cheaper and easier. They can help move a wide variety of goods including vehicles and boats, household items, moves, heavy equipment, animals, hay bales, waterslides and Jacuzzis. They offer full and part load freight options.
uShip offers shippers the ability to list their items, compare quotes and select a carrier. Shippers can have peace of mind about their load as it will be covered with shipping protection, shipment tracking and secure payments.
uShip Reviews and Ratings
There are a large number of customer reviews available for UShip but these are mostly on Trustpilot. Capterra and G2 both have a single review on them with a 5 star rating. The reviews on Trustpilot are mainly positive with an average score of 4.4 based on 11,313 reviews which are made up of 82% 5 star reviews, 8% 4 stars, 3% 3 stars, 2% 2 stars and 5% 1 star reviews.
Positive comments include straightforward process, reasonable fees, good shipper, friendly and professional people, reliable, good communication, excellent carrier marketplace, and delivered the shipment safely.
Negative comments include comments are open for all to read, charge the customer a service fee, issues with cancellation and refund, unvetted brokers, expensive, missing load, unreliable, poor service and support.
Trustpilot – 4.4/5 (based on 11,313)
Capterra – 5/5 (based on 1 review)
G2 – 5/5 (based on 1 review)
Featured Customers – no reviews
Facebook – no reviews
Pros
Free to join load board
Large network of vetted carriers
Positively rated in a large number of customer reviews
Cons
Only offers a load board and no other fleet tools or services
Some concerning comments on reviews about fees and delivery issues
Website: https://www.uship.com/
Disclaimer: Fleetlogging.com is a general business information website only. The material and information on this website should not be relied upon for making any business or legal decisions. We cannot recommend any company and/or product, nor assess your suitability for any product and/or company listed here.