User Reviews
Review Summary
0.0 out of 5 stars (based on 0 reviews)
Recent Reviews
There are no reviews yet. Be the first one to write one.
Submit a Review
C H Robinson is a transportation platform and global services provider that aims to simplify complex logistics processes and deliver reliable supply chains with savings and greater visibility. They manage $30 million of freight annually and are one of the world's largest logistics platforms.
They aid in the delivery of goods with expertise and a multimodal transportation management system. They have 100,000 customers and 96,000 contract carriers in their network. They offer innovative and tailored solutions to help customers to optimise their supply chains.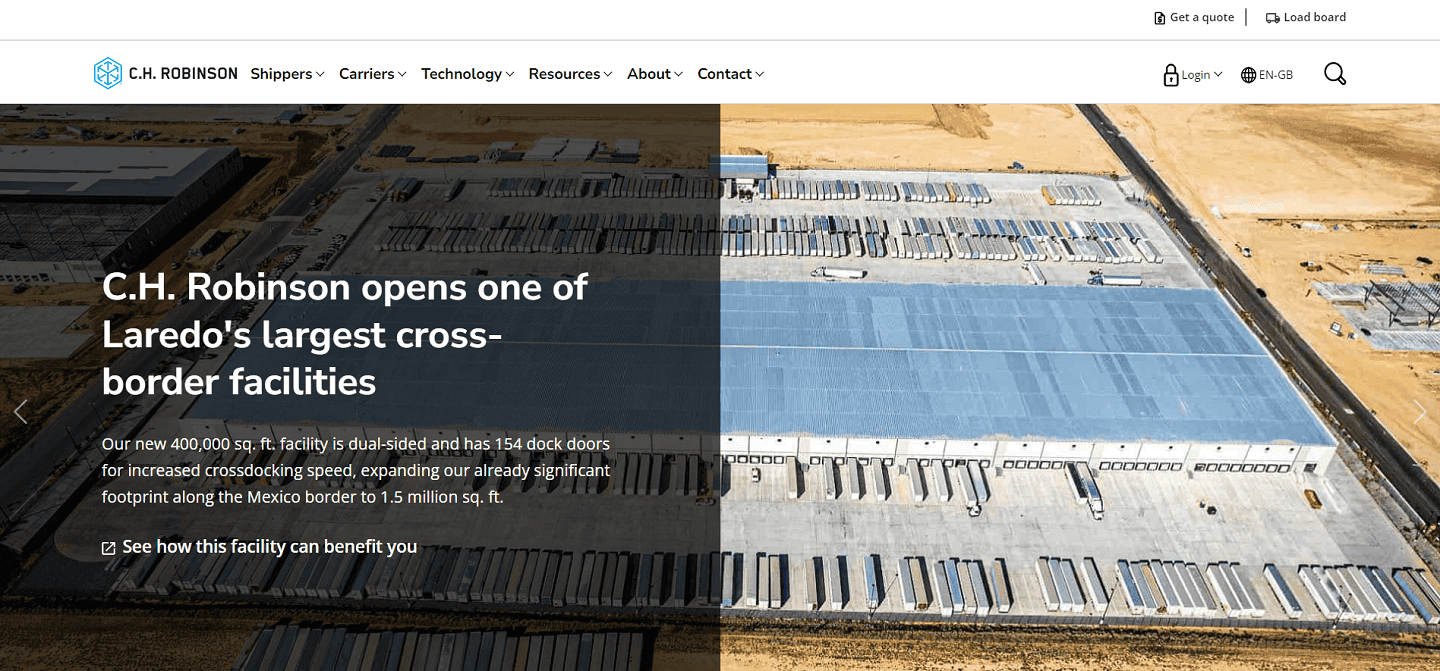 C H Robinson Services
Load board
C H Robinson offers Navisphere which is a single, global, multimodal transportation management system that enables you to automate, optimise and manage every aspect of your shipment lifecycle across multiple vendors. It provides shippers with visibility of every step of the journey and helps with purchase management, quoting, tracking and invoicing as well as access to carrier information and routing.
Carriers can become a member of the Carrier Advantage Programme which gives them access to Navisphere and a range of benefits. They offer three tiers of their programme, Base includes standard access to freight, standard % on QuickPay and standard discount on fuel. The Core tier gives early access to freight, premium % on Quick Pay and silver discount on fuel. The Key tier provides the earliest access to freight exclusive % on QuickPay, gold discount on fuel and a dedicated account representative.
To become a carrier for C H Robinson you need to complete a carrier set-up form and provide a transport license, liability insurance at a minimum of Euro 25,000, a completed equipment-related form, and a VAT certificate.
Fuel card
C H Robinson offers a fuel card that can save you up to $8,000 per year per truck on fuel. Their fuel card offers flexibility, convenience and savings. The fuel card can make savings across the US at hundreds of retailers including TA Pedro, TA Express, Casey's, Roady's, 7ELEVEN, Speedway and Stripes. You can find your nearest fuel retailer and compare prices on their fuel finder on their Navisphere Carrier app.
The level of discount you get is dependent on the tier of the Carrier Advantage Programme you have. The fuel card can also help you to lower the costs of other motoring items including tyres and services at TA Pedro and TA Express.
They offer two types of cards – the first is a credit or debit card which has a $50 application fee, and the second is a cash advance card which doesn't require a credit check and there is no application fee.
C H Robinson Reviews and Ratings
There are a reasonable number of customer reviews on C H Robinson on the leading customer review sites. G2 has a listing but there are no reviews.
Trustpilot has 32 reviews with an average score of 1.8 based on 32 reviews comprising of 6% 5 star reviews, 3% 2 star and 91% 1 star reviews.
Facebook has the most customer reviews with 342 reviews and an average score of 3.6, although most of the reviews are not related to C H Robinson but are about investments, cryptocurrencies and herbal remedies. The reviews that are about C H Robinson are negative.
Positive review comments include happy employees and good customer service from a particular member of staff.
Negative review comments include unprofessional staff, poor communication, awful customer service, rates too low, issues with invoicing/payments, additional charges added, cancelled loads, moving delivery dates, damaged goods on the load, lost/stolen products, issues with the app, delivery delays, excess charges wrongly applied, delivered to the wrong address, and bad employer.
Trustpilot – 1.8/5 (based on 32 reviews)
Capterra – no reviews
G2 – no reviews
Featured Customers – no reviews
Facebook – 3.6/5 (based on 342 reviews)
Pros
One of the world's largest platform providers
Assists with automating and streamlining your supply chain
Offers a range of benefits including a fuel card and QuickPay
Cons
Doesn't offer a wider range of fleet tools or services
Customer reviews raise concerns over their service levels and performance
Website: https://www.chrobinson.com/en-gb/
Disclaimer: Fleetlogging.com is a general business information website only. The material and information on this website should not be relied upon for making any business or legal decisions. We cannot recommend any company and/or product, nor assess your suitability for any product and/or company listed here.