User Reviews
Review Summary
0.0 out of 5 stars (based on 0 reviews)
Recent Reviews
There are no reviews yet. Be the first one to write one.
Submit a Review
Doft is a load board provider that covers the US, Canada and Mexico which has over 150,000 loads per day. Their on-demand truck sharing technology is designed to connect shippers and truck drivers to make it easier to transport loads and fill empty trucks.
The load board is free to use with most of the main features included and a premium option is offered. They have made it easier for shippers to manage their loads with direct access to drivers and the ability to track shipments in real time. They enable carriers to bid for loads and get paid quickly.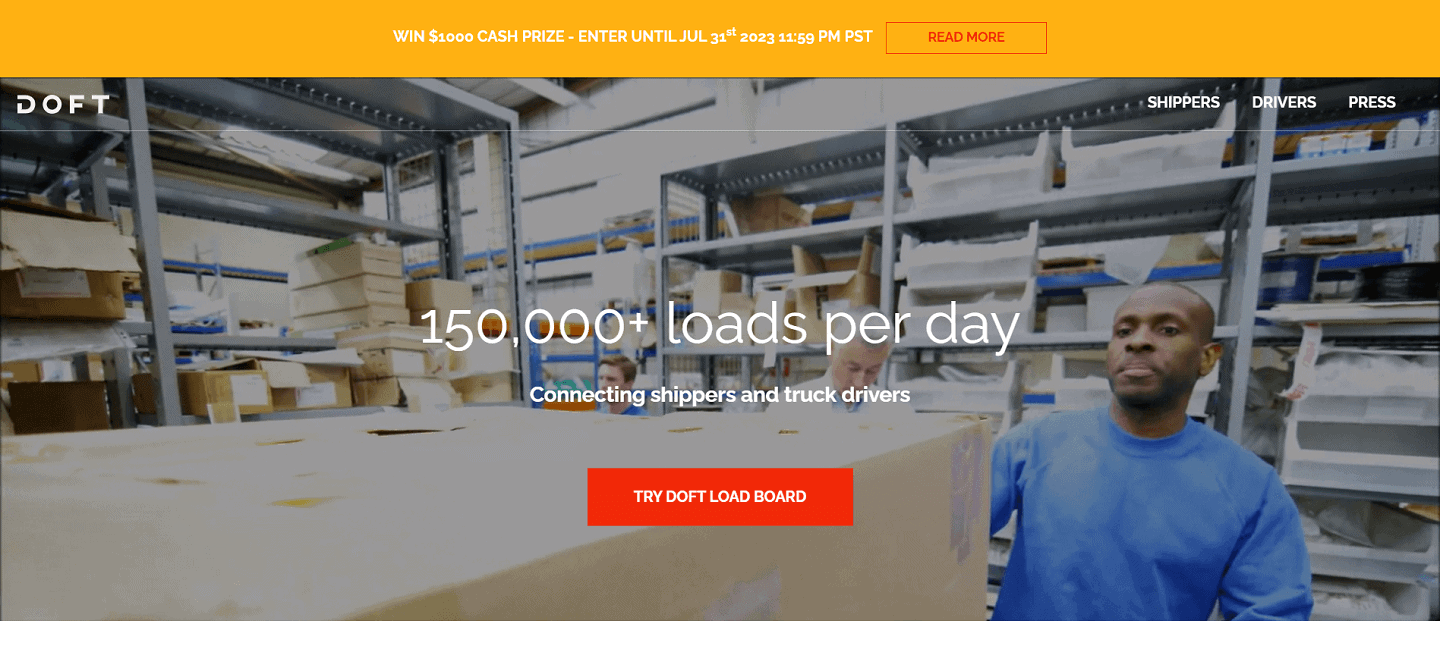 Doft Services
Load boards
Doft offers a load board that connects shippers and truck drivers with over 150,000 loads per day. They provide shippers with real time access to trucks with GPS tracking and they offer instant rate confirmation.
Carriers and truck drivers can access loads to reduce the amount of deadhead miles and maximise their revenue. They state that they provide carriers with fair tariffs and that they can get paid within 24 hours. You can get real time notifications about nearby loads and negotiate the best rates through bidding for the loads.
Shippers can get direct access to truckers through their truck sharing technology which will save you time and money. A truck can be booked in minutes with real-time quotations. The system allows you to track your shipment in real time as well as get BOL and POD as soon as the load is delivered, and you can pay drivers through the app.
Doft Reviews and Ratings
There are only customer reviews available for Doft on Trustpilot.
There are only a small number of reviews available for Doft on Trustpilot and they have an overall average score of 3.4/5. This is composed of 44% 5 star reviews, 7% 4 star reviews, 17% 3 star reviews, 4% 2 star reviews and 28% 1 star reviews.
Positive comments include a great app that is easy to use, has accurate details, is good for Canada, decent pay for loads, fast payment, is good for tracking shipments, a great free app, and a high number of posts to choose from.
Negative comments include brokers don't include enough information, rates can be too low, suspicious posts, and problems contacting customer service.
Trustpilot – 3.4/5 (based on 46 reviews)
Capterra – no reviews
G2 – no reviews
Featured Customers – no reviews
Facebook – no reviews
Pros
Offers a free plan with most of the main features
Wide coverage in the US, Canada and Mexico
Large number of loads to choose from
Cons
No other fleet management services offered
Only average customer review scores from a small number of reviews
Website: https://doft.com/
Disclaimer: Fleetlogging.com is a general business information website only. The material and information on this website should not be relied upon for making any business or legal decisions. We cannot recommend any company and/or product, nor assess your suitability for any product and/or company listed here.