User Reviews
Review Summary
0.0 out of 5 stars (based on 0 reviews)
Recent Reviews
There are no reviews yet. Be the first one to write one.
Submit a Review
DumpTruckLoads.com is a specialist load board provider for dump trucks. They claim to be the only dump truck network in the world which brings together dump trucks and contractors. Membership to the load board is free. They operate across the US and have launched services in Canada and Mexico.
They enable contractors to post and manage loads so they can find trucks when they need them. They enable dump trucking companies to search for available loads and fill backhauls for their trucks as well as see what contractors are working on.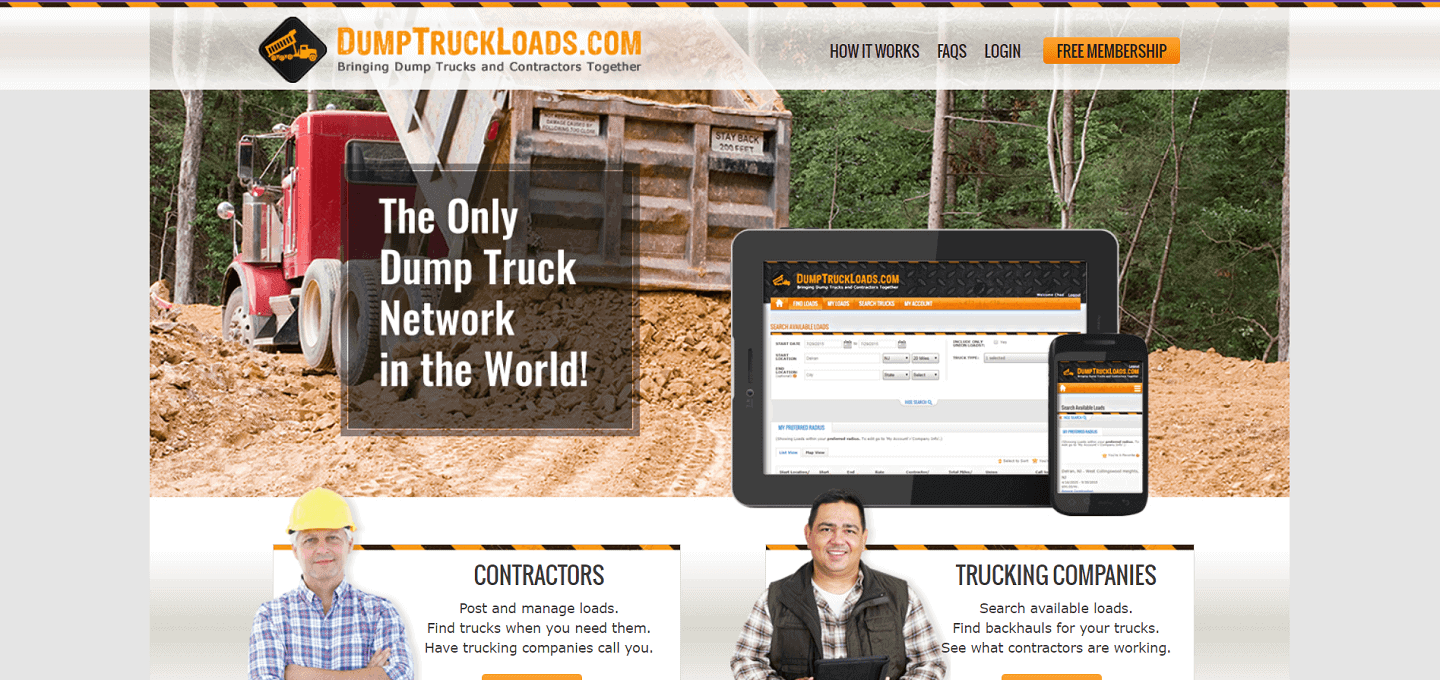 DumpTruckLoads.com Services
Load board
DumpTruckLoads.com is a completely free load board that is dedicated to dump truck loads and helping contractors and truck companies to connect. As a dump truck owner, you can search the country for loads and backhauls that can make your truck/s more efficient and profitable. It also allows contractors to search for suitable trucks in your area and contact you directly with work.
They have set the system up to send notifications by text and/or email about suitable loads in your area. Members can also access CoverWallet free and save $99 per year, this helps assess what insurance you need, purchase and manage insurance.
Contractors can benefit from an easy-to-use platform that supports the construction industry by enabling them to access hundreds and thousands of truck owners either through the directory or the load board without the middleman. They enable you to set up a favourite list that lets you mark providers that you prefer and you can send alerts just to those providers.
DumpTruckLoads.com Reviews and Ratings
There are no customer reviews for DumpTruckLoads.com on the leading customer review sites as listed below.
Trustpilot – no reviews
Capterra – no reviews
G2 – no reviews
Featured Customers – no reviews
Facebook – no reviews
Pros
Free load board
Specialist service for dump trucks
Allows direct contact to negotiate without a middleman
Cons
Doesn't offer other fleet tools or services
No vetting or involvement in managing trucking companies if an issue occurs
No customer reviews
Website: https://www.dumptruckloads.com/
Disclaimer: Fleetlogging.com is a general business information website only. The material and information on this website should not be relied upon for making any business or legal decisions. We cannot recommend any company and/or product, nor assess your suitability for any product and/or company listed here.