User Reviews
Review Summary
0.0 out of 5 stars (based on 0 reviews)
Recent Reviews
There are no reviews yet. Be the first one to write one.
Submit a Review
Full Circle is a transportation software company that supports business growth, maximises productivity and improves profitability. They do this through automating your operational and financial processes as well as integrating with key trading partners.
Their web-based system caters for two person operations through to billion dollar transportation companies. They offer five different packages that are tailored for different needs. Their products include load board, transportation management systems and integrations such as ELD and driver cards.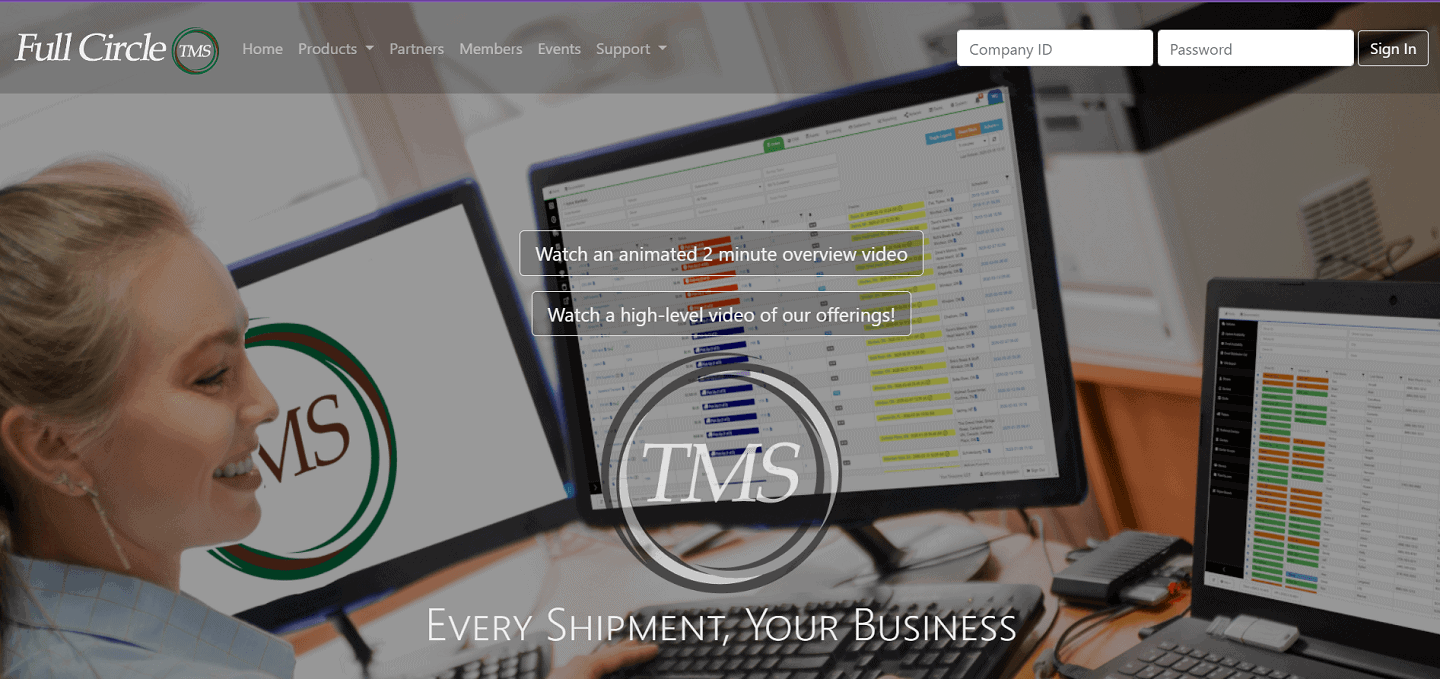 Full Circle TMS Services
Load board
Transportation Management System
ELD
Load board
Full Circle offers a load board that specialises in hotshot or expedited freight for cargo vans, sprinters, straight trucks and tractor trailer loads. The load board allows registered users to post and search for loads or trucks, and bid for loads. You can also select to friend and unfriend partners within the network.
Brokers can manage bids on their posted loads and award loads to the successful bidder. It can also auto-dispatch to the selected bidder with rate confirmation and send unsuccessful bid notifications by email.
They offer the load board as part of their Full Circle Exchange plan which includes a transportation management system suitable for smaller companies which features a basic CRM, fleet management system, order entry, dispatch and cross-carrier integrations. If you want to be a carrier for Full Circle you will need to complete an online form which includes your DOT or MC number. You must have at least three vehicles on your insurance policy and have an active FMCSA DOT number for at least one year.
Transportation Management System
Full Circle offers a transportation management system as part of each of its plans for carriers and brokers. This can include a range of features which include a customer management system (CRM), fleet management system, order entry, dispatch and cross-carrier integration (Load Link), finance functionalities, accounting software integration, EDI interfaces, vehicle and shipment tracking, and ELD integration. It also includes a built-in load and truck sharing system for posting and searching for loads and equipment (load board).
They also offer an integrated TMS plan which can enable you to integrate your TMS into the Full Circle TMS so that you can utilise all the products within the Full Circle TMS alongside your own TMS. These include the load board, truck searches and cross-carrier integration (CCI).
ELD
Full Circle offers a free built-in module for Enterprise level subscribers which allows them to integrate a range of ELD software into their system. So you can select a device from a range of leading ELD suppliers based on which prefer.
Through the integration of the two systems, you will be able to get information about your driver's hours of service (HOS) to help you meet regulatory requirements. It will also help you to monitor your truck's usage and dispatch loads more efficiently ensuring that they have fewer empty miles. The wealth of data provided by the ELD will assist with decision making.
Full Circle TMS Reviews and Ratings
There are no customer reviews for Full Circle TMS on the leading customer review sites as listed below.
Trustpilot – no reviews
Capterra – no reviews
G2 – no reviews
Featured Customers – no reviews
Facebook – no reviews
Pros
Offers a choice of integrated fleet service packages
Offers a load board for posting and searching for loads and trucks
Offers a range of plans that cater for different needs and business sizes
Cons
Doesn't offer a standalone load board plan
No pricing information
No customer reviews
Website: https://fullcircletms.com/
Disclaimer: Fleetlogging.com is a general business information website only. The material and information on this website should not be relied upon for making any business or legal decisions. We cannot recommend any company and/or product, nor assess your suitability for any product and/or company listed here.