User Reviews
Review Summary
0.0 out of 5 stars (based on 0 reviews)
Recent Reviews
There are no reviews yet. Be the first one to write one.
Submit a Review
Harte Hanks is a global marketing agency established in 1923 that specialises in marketing, customer care, fulfilment and logistics. Their logistics solutions include supply chain optimisation solutions, logistic services and transportation management systems. They offer services in North America, Asia Pacific and Europe.
Harte Hanks has designed their logistics solutions to support transportation companies and shippers to become more efficient, saving them time and money through automation and connected systems. They offer a load board to support carriers to access loads and become more efficient.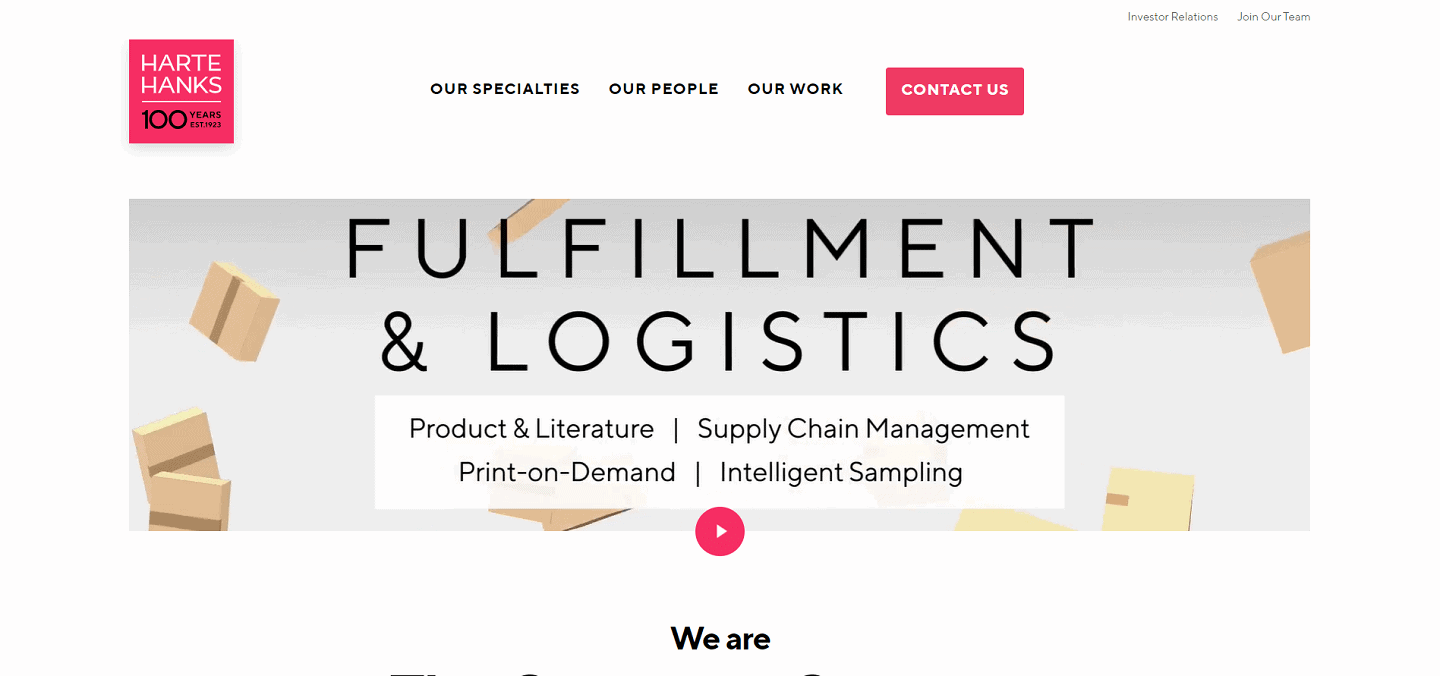 Harte Hanks Services
Load board
Transportation management system
Load board
Harte Hanks provides logistics services that use a network of 9,000 trucking companies to deliver parcels, truckloads, and LTL. They offer a full brokerage service for shippers, and they can provide managed distribution and freight forwarding services for them to make shipping their goods simpler.
They claim to offer transparent, cost-effective and quick logistics services with an advanced transportation technology platform to provide real time controls and track financials. They can provide expedited freight and customised final mile delivery services.
Harte Hanks load board provides carriers with a choice of loads in which they can search and view details that include load origin and destination, equipment requirements and contact details for the shipper.
Transportation management system
Harte Hanks offers Allink 360 Logistics which is their automated transportation management system that was designed by people from within the logistics industry. It helps to streamline supply chains by automating complex freight transport and logistics management as well as connecting your systems to reduce costs and improve visibility in real time.
Allink 360 can help you to plan shipments by optimising shipping parameters for small packages, LTL, truckload and intermodal transportation, and can select the best rates, routes, delivery methods, schedule and carrier.
Allink 360 can also assist with executing orders including validating addresses, scheduling trucks, and producing documents, labels and bills. It also provides a centralised information repository for deliveries. It also provides tracking and tracing of deliveries throughout the shipment process. It provides real-time visibility, reporting and analysis. Allink 360 is quick to set up and can integrate with external systems through APIs.
Harte Hanks Reviews and Ratings
There are a large number of customer reviews on Featured Customers and a small number on Facebook. Featured Customers has 1,617 customer references with an average score of 4.7 which comprises 327 testimonials and 1,290 case studies. These customer referrals are not accessible to read unless you have an account with Featured Customers.
Facebook has only 18 reviews but none of these relate to the products and services provided by Harte Hanks as they all refer to investments, Forex and cryptocurrencies.
There are no reviews for Harte Hanks on G2 but there is a listing for them and information about the company.
Trustpilot – no reviews
Capterra – no reviews
G2 – no reviews
Featured Customers – 4.7/5 (based on 1,617 reviews)
Facebook – 5/5 (based on 18 reviews)
Pros
Wide geographical coverage
Also offers a transportation management system
Customer reviews are largely positive
Cons
There is no pricing information for the products
There are very few details about the load boards
Website: https://www.hartehanks.com/
Disclaimer: Fleetlogging.com is a general business information website only. The material and information on this website should not be relied upon for making any business or legal decisions. We cannot recommend any company and/or product, nor assess your suitability for any product and/or company listed here.