User Reviews
Review Summary
0.0 out of 5 stars (based on 0 reviews)
Recent Reviews
There are no reviews yet. Be the first one to write one.
Submit a Review
Loadsmart is a load board provider that uses cutting-edge technology and high-level transportation services to arrange and manage freight more effectively and to reduce empty miles. Their load board helps to equal the playing field for all carriers as everyone can access the same loads and apply for them once they are registered.
They offer a range of services which include managed transportation services, freight management software, dock scheduling software, truck management solutions, freight brokerage and tailor-made optimisation solutions for shippers, carriers and warehouses. Their solutions include load board, TMS and factoring.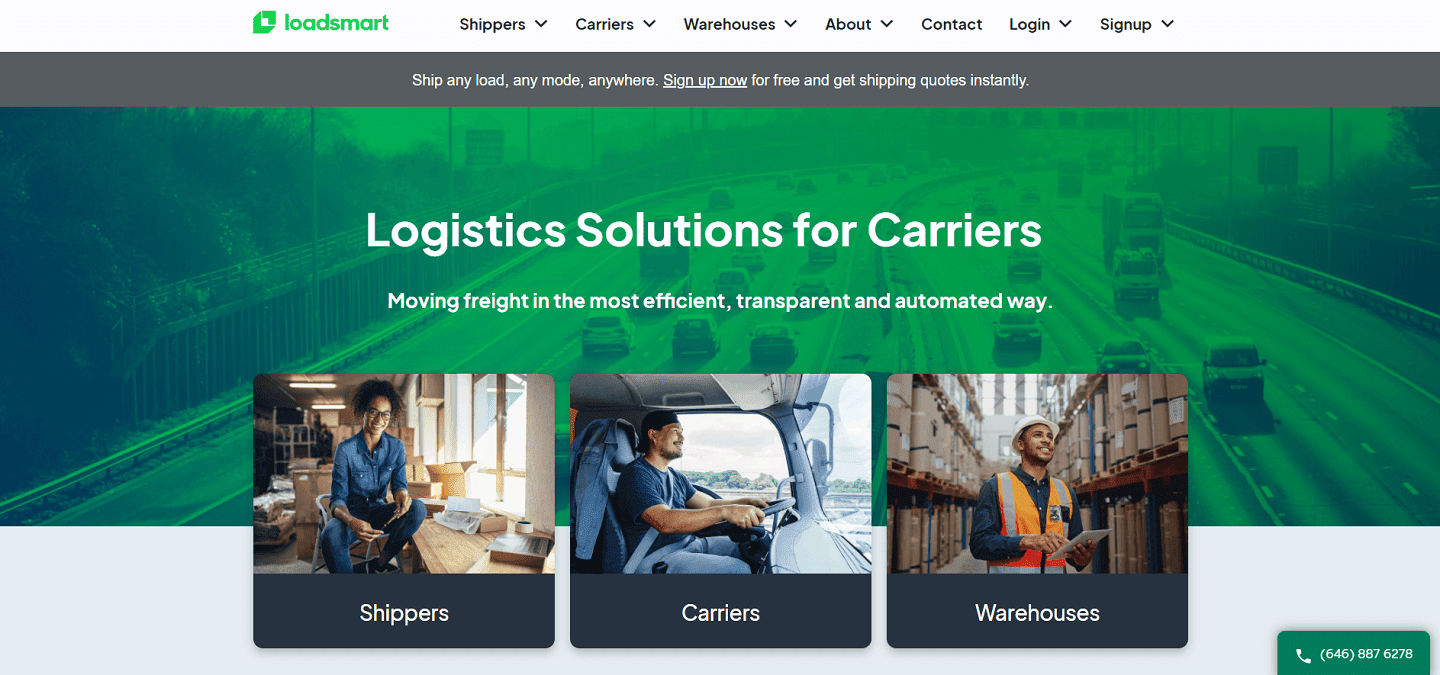 Loadsmart Services
Load board
Loadsmart offers a load board that aims to keep trucks full through them being able to access freight technology, fleet management services and bookable shipments. Registered carriers can search for loads based on the location and load preferences to find suitable loads for their truck or fleets to reduce wasted time and grow their business. It can help reduce expenses, find better rates and increase profitability. It also provides data insights and visibility into your operations.
Shippers can get instant quotes for their loads and can book loads easily in seconds with complete price transparency. They have a database of over 46,000 owner-operator and dedicated fleet carriers with multi-modal capacity that have been vetted to ensure they meet compliance and safety standards. You can select carriers based on real time performance and benchmark your rates against accurate data. They can also track their loads from pickup to delivery.
You can register for their load board on their website by completing a short form. Loadsmart also offers QuickPay, free carrier TMS, fuel program and factoring as benefits to its users to help them to improve their operations and profitability.
TMS
Loadsmart offers an all-in-one TMS called CarrierTMS that can help to reduce your overheads, optimise your trucks and scale your fleets. You can streamline your operations by managing your trucks through the TMS as well as your back-office and finances in a single platform, saving time and money. You can store details of trucks, trailers and drivers within the TMS and it integrates with the Loadsmart load board to help you find loads to reduce empty miles and view dispatcher performance reporting.
It provides real time visibility of your trucks and their load status, and it can automate dispatches and invoices. You can store a range of data on the TMS that supports compliance and health and safety. It stores a wealth of information that can be used in predictive analytics to aid decision-making. This level of information and automation can reduce errors and improve efficiency as well as produce reports with their easy-to-use financial management tools.
The TMS is cloud-based and be accessed anywhere at any time as well as being able to integrate with other tools to increase its useability. There are a range of plug-and-play integrations and advanced reporting that can be added to increase the functionality of the TMS. They also provide a dedicated support team that can answer any questions and ensure you get the most out of the TMS.
Fuel card
Loadsmart offers a universally accepted load card that is not just for their carriers and is powered by ONRAMP. The ONRAMP fuel card on average offers a discount of 56 cents per gallon on retail prices which could equate to around $7,000 per truck per year in savings.
The fuel card is an easy-to-use card solution for drivers and it comes with a mobile app that makes it easy to find locations. The fuel card also offers rewards for drivers which encourages usage. The card can help eliminate fuel fraud and makes reporting and billing seamless.
You can apply for a Loadsmart Fuel Card on their website and users of the fuel card benefit from 24/7 dedicated ONRAMP customer support.
Factoring
Loadsmart also offers its carriers a factoring service to help them get paid faster and increase the cash flow in their business. Their factoring service enables carriers to get paid the same day with a competitive 2.5% factoring charge with no additional hidden charges.
The factoring service is easy to use in conjunction with the Loadsmart load board, when you have completed a load through the load board you can send an invoice in one click for factoring. So not only will you be releasing the cash from your invoices quicker, but the process is automated for speed and ease.
Loadsmart will pay the invoice value to you minus the fee and will recover the amount from the business that the invoice is due from when the invoice terms are up.
Loadsmart Reviews and Ratings
There are very few customer reviews available for Loadsmart on the leading customer review sites as listed below. The one review was on G2 which had a 4 star rating and the comments included being able to connect with carriers, friendly support, good tendering process but the rollout of new features has been slow.
Trustpilot – no reviews
Capterra – no reviews
G2 – 4.0/5 (based on 1 review)
Featured Customers – no reviews
Facebook – no reviews
Pros
Comprehensive load board
Offers additional services including TMS and factoring
Large vetted network of carriers
Cons
No details about pricing or fees for the load board or TMS
Lack of customer reviews
Website: https://loadsmart.com/
Disclaimer: Fleetlogging.com is a general business information website only. The material and information on this website should not be relied upon for making any business or legal decisions. We cannot recommend any company and/or product, nor assess your suitability for any product and/or company listed here.