User Reviews
Review Summary
0.0 out of 5 stars (based on 0 reviews)
Recent Reviews
There are no reviews yet. Be the first one to write one.
Submit a Review
NextLOAD is a load board provider that was established in 2014 and was created to make searching for loads faster, easier and free. Their load board is free to use for everyone – carriers, trucking companies, brokers and shippers.
They provide thousands of loads to search daily which you filter on a variety of options to assist you in finding the right loads. Brokers and shippers can also post loads for free.
They also offer additional services to help businesses save money and assist with cash flow, these are factoring which allows you to access funds quicker and fuel cards to manage finances better.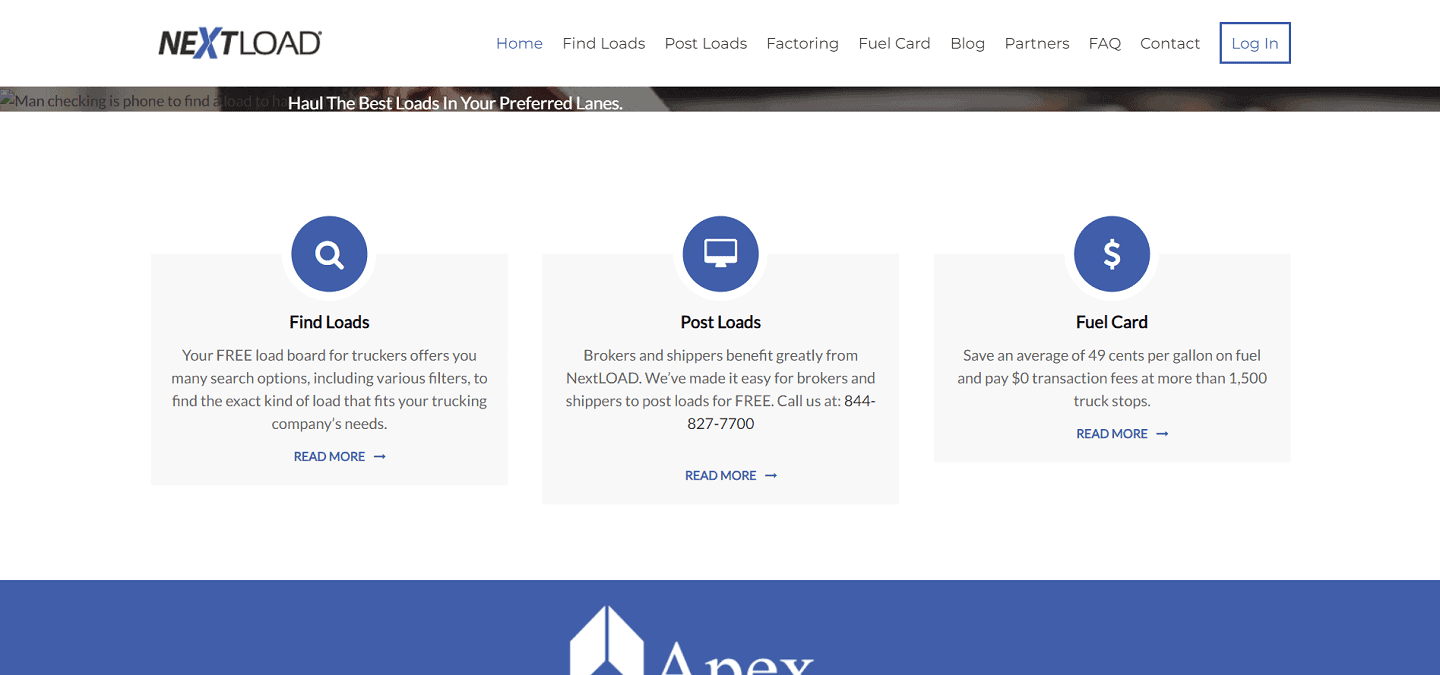 NextLOAD Services
Load boards
Factoring
Fuel card
Load board
NextLOAD's load board is free to use and is a product of Apex Capital. Their load board allows truckers to find loads when they need it by being able to search on a range of options including weight, length, distance, minimum rate, origin, radius, destination, equipment, company type and keywords.
You can create a free account and book loads if you have an established credit relationship with Apex Capital. Their load boards allow you to explore customised matches and create unlimited accounts for your dispatchers and drivers. They offer notifications about new loads and the load boards can be accessed through a desktop, tablet or smartphone.
Brokers and shippers can also use the load boards for free and post loads. You can manage your loads and receive update information 24/7 and these can be loaded automatically or manually.
Factoring
NextLOAD offers factoring through Apex which then unlocks extra features on other products including credit lines and history with each broker and shipper, you can run credit checks, access the Apex fuel card to benefit from fuel discounts, and free membership to Apex 24/7 Roadside Rescue.
Apex factoring allows you to access the money tied up in invoices the same or next day. They offer 24/7 factoring with low and competitive factoring rates. They offer a choice of recourse and non-recourse factoring plans.
There are no monthly minimum volumes fees, no long-term contracts or termination fees. They will provide a professional collections service on factored invoices and an experienced account executive to manage your account. They provide a mobile factoring app with image capture technology to help you access factoring quickly and easily from anywhere.
Fuel card
NextLOAD offers an Apex fuel card that could save an average of 49c per gallon on fuel but you need to be a factoring client to access this. The fuel card offers fuel discounts and zero transaction fees at over 1,500 truck stops including TA, Petro Stopping Centres, TA Express, Ambest, Kwik Trip, Kwik Star, Sapp Bros, Speedway, Roady's and more.
They provide the Apex Fuel Finder app to help you find fuel discounts on your routes and control your fuel costs as you can see where the greatest fuel discounts are available. You can also benefit from savings on tyres, services and maintenance at TA Truck Service.
Apex fuel cards can be managed securely online through your account to give you greater insight into your fuel and truck expenses. They can also help you to protect your cash flow with a fuel credit line for those who qualify.
NextLOAD Reviews and Ratings
There are no customer reviews for NextLOAD on the most popular review sites listed below.
Trustpilot – no reviews
Capterra – no reviews
G2 – no reviews
Featured Customers – no reviews
Facebook – no reviews
Pros
Offers a free load board
Ability to search on a wide range of factors
Also offers factoring and fuel cards
Cons
Doesn't offer any fleet management tools
No customer reviews
Requires you to take on Apex products to access all benefits
Website: https://www.nextload.com/
Disclaimer: Fleetlogging.com is a general business information website only. The material and information on this website should not be relied upon for making any business or legal decisions. We cannot recommend any company and/or product, nor assess your suitability for any product and/or company listed here.