User Reviews
Review Summary
0.0 out of 5 stars (based on 0 reviews)
Recent Reviews
There are no reviews yet. Be the first one to write one.
Submit a Review
Schneider is a freight and logistics provider that was founded in 1935 and they undertake 9,800,000 freight miles per day for their portfolio of 8,300 customers. They have 64,000 qualified carriers in their network who assist them in delivering these services.
They offer shippers instant quotes and booking, real time tracking of loads, access to shipping documents and reports, and notifications for pickups and deliveries. They can also help shippers to optimise their supply chain. They offer carriers a load board that will help them keep their trucks moving and grow their business.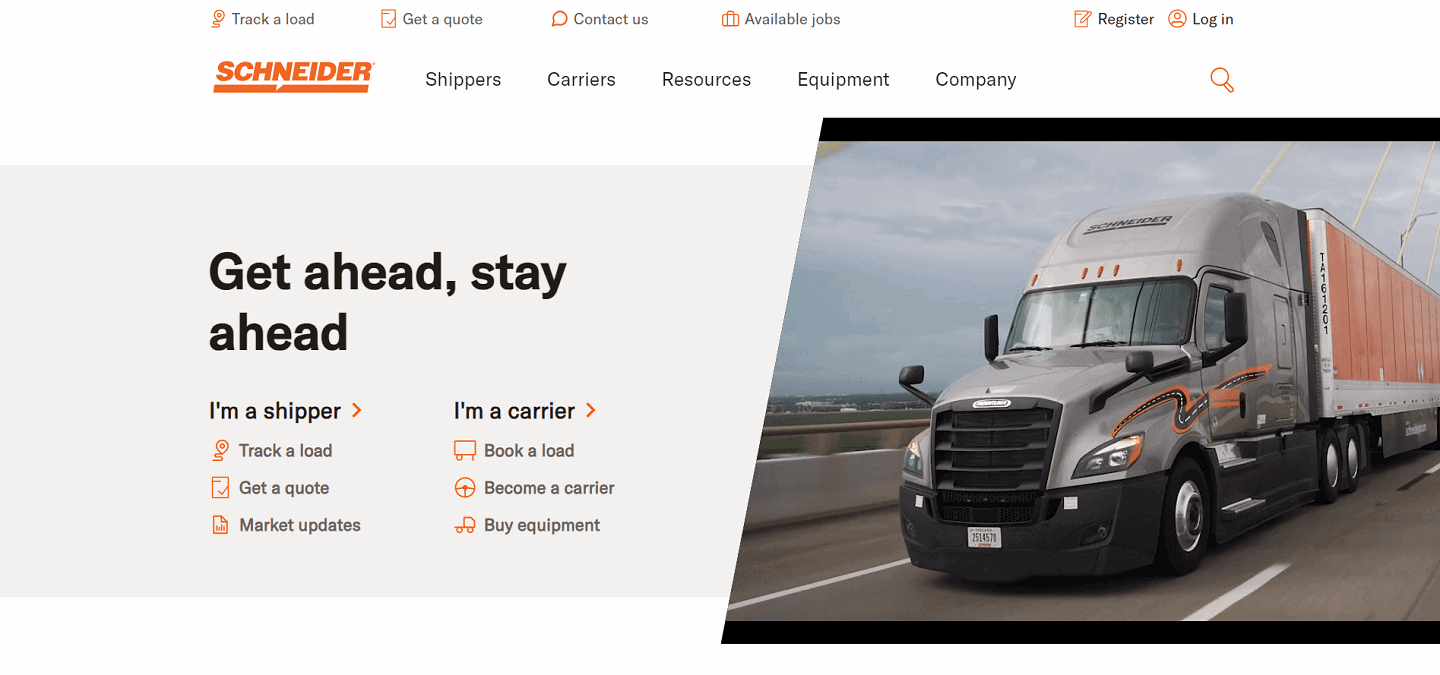 Schneider Services
Load board
Schneider offers a free load board called Schneider FreightPower that is designed for carriers with truckload, power only and intermodal dray services. They have made it easy to find and book loads with a simple click and book functionality. To become a carrier for Schneider you will need to provide them with proof of insurance, USDOT, MC number, and tractor and equipment details.
They offer thousands of loads per day from blue-chip shippers and reliable brokerage freight which can be accessed online or through the mobile app. The mobile app includes enhanced filtering, and the ability to watch loads and select preferred lanes. Users will also get load recommendations, trip information and GPS tracking. The platform will help carriers to maximise their fleet and better manage their loads.
They also offer carriers benefits which include a carrier purchasing program to help save money with reduced fuel prices, roadside assistance, discounted tyres and maintenance. They also offer flexible payment options so you can run your business more efficiently.
Schneider Reviews and Ratings
There are only customer reviews available for Schneider on two of the review sites and many of these reviews are not relevant. Trustpilot only has five reviews with an average score of 2.5 and of these one review gives 5 stars and the other four only give 1 star. Negative comments included low payment level, driver collision incident, two shippers with issues with deliveries taking too long, poor communication and late arrival. One positive review was from a shipper who was pleased with their service.
The reviews on Facebook are largely irrelevant as they aren't related to Schneider and its services as they talk about investments, cryptocurrencies, love spells and herbal medicines. Out of a hundred reviews only a small proportion are about the company and the comments on these included:
Positive relevant comments included reasonable pay, professional company, great training and a good place to start a driving career.
Negative relevant comments included the company being prejudiced, employees making racist remarks, payment issues, bad driver experience due to scheduling and truck condition, poor planning, issues with terminations and bad experience training with them.
Trustpilot – 2.5/5 (based on 5 reviews)
Capterra – no reviews
G2 – no reviews
Featured Customers – no reviews
Facebook – 4/5 (based on 1,722 reviews)
Pros
Offers a free load board
Provides thousands of loads per day
Carrier benefits include a purchasing program to make savings
Cons
Only offers a load board and no other fleet tools
A low number of relevant customer reviews which were fairly negative
Website: https://schneider.com/
Disclaimer: Fleetlogging.com is a general business information website only. The material and information on this website should not be relied upon for making any business or legal decisions. We cannot recommend any company and/or product, nor assess your suitability for any product and/or company listed here.