User Reviews
Review Summary
0.0 out of 5 stars (based on 0 reviews)
Recent Reviews
There are no reviews yet. Be the first one to write one.
Submit a Review
Convoy was founded in 2015 as a smarter way to connect shippers and carriers as well as solving some of the most difficult problems that cause wastage in the transportation industry. They claim to be one of America's leading digital freight networks with a connected network of carriers that can increase the earnings for drivers, save money for shippers and eliminate empty miles.
They help carriers of all sizes with an app that makes it easy for them to find and bid on loads to keep their trucks full and earning. They aid shippers through automation, flexible capacity, service quality and improved visibility. Convoy is free to use with no sign-up fees or monthly fees.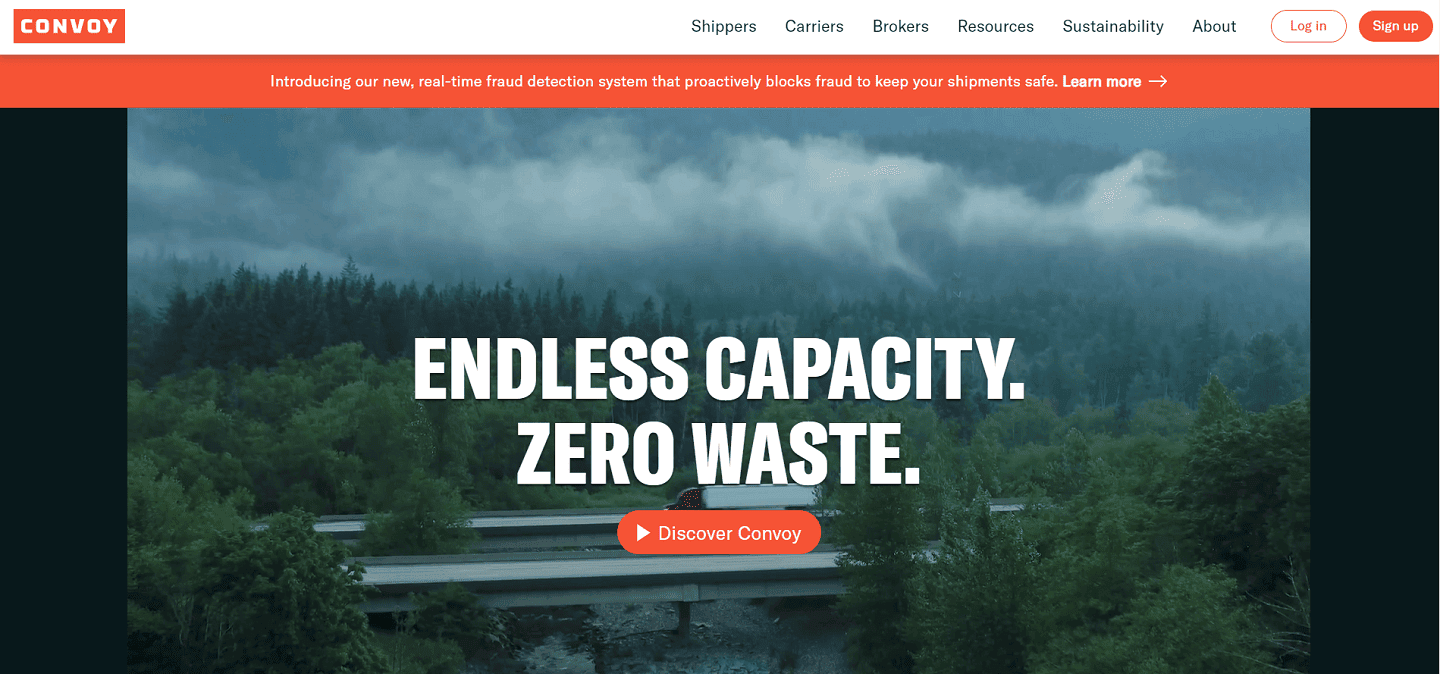 Convoy Services
Load boards
Convoy offers a free load board that is dedicated to improving the lives of carriers and drivers as well as supporting shippers in connecting with carriers. For carriers, it can help them keep their trucks full and use their preferred routes as well as cutting down operating costs and increasing profits.
You can search for loads based on your requirements and either accept the load rate or bid on the load. You will be notified if you have won the bid. You can manage your loads through a laptop or phone and send BOLs through the app to streamline bookkeeping. The system also allows you to track your fleet locations and arrival times, and sends alerts when loads are available on your preferred routes.
They offer a few additional products to support you which include Convoy QuickPay and TruckYeah Savings. QuickPay allows you to get paid for free in two days or within eight hours for a small fee. TruckYeah is a discount programme which includes discounts on trucks and trailers, TCS fuel cards, roadside assistance, tyres and ELD devices.
Convoy Reviews and Ratings
The only reviews available for Convoy are on Featured Customers which has a total of 1,907 contributors and an overall score of 4.8. This is made up of 1,369 testimonials, 487 case studies and 51 customer videos. Positive comments from reviewers included ease and speed in finding carriers, competitive rates and good service.
Although there are no reviews for Convoy on G2 there is a profile for them.
Trustpilot – no reviews
Capterra – no reviews
G2 – no reviews
Featured Customers – 4.8/5 (based on 1,907 reviews)
Facebook – no reviews
Pros
Free load board with many features
Positive customer reviews
Offers additional tools for payments and discounts
Cons
Only offers load boards and no other fleet management tools
Lack of information of search facilities
Website: https://convoy.com/
Disclaimer: Fleetlogging.com is a general business information website only. The material and information on this website should not be relied upon for making any business or legal decisions. We cannot recommend any company and/or product, nor assess your suitability for any product and/or company listed here.