User Reviews
Review Summary
0.0 out of 5 stars (based on 0 reviews)
Recent Reviews
There are no reviews yet. Be the first one to write one.
Submit a Review
DAT Freight & Analytics operates one of the largest freight marketplaces in North America. They were founded in 1978 and are part of Roper Technologies. They supply data insights and market trends to shippers, transportation brokers, carriers, news organisations and industry analysts.
They offer a range of products which includes their DAT IQ range which provides a variety of analytic products. They also offer DAT ONE products which include load boards, factoring, tracking and fuel cards.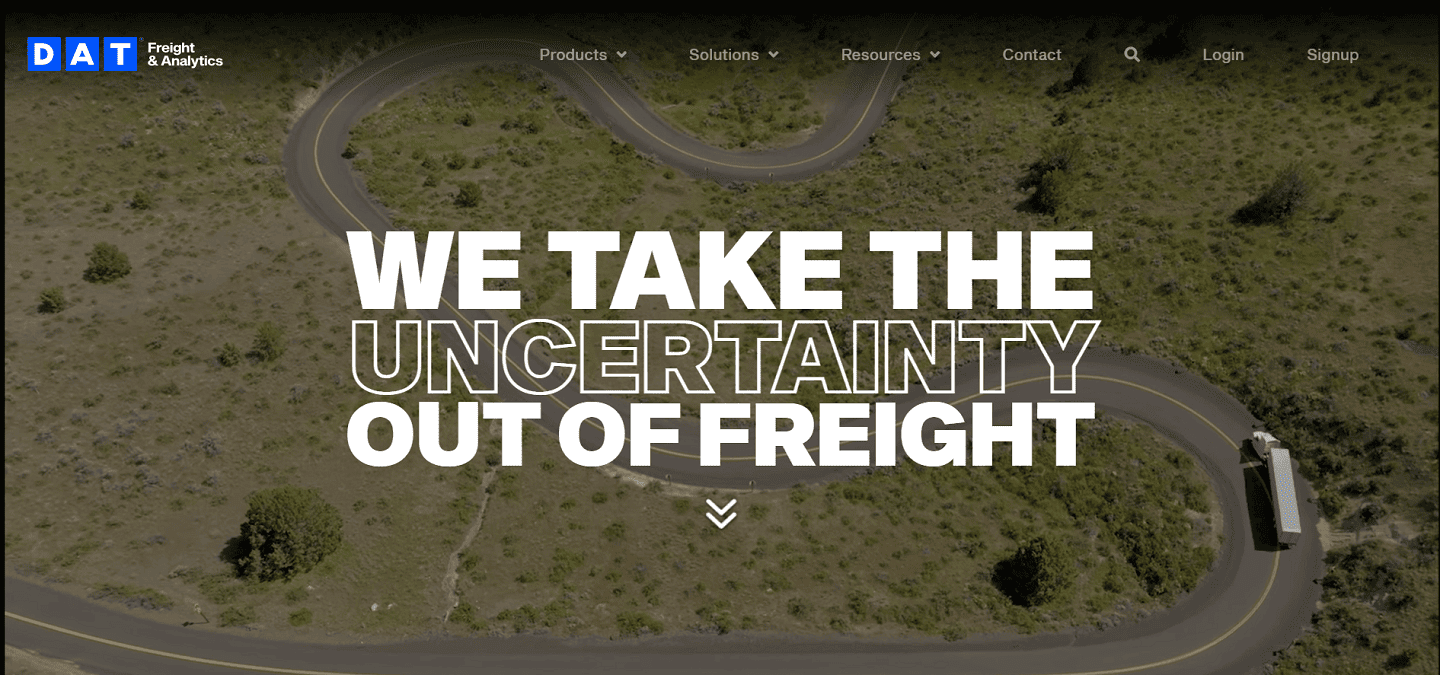 DAT Freight & Analytics Services
Load boards
Factoring
Tracking
Fuel cards
DAT IQ analytics
Load boards
DAT Freight & Analytics offers load board services to help businesses get the right loads for their trucks at the right price. They offer a choice of load board packages that cater for the needs of different companies. They claim to have the most loads and trusted partners on their boards.
They provide software that enables you to easily find the best loads quickly with automated filters and allows you to find higher paying routes. They also provide accurate insights which allow you to see the most current truckload rates and market conditions.
With all their subscriptions they include DAT One mobile app which provides you with a single source for all your freight information. It enables you to combine your apps and have your tools in one place to help you find and book loads as well as plan and optimise your trips.
Factoring
DAT Freight & Analytics offers a variety of factoring options in partnership with a leading factoring partner. Factoring allows you to access the money tied up in invoices quickly by selling your invoices through factoring, so you don't need to wait 30 to 90 days for payment which improves your cash flow.
They offer factoring on a flat rate with no hidden fees or monthly volume requirements allowing you to factor your invoices when you want. You can use the mobile app to submit invoices and get paid in minutes.
The factoring solution also assists your back office in handling your billing with its dedicated team. If you currently have a contract for factoring they can help you to review the contract for free and walk you through the options available to you.
Tracking
Through DAT One they offer Tracking that gives shippers the visibility they need and want to track loads in real time. The Tracking solution is also driver-friendly to assist drivers.
Their Tracking solutions features include being able to see your fleet on a national map and drill down on it to single shipment details. The app allows you to track your vehicles from anywhere. You can also send information to your drivers to save you from making check-in calls and giving them the information. The Tracking solution also integrates with DAT Broker TMS and other TMS providers to allow you to see everything in one place.
Tracking is available on a month-to-month subscription service that can be cancelled at any time with no set-up fees and a low price per load. It allows you to track some or all of your loads by GPS or ELD registration.
Fuel cards
DAT Freight & Analytics also offers fuel cards to help companies save money on fuel and to assist them in managing their fuel costs with their fuel card partners. Through the DAT fuel card program, drivers can find the cheapest place to fuel their vehicles, access discounts through the DAT One mobile app and collect fuel card rewards.
The DAT WEX Fuel Card enables you to track fuel expenses, set employee spending controls, receive purchasing alerts and receive exclusive discounts at 1,900 truck stops. There are no monthly charges for the fuel card and low transaction fees.
The EFS CardControl mobile app is designed to help you find the best fuel prices and manage your fuel account on the move. The EFS eManager helps you manage your fuel cards, monitor purchases and run reports to help you improve efficiency and fuel savings.
DAT Freight & Analytics Reviews and Ratings
There are very limited reviews that are actually about DAT Freight & Analytics and their fleet management and load board products. The reviews on Facebook seem to be unrelated as they refer to investments and Bitcoin or a relationship fixer.
There are 13 reviews on Trustpilot that are about DAT Freight & Analytics and these are very mixed with 31% scoring them as 5 stars, 15% 4 stars, 23% 3 stars, 8% 2 stars and 23% 1 star. The reviews are very much split in opinion between positive and negative reviews. Positive comments included good customer service, good forecasting information, the amount of market data available is unbeatable, and competitive loads.
Negative comments included issues with the mileage for loads being incorrect, dislike of the changes to the platform, would like more accurate load information, missing load information, duplicate posts, issues with the credit score system, and poor customer service.
Trustpilot – 3.3/5 (based on 13 reviews)
Capterra – no reviews
G2 – no reviews
Featured Customers – no reviews
Facebook – 4.5/5 (based on 275 reviews)
Pros
They cater for carriers, brokers and shippers
Offers a range of tailored packages
Offers a range of fleet management tools that can be integrated
Cons
Low number of reviews with mixed responses
North American based only
Website: https://www.dat.com/
Disclaimer: Fleetlogging.com is a general business information website only. The material and information on this website should not be relied upon for making any business or legal decisions. We cannot recommend any company and/or product, nor assess your suitability for any product and/or company listed here.