User Reviews
Review Summary
0.0 out of 5 stars (based on 0 reviews)
Recent Reviews
There are no reviews yet. Be the first one to write one.
Submit a Review
Trucker Tools is a freight management provider that offers a range of freight solutions that make it easier to manage fleets and optimise supply chains. They offer a variety of fleet solutions for carriers which include load boards to match freight, tracking services, ELD and telematics, TMS and dispatch systems, and driver loyalty programs.
They also cater for brokers with a load board to match freight, load tracking, a portal for managing your supply chain, and driver loyalty programs. They claim to provide 75% more offers on loads, 20 times growth in the carrier network, 15% of loads are booked digitally, and 90% tracking compliance.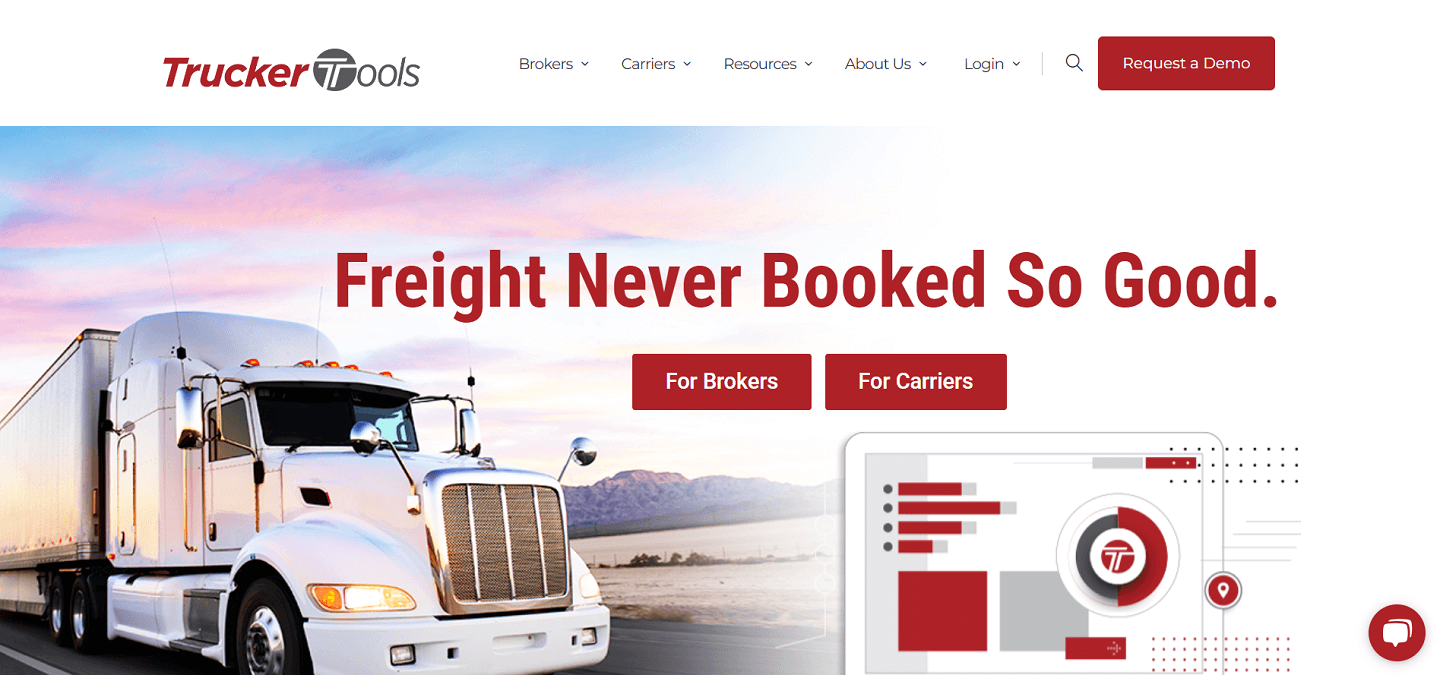 Trucker Tools Services
Load board
ELD/telematics
TMS
Load board
Trucker Tools' load board is called Book It Now and it allows carriers to search for and book loads. It helps carriers find loads in their preferred lanes and save their favourite brokers. It can recommend loads based on your preferences such as lanes, equipment types and history.
You can find loads that suit your needs and send quotes or negotiate rates easily with the click of a button. Once a rate is agreed, the load is booked. You can then view and manage the load through their system including tracking.
To become a carrier for Trucker Tools you need to sign up on their website to create an account before you can start to use the load board.
Brokers can book loads 24/7 through their carrier network of 165,000 and over 13 million truckers which can reduce their workload in finding suitable carriers. They also get improved visibility through tracking tools.
ELD/telematics
Trucker Tools offers real time visibility of loads and trucks through integrating ELD and telematics solutions that are easy and secure to use. A one-time setup is required on each truck to get them ready for tracking. The ELD solution doesn't need the drivers to get involved and reduces the amount of check calls needed.
The ELD connection and tracking feature is free for carriers and provides a reliable tracking alternative to smartphones or other devices. Tracking automatically starts and stops which can allow you to track all vehicle usage and make efficiencies. The data produced by the ELD can be provided to brokers with only the necessary information such as location data.
You can sign up for the ELD/telematic tracking on their website by completing their short form and selecting your provider. This will then be integrated with the other services you have from Trucker Tools.
TMS
Trucker Tools offers integration with your TMS or dispatch system through sharing location data so that you have visibility on loads. This can be achieved through two different ways – API integration or CSV via SFTP.
The API integration involves the location data being shared through API. The CSV via SFTP involves location data being shared in a CSV file via SFTP and then being uploaded to the TMS or dispatch system via email or direct upload.
You can enquire about TMS integration by completing their form on the website.
Trucker Tools Reviews and Ratings
There are quite a few reviews available for Trucker Tools on several of the leading customer review sites as listed below.
G2 has 25 reviews with an average score of 4.6 which are split 72% 5 star, 24% 4 star and 4% 3 star.
Featured Customers have the largest number of reviews with 346 with an average rating of 4.8 and is made up of 170 testimonials and 176 case studies.
Facebook has 79 reviews with an average rating of 4.8, however, most of the customer reviews are not related to Trucker Tools as they mention trading, investments, cryptocurrency, spell caster and herbal remedies.
The positive review comments include saving time on check calls, good visual tracking data, integrates well with other tools, support has been helpful, easy to navigate, good automation, finding loads is easy, prefers the new app, and very useful app for truckers.
The negative review comments include ELD setup could be streamlined, integrating with other apps can be complex, IT support being slow, maps being hard to use, drivers find the app hard to use, and out-of-date fuel prices.
Trustpilot – no reviews
Capterra – no reviews
G2 – 4.6/5 (based on 25 reviews)
Featured Customers – 4.8/5 (based on 346 reviews)
Facebook – 4.8/5 (based on 79 reviews)
Pros
Offers a load board with a large network of carriers
Offers a range of useful integrations
Positively rated in many customer reviews
Cons
Although they offer integrations they don't offer additional fleet services or tools
No pricing information
Reviews raise concerns about technical capabilities
Website: https://www.truckertools.com/
Disclaimer: Fleetlogging.com is a general business information website only. The material and information on this website should not be relied upon for making any business or legal decisions. We cannot recommend any company and/or product, nor assess your suitability for any product and/or company listed here.