User Reviews
Review Summary
0.0 out of 5 stars (based on 0 reviews)
Recent Reviews
There are no reviews yet. Be the first one to write one.
Submit a Review
TruckersEdge's load board is now called DAT One and is a single source for all things freight. They claim to have the largest load board on the internet and are the first choice by owner-operators.  They offer a range of packages that cater for the different needs of brokers and carriers. They also offer a custom demo of their load board so you can see what it can do.
DAT Solutions was founded in 1978 and their load board covers North America with 448.5 million loads and trucks per year. They cater for owner-operators and small carriers on their load board. They also provide a range of information including supply and demand trends, rate benchmarking and capacity planning.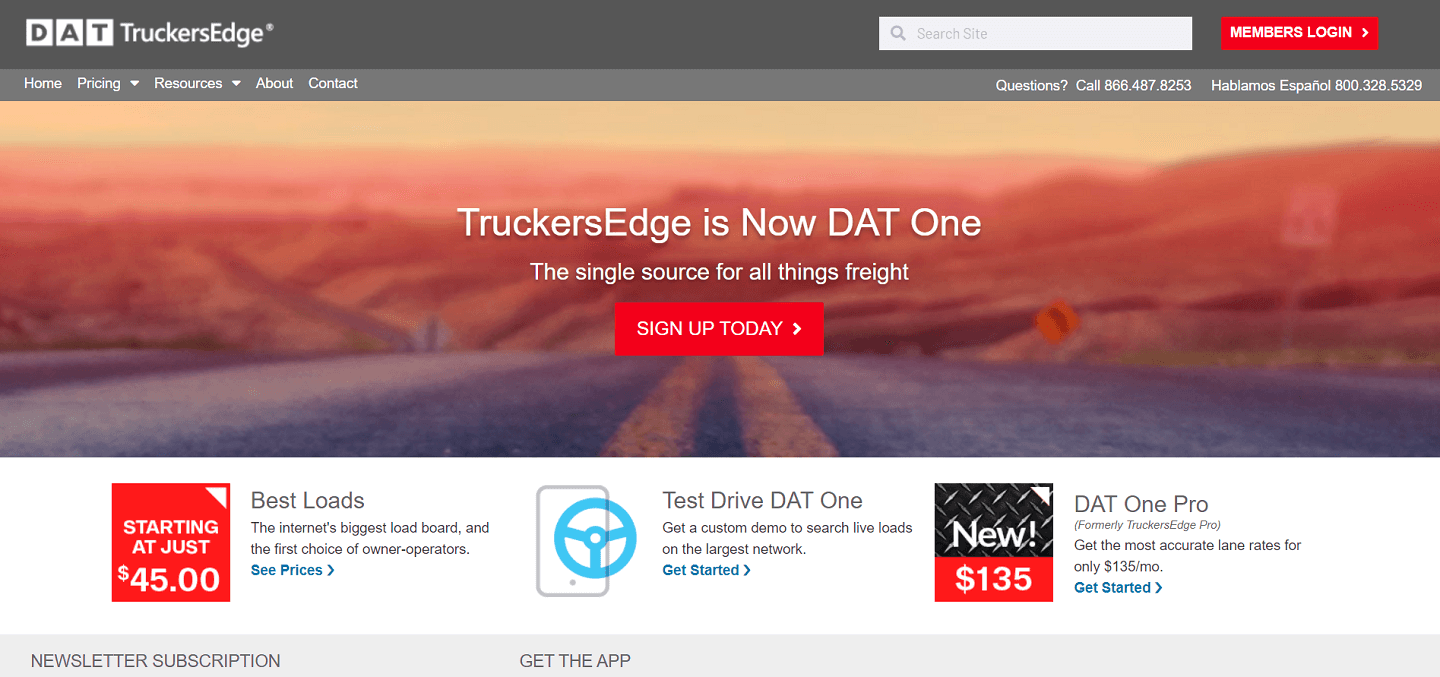 TruckersEdge Services
Load board
The DAT One load board is claimed to be one of the largest and fastest in the industry with the first-ever live load board that updates automatically without refreshing. It allows you to search or post multiple loads at the same time whilst being able to access from anywhere through the app.  You can also share the content with multiple users and offices. DAT offers three plans which start at $45 per month for the standard plan.
They also help you to get paid the top rates by enabling you to see what other trucks have been paid on over 68,000 lanes, compare average spot market and contract rates, and view hot market maps of where your trucks are in high demand. They also guarantee bill payment and collection assistance up to $1,000.
It allows shippers to create priority bookings by selecting only the carriers in their network to receive the post/s. It enables shippers to better manage their shipments with freight management tools and tracking.
Fuel card
DAT Wex fuel card can help you save money at the pump and can assist you in taking control of your fuel costs. The DAT fuel card program provides drivers with the power to find the cheapest fuel, access discounts through the app, receive fuel card rewards and more.
Their fuel card allows you to access the cash price at 12,000 truck stops and receive discounts at 1,900 truck stops nationwide. The fuel card empowers businesses as it allows you to streamline processes and better manage expenses as you can automate fuel expense tracking, set employee spending controls, set purchasing alerts, use the app to find the best prices to buy fuel on route, and optimise fuel spend through GPS tracking and reporting.
DAT Wex fuel card has no monthly charges and low transaction fees as well as providing discounts.
TruckersEdge Reviews and Ratings
There are no customer reviews for TruckersEdge on the leading customer review sites as listed below.
Trustpilot – no reviews
Capterra – no reviews
G2 – no reviews
Featured Customers – no reviews
Facebook – no reviews
Pros
One of the biggest platforms with a large number of loads available
Provides a wealth of industry information
Also offers a fuel card with discounts and savings
Cons
Doesn't offer other fleet tools
Doesn't offer a free plan
No customer reviews
Website: https://www.truckersedge.net/
Disclaimer: Fleetlogging.com is a general business information website only. The material and information on this website should not be relied upon for making any business or legal decisions. We cannot recommend any company and/or product, nor assess your suitability for any product and/or company listed here.