For a toddler, going on a train ride two times a day sounds like a great career plan. Little does Junior know that the daily commute has been proven more stressful than their second and third career choices: fighter pilot or riot policeman.
As a grown-up, the choices you make are more complex. For example, one survey found that most of us would accept a longer commute if it meant a house with one more bedroom or bathroom – even though research shows that the longer your commute, the more symptoms of stress you'll suffer. It takes 20 minutes of train travel to prime you for burnout and 35 minutes to increase the "risk of cynicism" towards your job.
And things just got more complicated. With lockdown coming to an end, many of us are more stressed about the return to public transport than the office itself. Face it, the walk from the kitchen to the sofa was a pretty sweet commute.
Looking for a calmer way to work? Following our guide to the cities where traffic causes the most stress, FleetLogging used TensiStrength (an academic tool that measures the stress levels of text) to assess which train stations and metro lines have the biggest percentage of stressed reviews on Google Maps.
Key Findings
The world's most stressful train stations are Uručča (Minsk, Belarus) and Praha-Čakovice (Prague, Czechia), with a 100% stress rate.
The Archer Avenue lines are the most stressful on the NYC Subway (49.6%).
Elgin in Chicago is the US's most stressful train station, with 50% of reviews showing significant stress levels.
Victoria is London's most stressed tube line (37.1%), and South Harrow is the most stressed station on the London Underground (62.5%).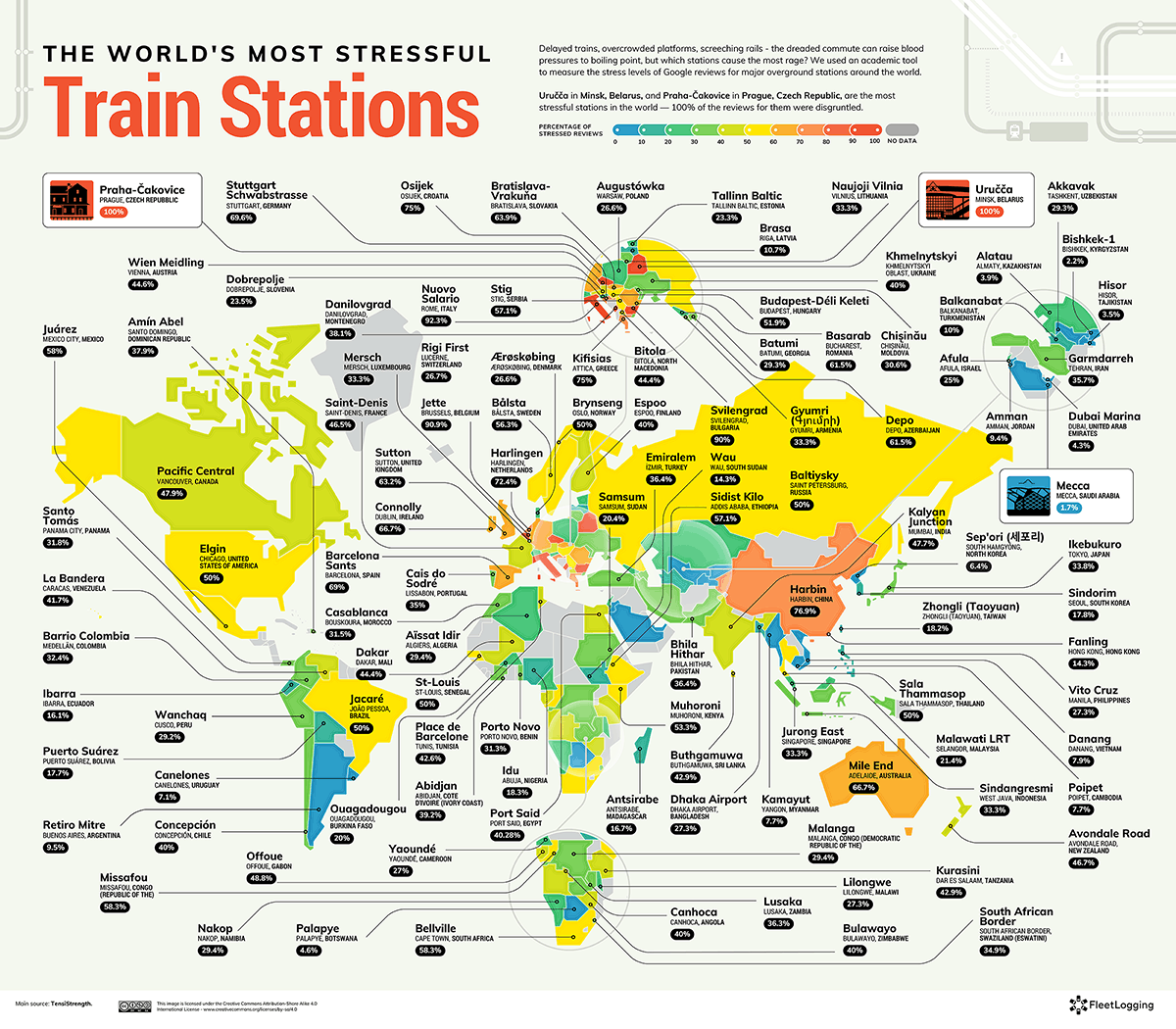 Most Stressful Stations in Europe
There's nowhere to sit, and your bag will probably get searched if you go there at night: Uručča in Minsk, Belarus, is the world's (and Europe's) most stressful station. "Not very reasonable guards who do nothing useful, create an illusion and a security theater, do not know how to communicate normally, and waste my money and the money of other taxpayers," as one reviewer puts it.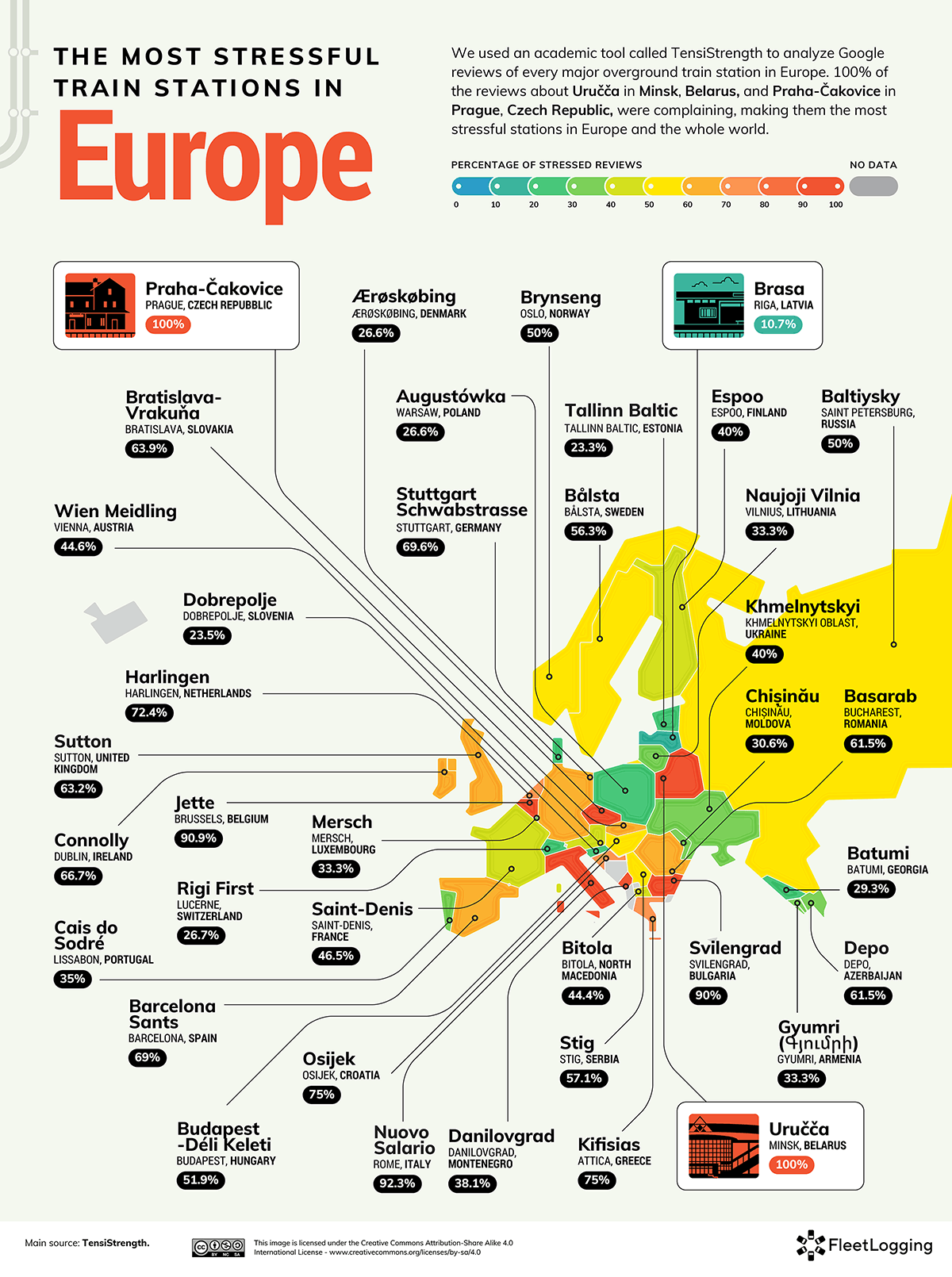 Sutton is on the edge of London but lacks a tube connection, with several reviewers lamenting the irregularity of city trains. Employees of the Southern rail company here are "Rude and aggressive," say reviewers, and even made national headlines after pouring a bucket of water over a homeless man.
Most Stressful Stations in North America
It's fifty-fifty whether your trip through the small city of Elgin, Illinois, will be stressful. Elgin Station has the highest proportion of stressed reviews in the US and is not known for its cleanliness. "[W]ould be nice to have a washroom somewhere near," writes Kevin Harvey. "Had to walk three blocks and grovel at the local bank."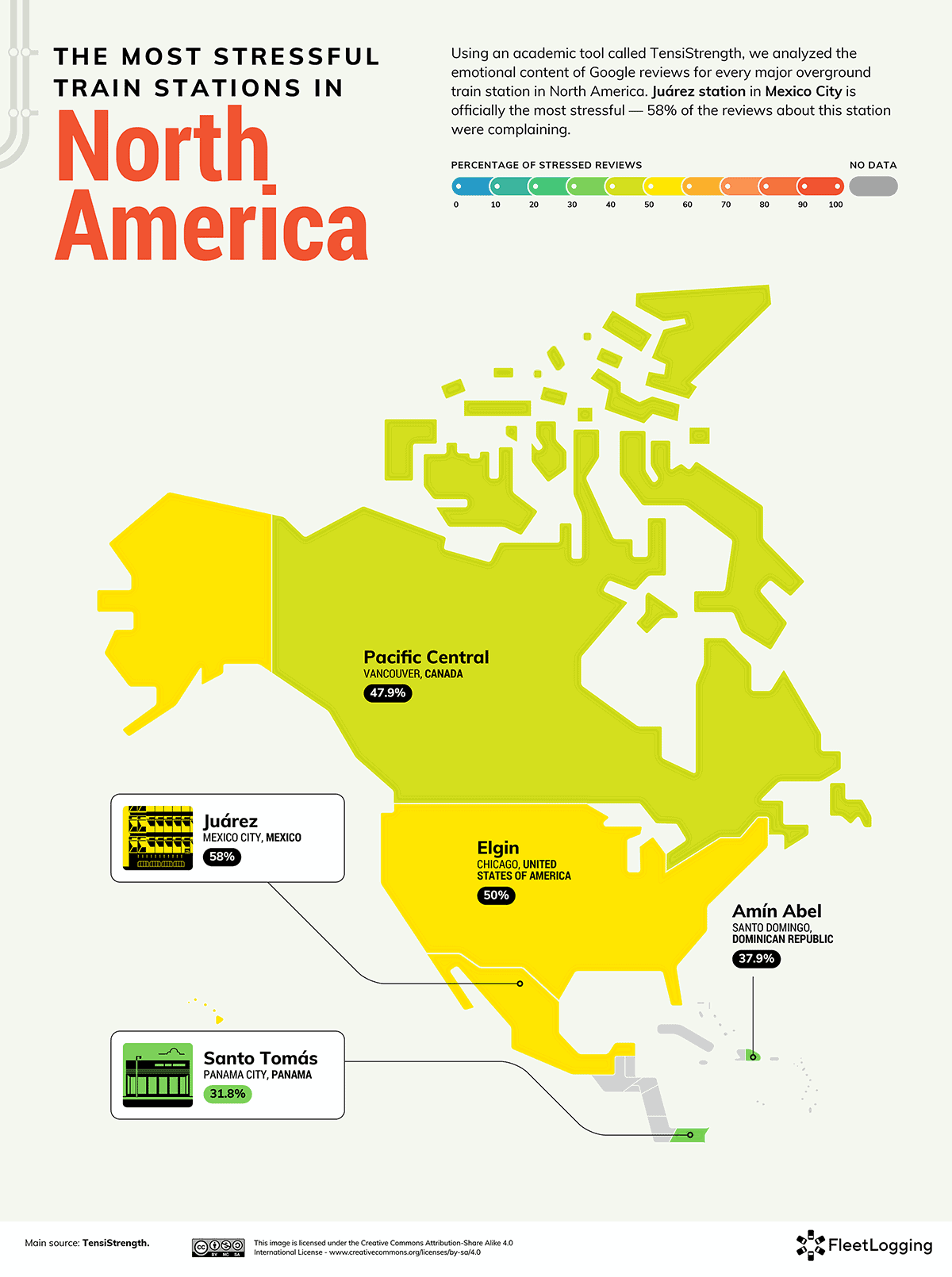 But Mexico has the region's most stressful station. Juárez, serving the Centro district of downtown Mexico City, has 58% stressed reviews. "The only station in the entire line that has very poor lighting, but at the same time the rudest and most despotic cashiers of the entire line," grumbles one traveller. "[Y]ou are just entering the station and you already feel the atmosphere very hot."
Most Stressful Stations in South America
Brazil's most stressful station is Jacaré on the João Pessoa Urban Trains System. Like Chicago in the US, half of all reviews of Jacaré show signs of stress.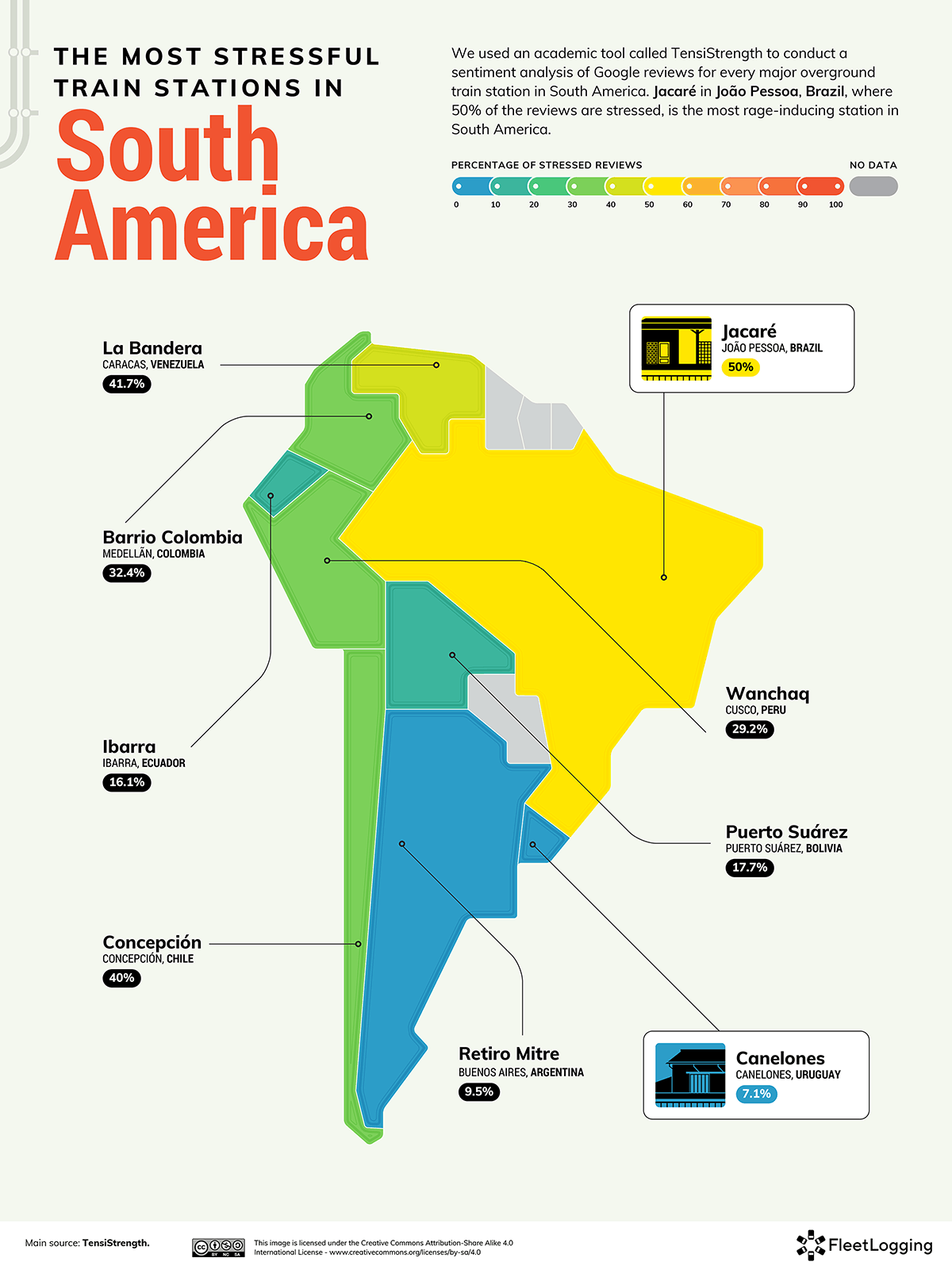 But South America is also home to some of the world's calmest 'most stressed' national stations. Canelones is the most stressful in Uruguay but has a score of just 7.1%. "Very calm," says one user calmly.
Most Stressful Stations in Middle East & Central Asia
Turkey and Iran are near-tied for the most stressful station in this region. Emiralem in İzmir, Turkey, just about wins it at 36.4%. Beyond Google reviews, a poetic take on the station's downfall gives a clue as to why it is so stressful: "a yellow-haired dog wandered over the angry concrete of the Emiralem Station. Until two days ago, he tried to figure out where the dark shaded plane tree went and sat down. The shrubbery branches, with their leafy branches, which had reached the top of the railroad, giving a sweet coolness even in the scorching heat around, had disappeared."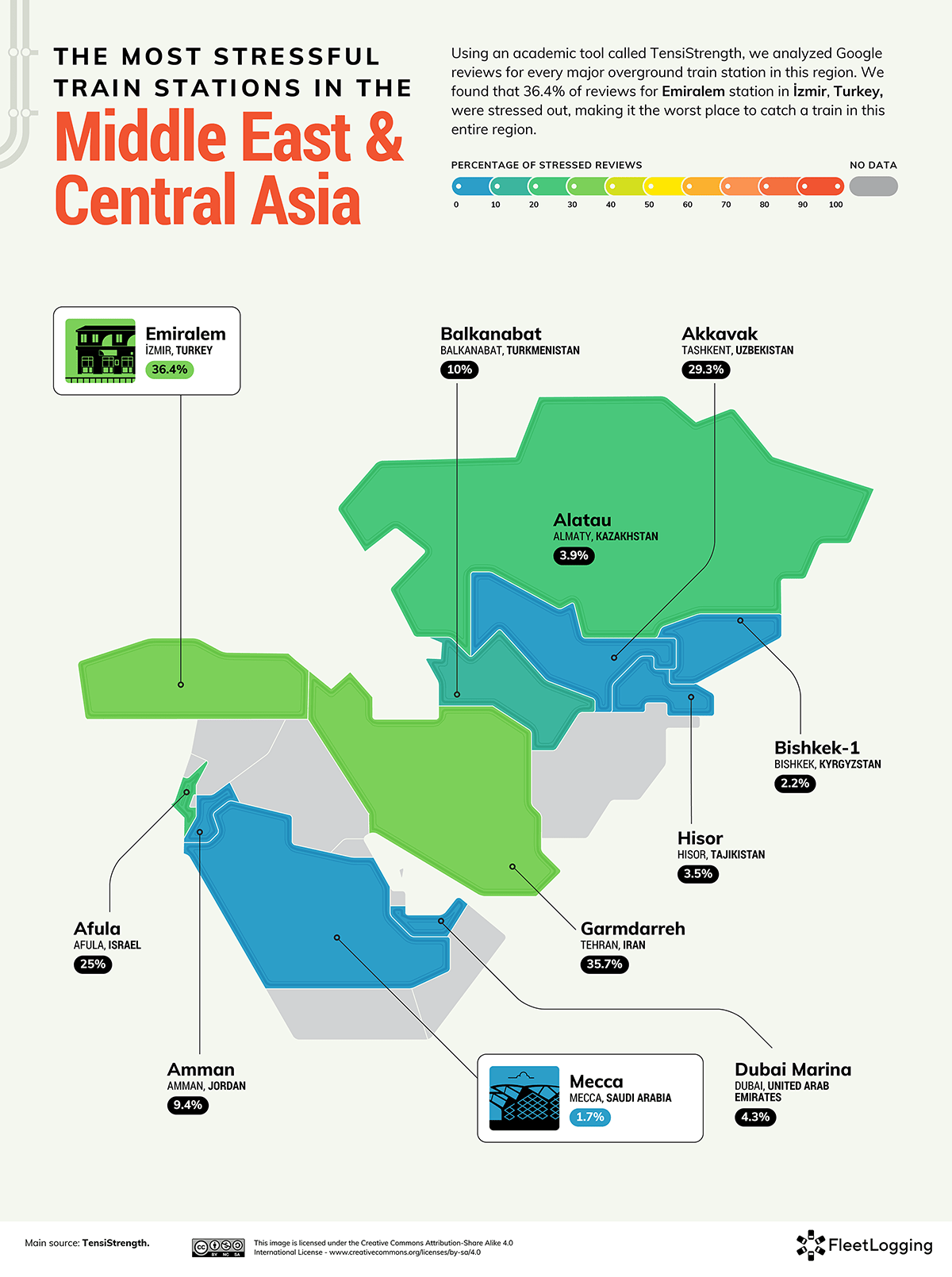 Garmdareh Metro Station in Tehran, Iran, is also known for its canine customer base and has a stress rating of 35.7%.
Most Stressful Stations in Rest of Asia & Oceania
Harbin Railway Station in China welcomes 25.46 million passengers annually, of which we can estimate 76.9% are stressed out from the experience. The Qing-era, Art Nouveau-style station was rebuilt from the original designs in 2015. It includes the site of the assassination of Hirobumi Ito, Japan's first Prime Minister and the first Japanese resident-general of Korea. The new memorial to assassin Ahn Jung-geun is a cause of tension between the governments of Japan, China, and Korea.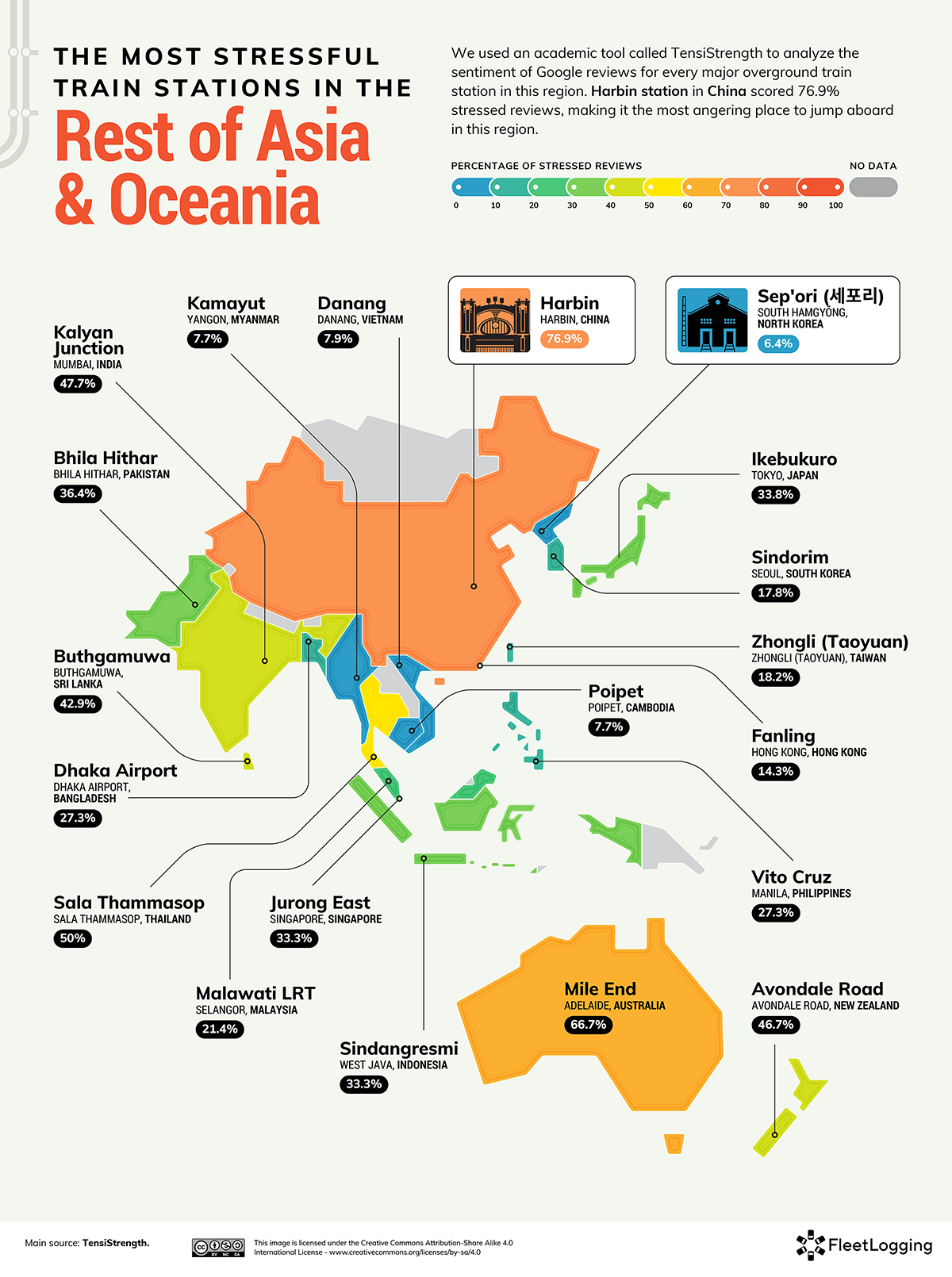 Number two for the region is Australia's Mile End station in Adelaide. The station is notorious for its lack of amenities and lack of access. "8/10 people can say they have nearly fell off the platform here," claims one user.
Most Stressful Stations in Africa
Egypt's Jeddah station is the sixth most stressful in the world and number one in Africa. It has a stress rating of 85.2%. However, many of the reviews on Google Maps are positive to the point of glowing – and it seems it is the rail service rather than the station itself that causes the most strain.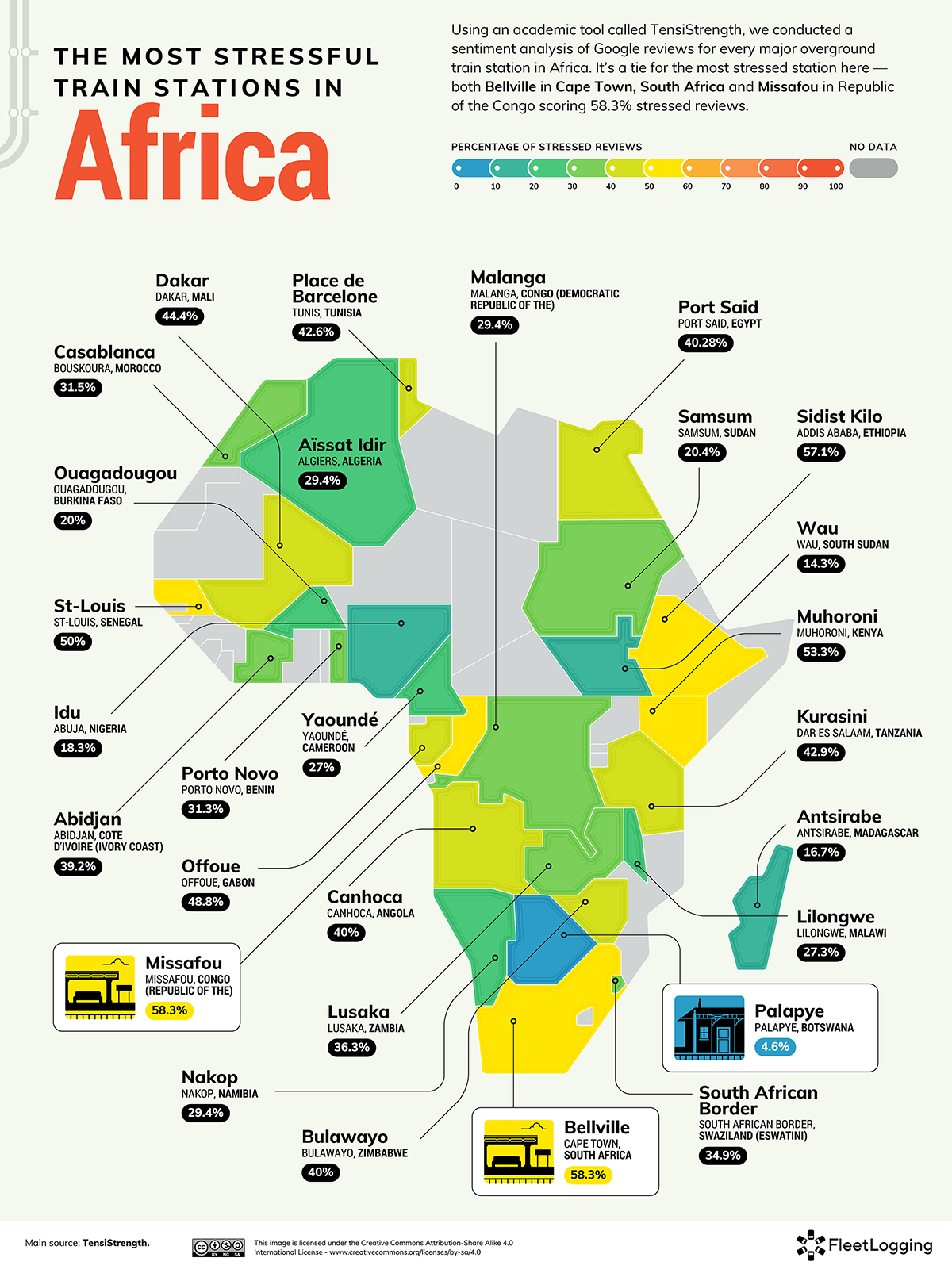 Bellville in Cape Town, South Africa, and Missafou in the Republic of Congo are tied for second on 58.3%. Palapye Station in Botswana is the sixth least stressful in our study, at 4.6%.
Victoria is London's Most Stressful Tube Line
South Harrow on the Piccadilly Line is London's most stressful station. Despite having links to Heathrow Airport, there is no step-free access, which means lumbering up and down stairs with your suitcases. You may also feel your heart rate increase after dark: "Not a nice place to be late at night," writes Vic Bill, "but this is improving with wider pavements outside the exits and CCTV."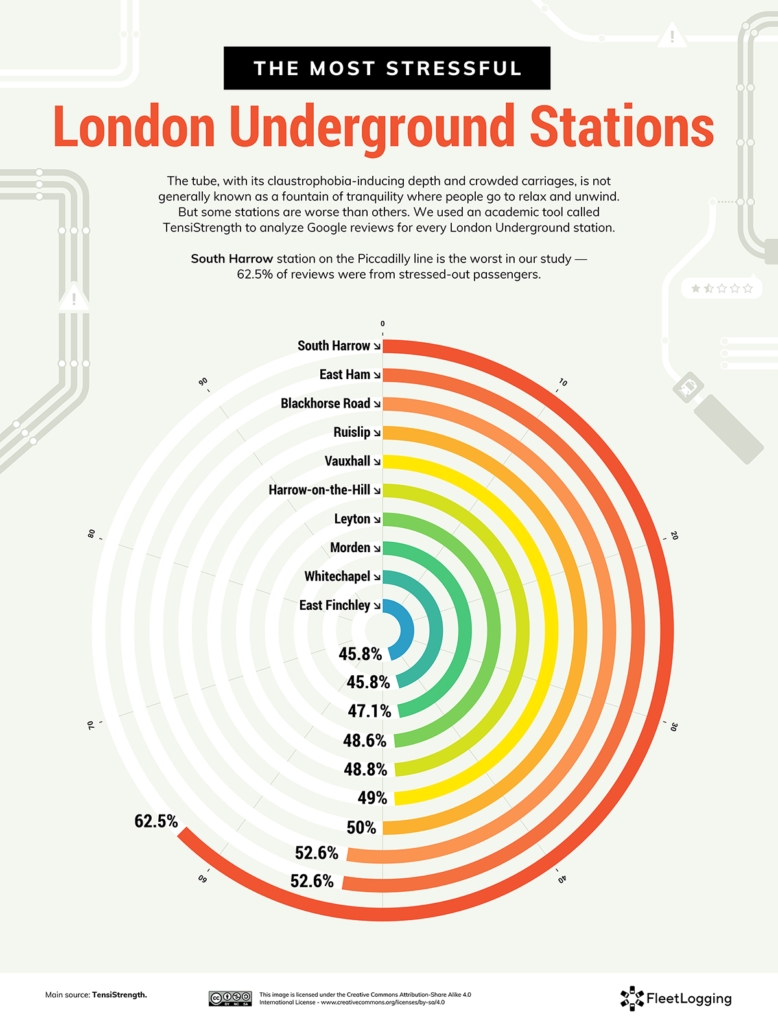 The rest of the Piccadilly Line is relatively mellow, however, dragging the average tension rating for the line down to 28.6%. That leaves Victoria on top as the most stressful line, thanks to high-scoring stations like Blackhorse Road (52.6%), Vauxhall (49%), and Finsbury Park (45%).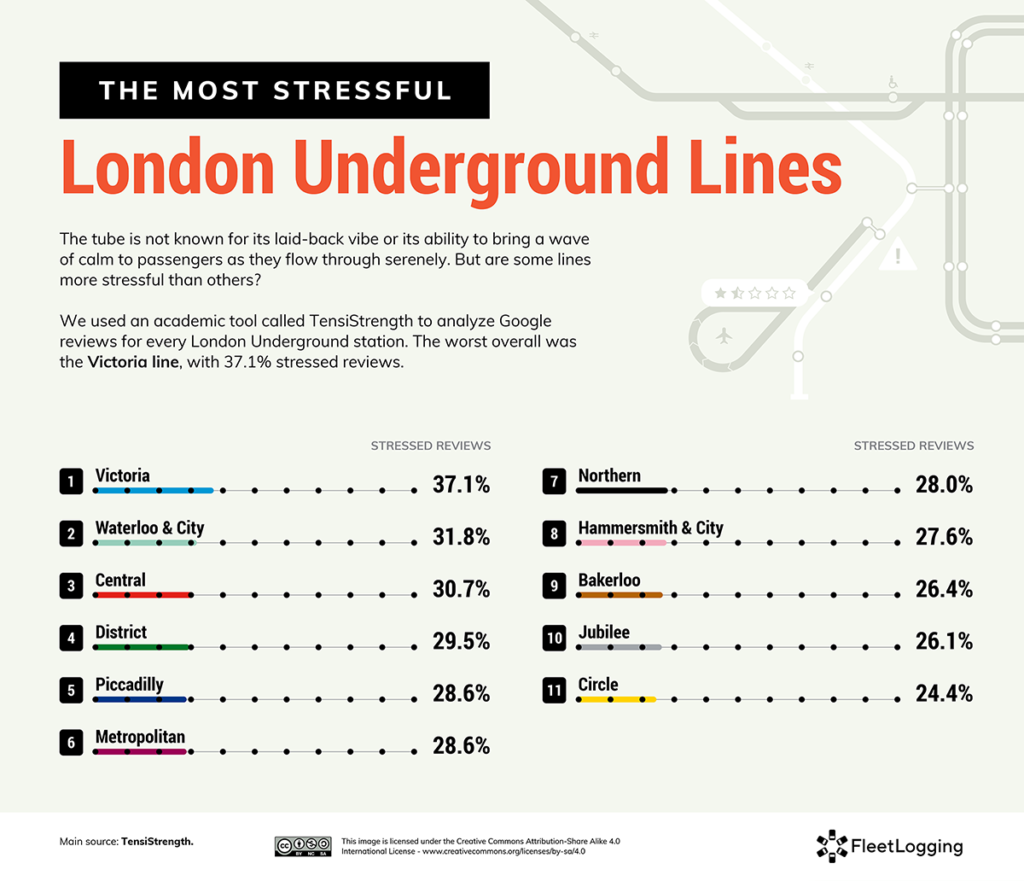 New York City's Most Stressful Subway Station is Jamaica Center–Parsons/Archer
"Dirty… Smelly ..Over crowded Subway… Guys hanging around harassing me and other women…" – such is the consensus on Jamaica Center–Parsons/Archer Station on New York's Archer Avenue line. A stress score of 66.7% just about wins over 63.6% at Burke Avenue Station in second place.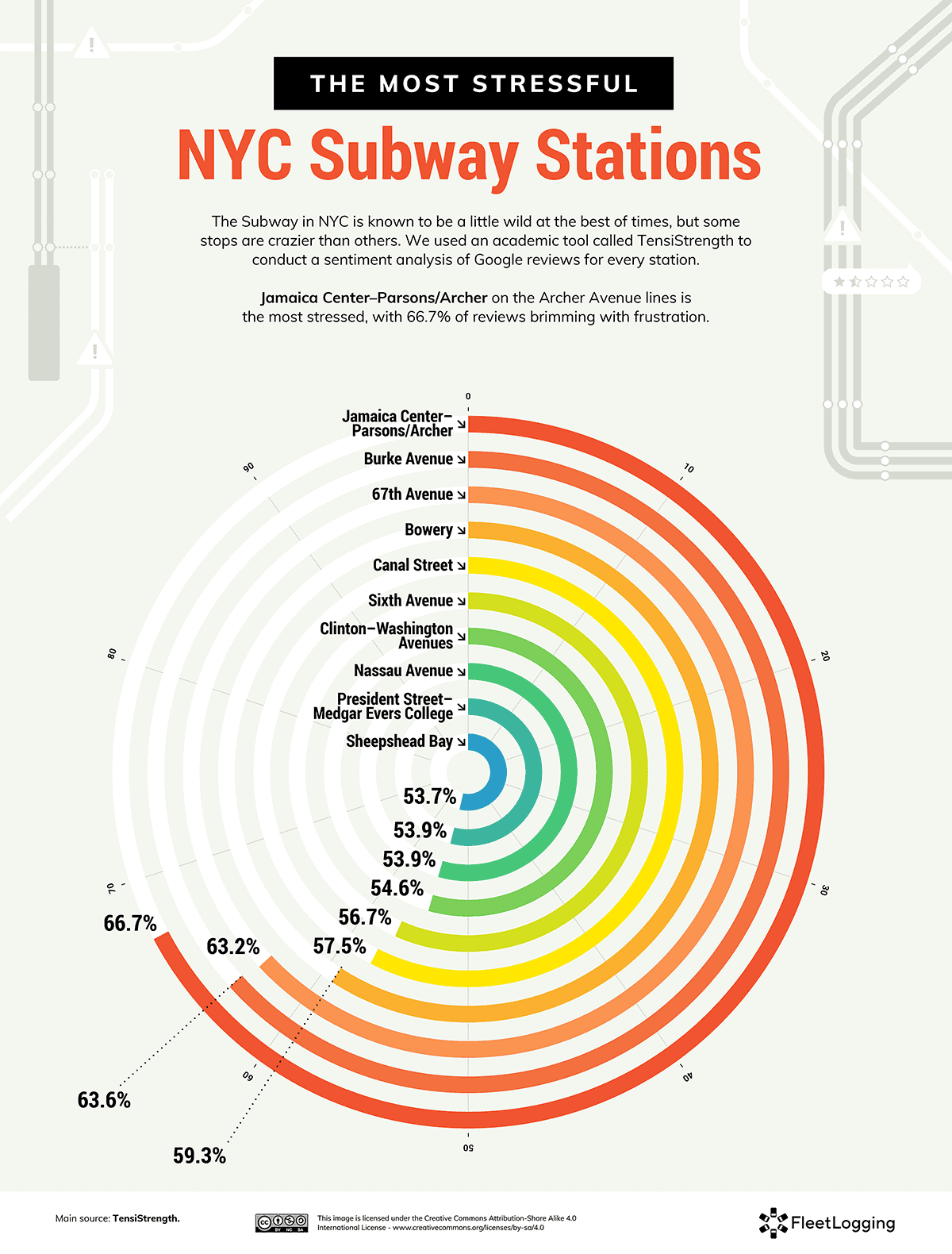 So it goes for the Archer Avenue line. Jamaica–Van Wyck also scores a strained 48.4%, and altogether the line has a stress rating of 49.6%. The least stressful is the Franklin Avenue Line, thanks to stations like Prospect Park, spreading goodwill by virtue of its outdoor location, greenery, ticket kiosks, and elevator.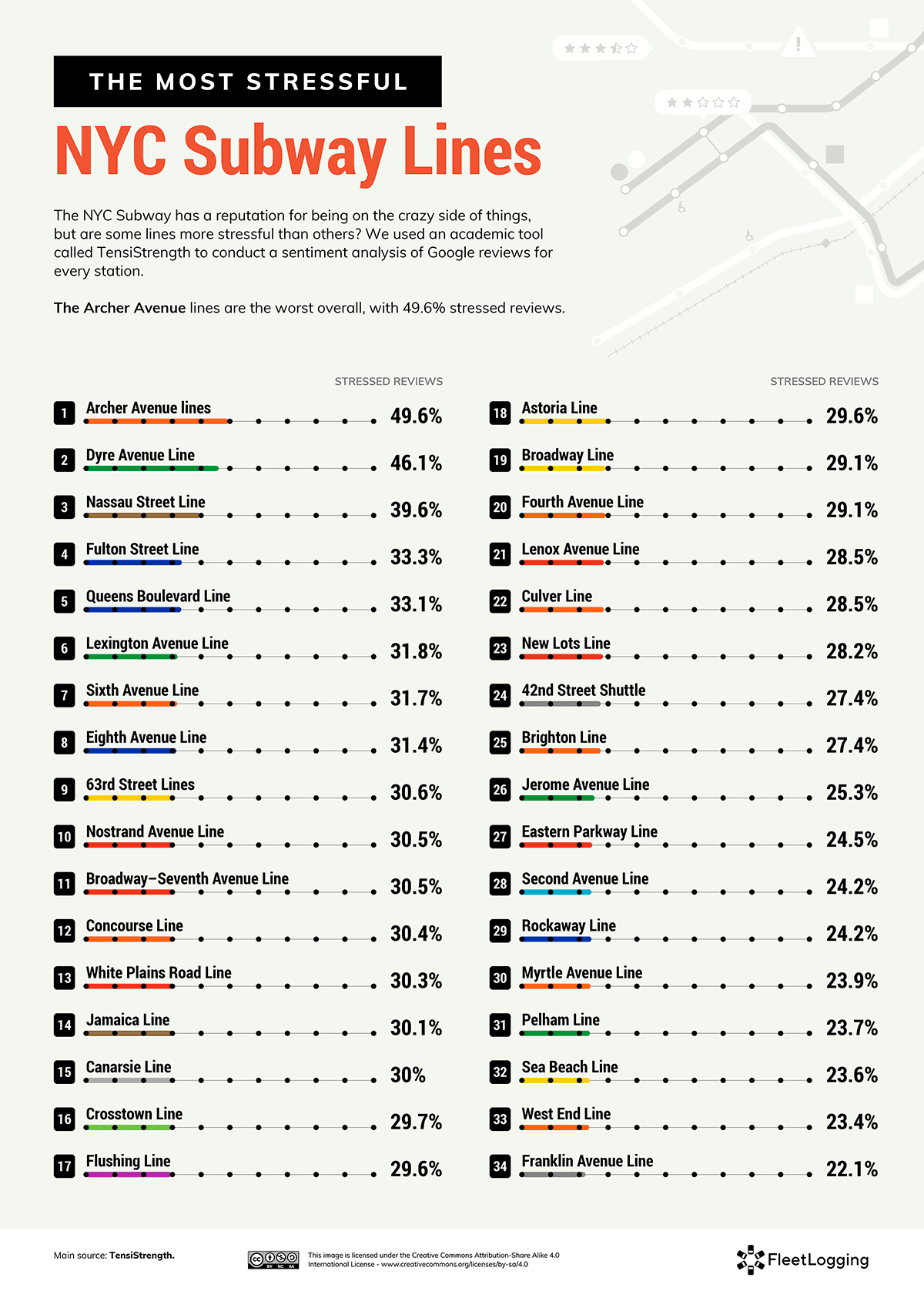 Sydney Commuters Most Stressed By Strathfield Metro Station
Strathfield on the Main Suburban line is the most stressful station on Sydney's huge metro network by a gap of 11.4%. "Too Busy," reports Debbie Smith, "dangerous in the morning people running too much. Had an accident last Friday, slipped down the stairs. Station staff were on duty but no one came to ask if I was OK. A kind lady had to ask them to get me the first aid guy as I was feeling faint." Reports another user: "Poor communication from staff left elderly passengers on a state of panic."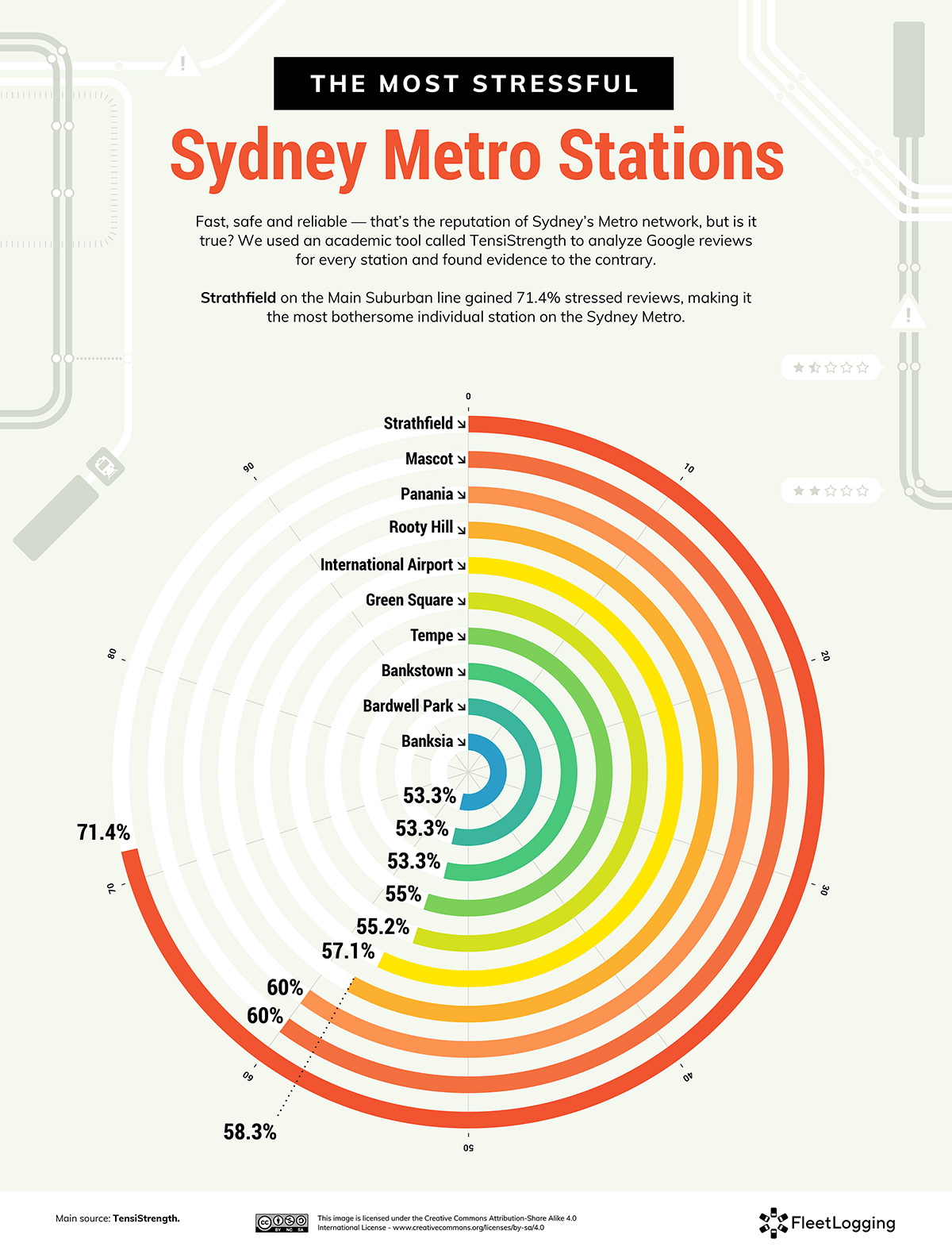 However, the Main Suburban line is only the fifth most stressful overall. The Airport line takes the honors, with stress levels at 49.6%. Fitty K breaks down the problems at Mascot, Airport's most stressful station: "One: what's with the absolute lack of seats on the platform? Two: lack of timetable info boards before you go through the turnstiles, three: it's like Sydney's entire population decides to catch a train from one station, absolutely packed, four: it's like shopping at a bunnings on a Saturday, only one turnstile open for departures….."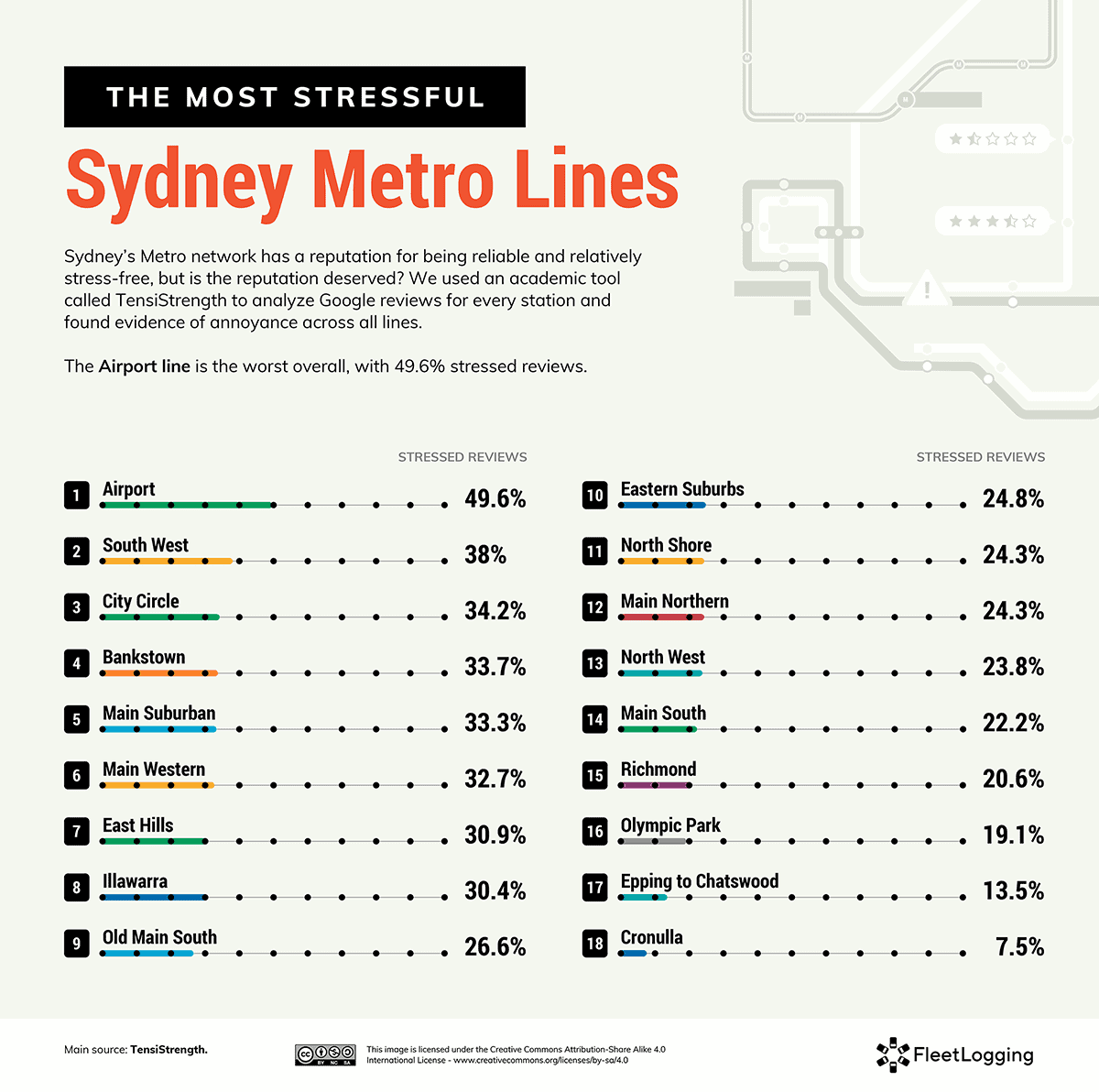 Put the "Choo Choo!" Back in Choosing Your Route to Work
When lots of people want to go in the same direction at the same time, things are going to get stressful. Throw in failing infrastructure and the frailties of human nature, and things can get really heated. It's no wonder 23% of workers have quit a job due to a stressful commute.
If you like or need your job, though, there are ways to cope with a potentially stressful rail journey. Stay calm; talk to people around you or on the phone; and plan calming activities and the least stressful route possible. To help you do just that, we're presenting our data in full in this interactive table below.
METHODOLOGY & SOURCES
We compiled a list of major overground stations in each country and a list of all metro stations for London, NYC, and Sydney Metros. Then we found stations on Google Maps and extracted reviews using Google API guide. We used TensiStrength (an academic tool that measures the stress levels of text) to measure the percentage of stressed reviews for each station.