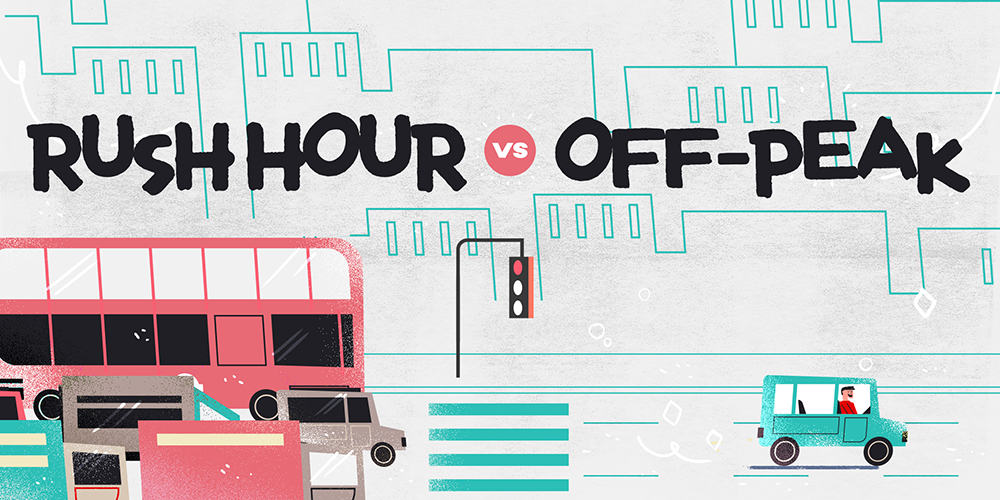 Fact: the city with the worst traffic in the world is whatever city you happen to be driving in. Right?
Well, without getting too far into the theory of relativity, the answer is: No. Some cities regularly have much worse traffic than others. And with public transport an unattractive alternative during the pandemic, some road commutes are taking longer than ever.
But drivers don't get off the hook that easily. We've all been guilty of waiting until the last possible moment to drive to work, hitting avoidable rush hour traffic. We've all got stuck for hours, homeward-bound because we listened to our bellies instead of the traffic report. Dinner will have to wait, one way or another!
FleetLogging wondered whether it really makes so much difference to plan travel in and out of a city at off-peak times. We decided to find out. First, our researchers identified 141 of the most congested cities in the world. Then, we used the TravelTime API to calculate how far from each city center you could drive in one hour, both on- and off-peak. Next, our data viz boffins created a series of maps and charts to illustrate the difference in delays in each city.
We even included a comparison tool, so you can check your current city against the others in our study – and verify whether it's true that others are even more stuck than you.
Key Findings
Marseille is the city with the biggest discrepancy between rush hour and off-peak journeys: you could travel 22.8 miles further in an hour by waiting for off-peak.
The US city with the biggest discrepancy is Boise, Idaho, where you can travel 14.4 miles further in one hour by waiting for off-peak periods.
London is the most difficult city to get out of during rush hour – in an hour you'll travel just 12.7 miles.
Singapore has the most-clogged off-peak roads – you will make it just 16.6 miles in an off-peak hour.
No Escape: The World's Most Congested Traffic Routes
France is celebrated for its slow culture, but one category that the French would like to speed up is the road traffic. Marseille, Lyon, and Paris experience the longest delays in the world during rush hour compared to off-peak times. In Marseille, waiting for an off-peak hour could see you travel 22.8 miles further than if you leave during peak times.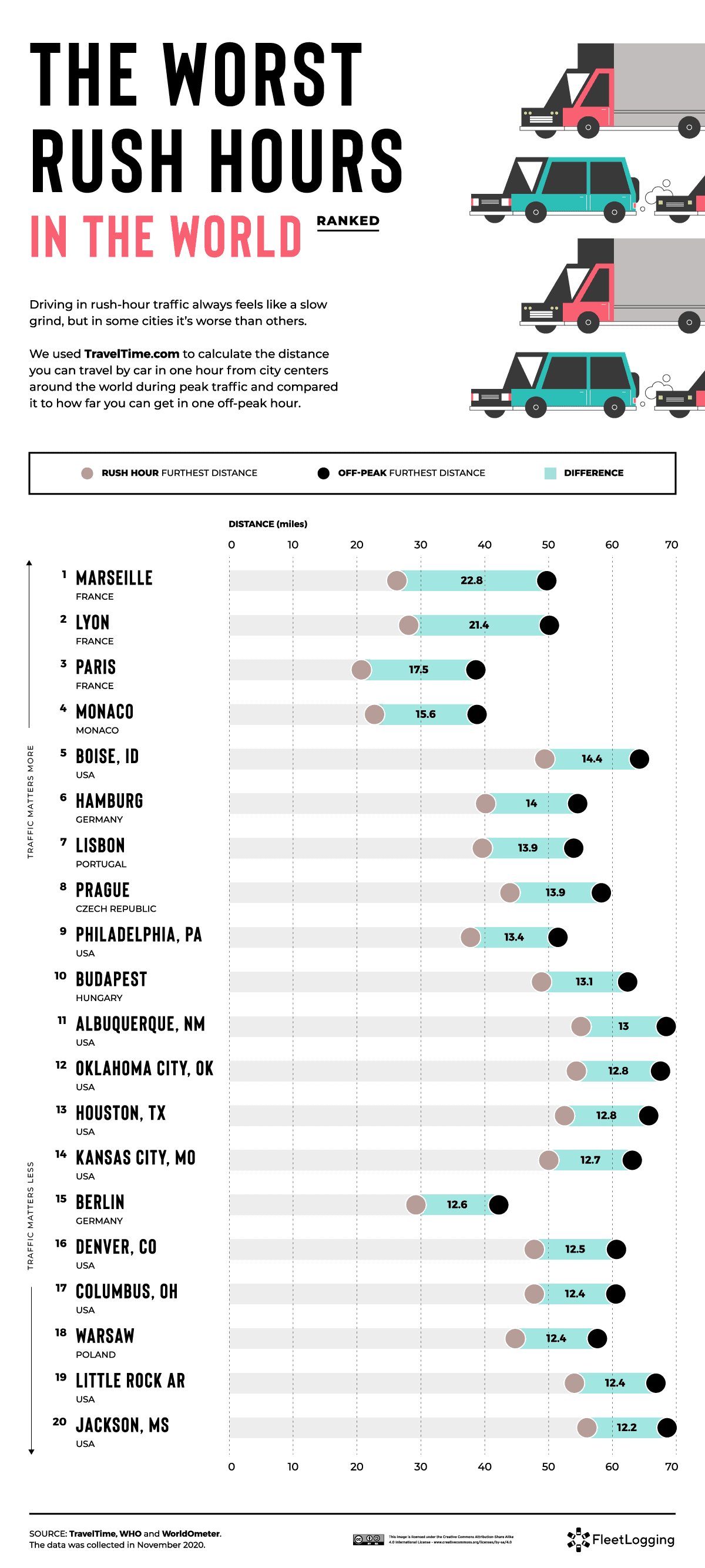 London, England, is the worst city to escape during rush hour – you'll get just 12.7 miles from the center. However, even during off-peak times, you'd only make it to a distance of 23.3 miles. There are a few cities where the time you leave makes little difference. In Honolulu, you'll get just a few hundred yards further in an hour if you wait for an off-peak period.
The US City That Hates To Tell Commuters "Aloha 'Oe"
Honolulu is the American city with the slowest escape route in our study. However, your ETA won't change much if you wait for the rush hour to pass. There's a difference of just 0.2 miles between peak/off-peak journeys. Hardly significant when viewed next to the second smallest gap, that of Seattle, which has a disparity of 6.7 miles.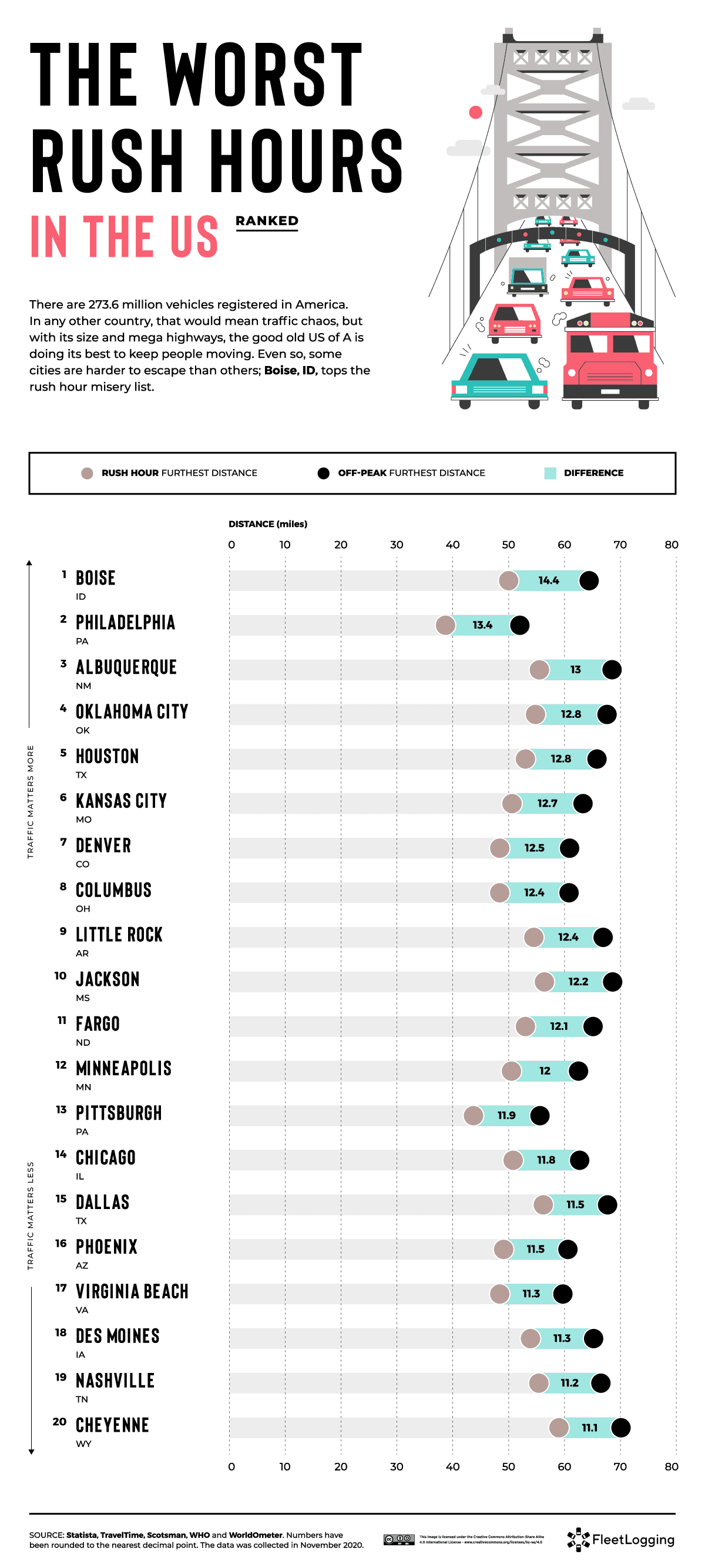 Boise is the city with the most significant rush hour effect, as mentioned above. Philadelphia has the second-biggest disparity: you'll cover more than 50 miles during regular times, but fewer than 40 when everyone's out. There's an ambient pleasure, then, in watching rush hour footage of the Schuylkill Expressway during the lockdown. Finally, your gas pedal could get some love.
Glasgow Has The UK's Most Severe Rush Hour
London may have the worst traffic in our study, but it doesn't have the worst rush hour in relative terms. Glasgow tops the list with a 12-mile discrepancy between rush hour and regular hours. But you can still make it 41.3 miles out of Glasgow during the busy periods – nearly twice as far as you can travel from London during rush hour!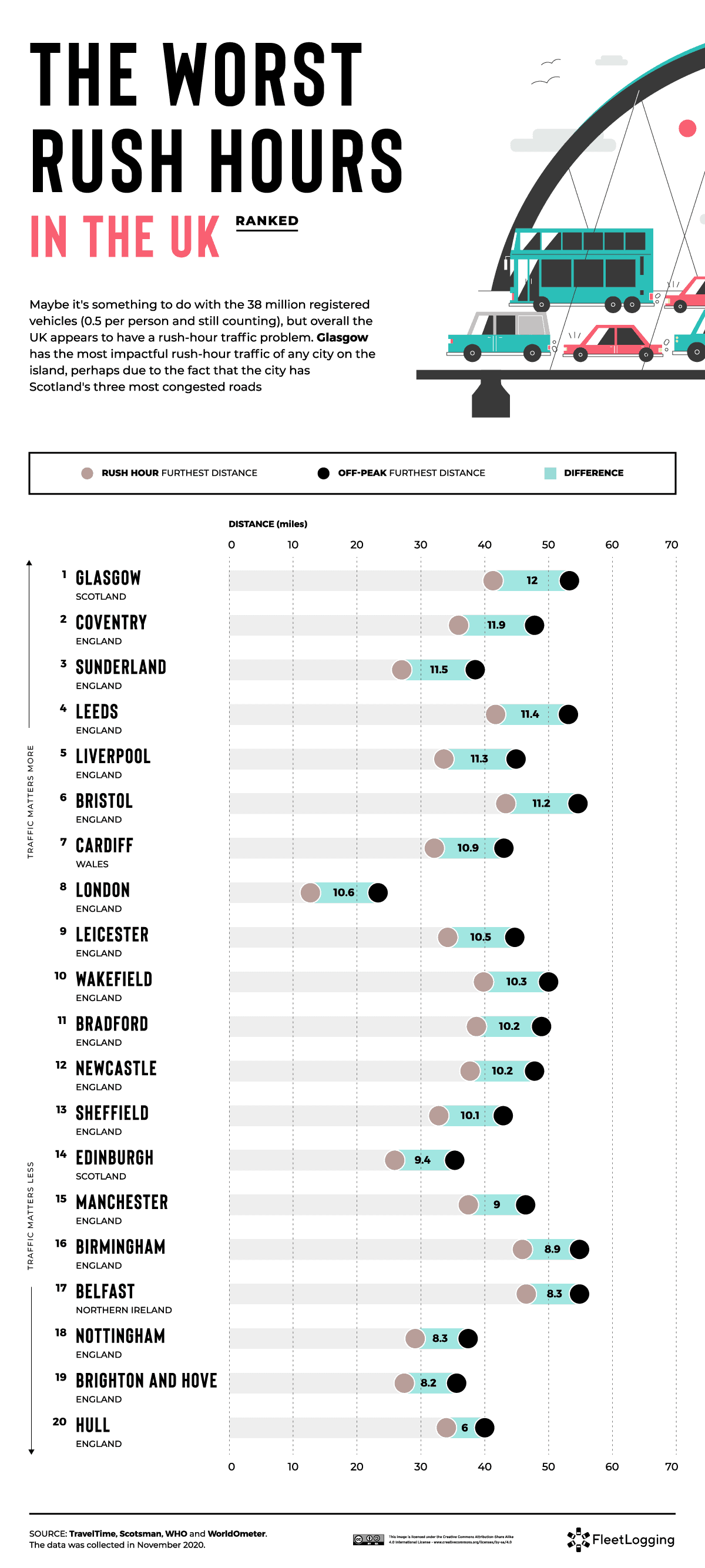 Of the UK's 20 most populous cities, Hull is the one with the least discrepancy between rush hour and off-peak traffic: you'll get six miles further during a quiet hour.
European Commuter Traffic: It's All In The Timing
French traffic has long been the butt of the joke. Our study shows that three French cities have the most serious rush hour problems in Europe and the world. Recent issues such as lockdown and, before that, the public sector strikes have made matters worse.

But both Marseille and Lyon's high discrepancies come along with relatively high (50+ miles) off-peak distances. So, the good news in each case – as for other high-discrepancy cities such as Hamburg, Lisbon, Prague, and Budapest – is that if you time your trip right, you can still cover a lot of ground in a short time.
Head-to-head: Choose Two Cities To Compare Traffic Conditions
Looking to settle an argument? Click the arrows to choose two cities from the drop-down menus. The blue area on the maps shows how far you can get during an off-peak hour, pink shows rush-hour, and the stats are underneath.
Not all capitals get it equally bad. In Berlin, Germany's capital, you can knock 12.6 miles off your projected distance if you leave it until rush hour, while in Oslo (Norway) the discrepancy is just 6.2 miles. Considering that both capitals have an off-peak distance of 43 miles, the difference in the rush hour effect between the cities is notable.
Compare across continents and you get some surprising similarities. Washington has a rush hour distance of 39.8 miles, and you'll get 8.7 miles further off-peak; for Bangkok, Thailand's capital, the figures are 39.6 and 9.0 miles, respectively. A shared culture of twiddling the knob on the car radio!
London Doesn't Want You to Go
London is the hardest city to escape in the world with motorists only being able to travel 12.7 miles during rush hour. Singapore is slightly better, coming in second place at 15.4 miles during rush hour But as you can travel at least 20 miles during rush hour in every other city in the world it demonstrates just how congested these top two cities are. In fact, London is twice as congested as the 5th hardest city to escape in the world, Monaco.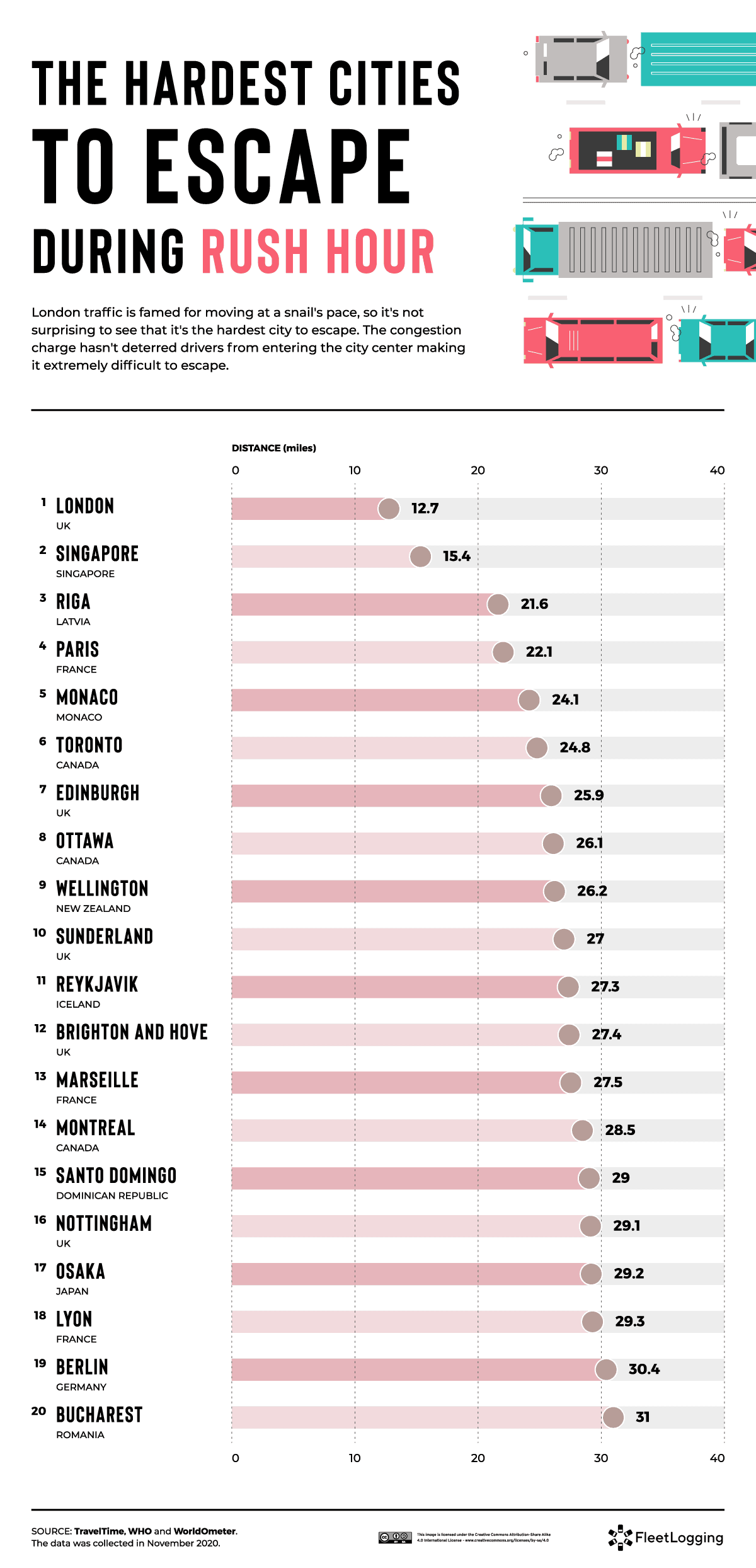 In contrast, the 19 cities from which you can drive the furthest during rush hour are all in the US. Demonstrating that the States really is the land of the free, when it comes to driving at least.
European And American Cities Suffer Worst Rush Hours
Our next visualization maps the difference between rush hour and off-peak journeys in the 10 cities with the greatest discrepancies. Europe and the United States dominate. Boise, Idaho, comes out top in the US, with a 14.4-mile difference in how far you can travel. The so-called City of Trees has been plagued by bad rush hour traffic as urban development has boomed in recent years.

European capitals make up half of the top ten cities. Paris, Monaco, Lisbon, Prague, and Budapest struggle to funnel commuter traffic at the end of the day. Paris and Monaco stand out as cities where the going is never good. You'll get no further than 40 miles from either city center even when the traffic is relatively quiet.
How To Deal With A Long Commute
Traffic is a fact of life for those who choose to drive in and out of the city. Of course, the best thing you can do for your well-being and the environment is to cycle or take public transport if possible. But if not, it is healthy to develop techniques to deal with traffic rather than spend evening after evening shouting at your steering wheel.
Remembering to check the traffic news shortly before leaving is a good habit to form. Get used to the idea that you might need to spend an extra hour in town or at home (depending on which direction you're going) and find ways to make use of the waiting time outside of your car instead of sitting in traffic.
If you must drive at the busiest times, or yours is one of the cities that are always clogged, develop your in-car culture: sing, try new routes, try audiobooks, or learn a thing or two about the other vehicles on the roads. You know what's ahead of you, so don't get caught off-guard; get philosophical. And remember, drivers – you're not stuck in traffic, you are traffic!
METHODOLOGY & SOURCES
We used the TravelTime API to calculate the area that can be reached by car in 1 hour from the city center in both peak and off-peak hours. We collected this data for the most populous city in every state in the US, the 20 most populous cities in the UK, all European capitals, and the world's biggest metropolitan areas covered by TravelTime.
Registered vehicles data was sourced from WHO, and populations were sourced from WorldOmeter.
The data was collected in November 2020.
Other Popular Topics: