Featured: Coast*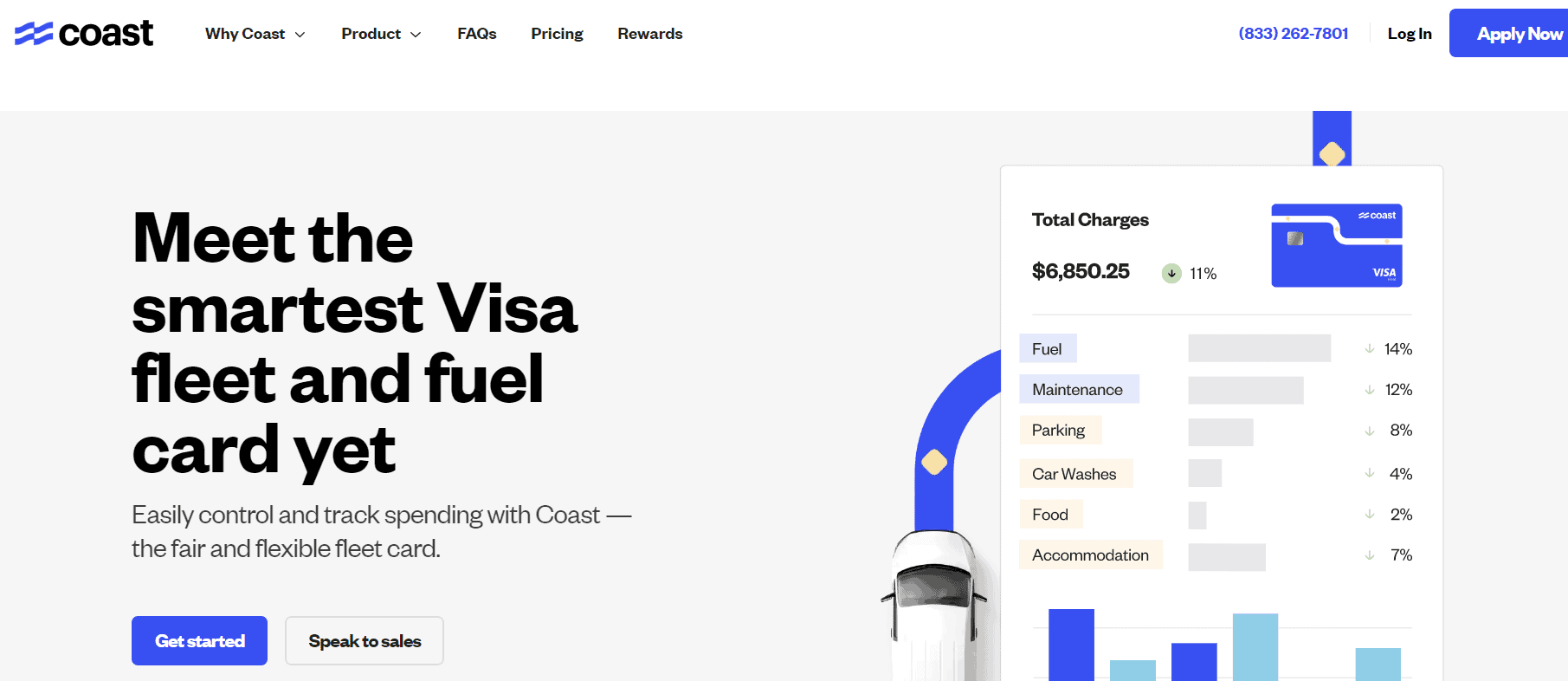 Unlike most fuel cards, Coast can be used at any gas station that accepts Visa
Coast does not require a personal guarantee, which means business owners carry no personal liability
Universal 2¢ rebate on gas (regardless of gas station brand) and 1% cash back on non-fuel purchases
Customer support is easy to get hold of and is based in the US
Coast easily integrates into telematics and fleet management software to give businesses even more control over fuel spending
Choose what types of purchases employees can make and set limits and restrictions on where, when, how often, and how much cards can be used for
Coast offers credit lines to businesses on monthly and weekly payback terms
Alerts and flexibility through one-time authorizations
Limits include restricting fuel transactions to daily, weekly, and monthly maximums, time of day limits, transaction amount and frequency limits
Click here to learn more about Coast
| | |
| --- | --- |
| Fuel Card | Max Savings Per Gallon |
| EFS | 15 cents (Depends on location) |
| Fuelman | 10 cents (Simple Saver Fleet Card) |
| Comdata | 10 cents |
| Pilot Fleet Card | None (see card description) |
| Universal Premium | 6 cents |
| TCS | 63 cents |
| Fleet One | 15 cents |
| Voyager Fleet Card | $1.06 (tax-exempt diesel) |
| RTS Fuel Card | 25 cents |
| Multi Service Fuel Card | Varies (see card description) |
Every fuel card is usable by truckers. Transportation-focused customers bring in enough revenue that every gas station wants to cater to them, so it would be much stranger for a fuel card to not support trucking.
However, with that in mind, fuel cards aren't equal. Some of them are particularly well-suited to the heavy trucking industry (versus, say, cargo vans), and that can make a real difference when you're trying to optimize fuel economy or find the best savings. Here are nine of the best fuel cards for truckers that are currently available.
These cards are not listed in any particular order.
1. EFS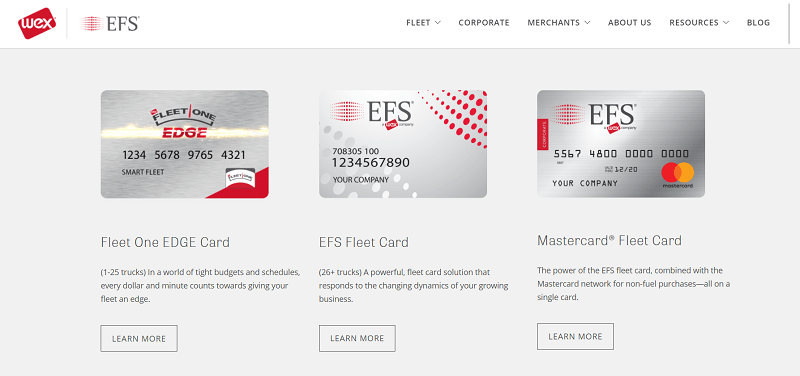 Comes in several different versions
Helps collect important metrics like odometer information
Uses truck telemetry to match purchase data
Accepted at up to 16,000 locations, depending on the card you get
Helps control non-fuel purchases
Electric Funds Source, more commonly known as EFS, provides a trucking-focused card for people. Their main card for smaller companies, the EFS Fleet One EDGE card, is ideal for users with up to 25 trucks. The EFS Fleet card is for fleets with 26 or more trucks operating within it.
Finally, their EFS Mastercard Fleet Card provides full access to all fueling stations that accept Mastercard (which is most of them), and also helps drivers who need to pay for other things at the same time. With an impressive savings cap of 15 cents per gallon and a high number of partner locations, the EFS card is one of the best options for trucking companies.
Website: https://www.efsllc.com/fleet/fleet-cards/
2. Fuelman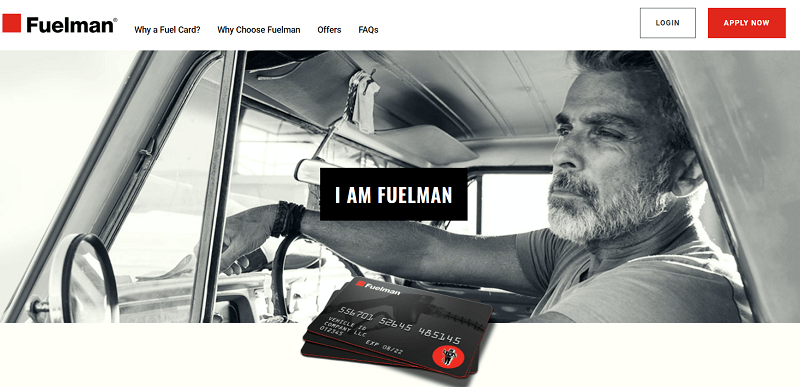 Multiple plans for their cards
Robust business protection features, particularly relating to identity theft
Roadside assistance is available 24/7
Multiple reward offers
Fuelman stands out from other fuel cards because it offers different subscriptions for each of its cards. Other companies typically have one subscription plan tied to each card (if they have subscriptions at all), which means Fuelman is fundamentally more flexible than most of its competitors.
The plans here include features like real-time fraud notices, annual loyalty bonuses, and late payment forgiveness programs. That last one is a feature you hopefully won't need, but some payments can be irregular and the option to pay later without getting kicked from the rewards program is extremely useful for truckers.
Website: https://www.fuelman.com/offers/trucking-and-transport/
3. Comdata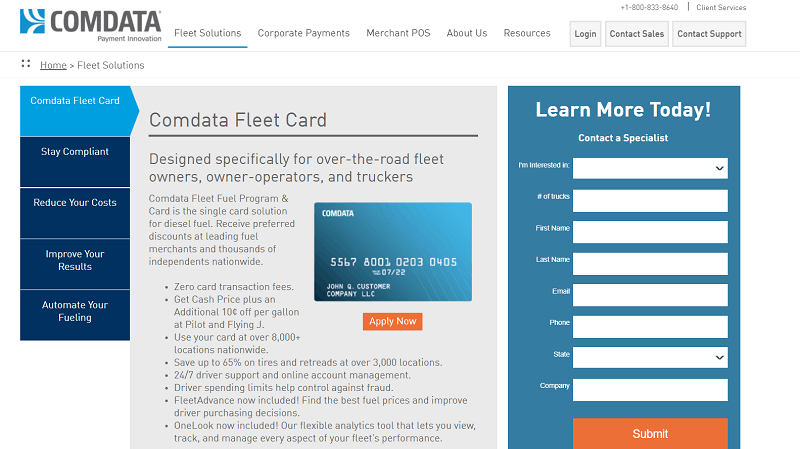 Gives access to cash prices at participating locations
Especially useful at truck stops
Allows custom spending limits for users
Offers real-time transaction information through an app
Comdata is focused almost entirely on the trucking industry, which means it can provide offers and benefits that others don't. The main highlight of their program is the FleetAdvance app, which helps drivers figure out the best locations to fuel up before they reach the area.
Comdata also gives drivers access to cash prices when fueling up. This is typically a difference of several cents per gallon, and it's a feature fleet fuel cards almost never offer. Depending on the type of fuel you need and where your fleet travels, this could offer better savings than regular discounts per gallon.
Website: https://www.comdata.com/fleet-solutions/my-fleet-program/index
4. Pilot Fleet Card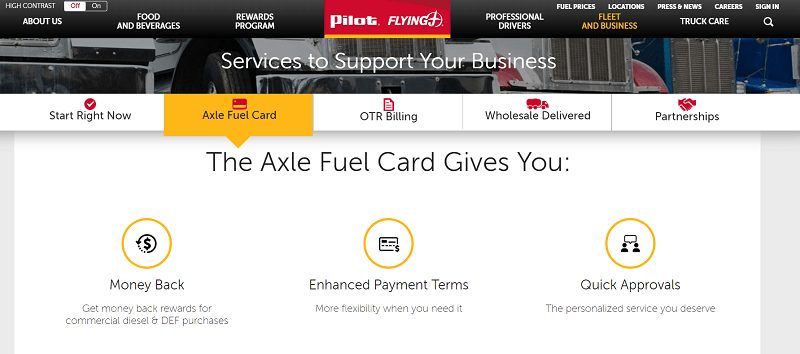 Runs an extensive loyalty program, with additional points at some fuel stations
Gives money back instead of fuel discounts
Helps provide access to discounts on truck maintenance
Pilot's fleet card, usually known as the Axle Fleet Card, is unlike most other fuel cards in the industry. Rather than offering direct savings on each gallon of gas, it provides up to 3% cashback (about 7.5c/gallon when gas costs $2.50) and allows flexible payment terms. Since the cashback is a percent cost, this card gets more valuable when fuel is more expensive.
That said, this card is also restricted mainly to Pilot, Flying J, and One9 fuel stops. That's a relatively low number of participating locations, so the Axle Fleet Card isn't as viable for some companies as many other fleet cards are.
Website: https://pilotflyingj.com/fleet/
5. Universal Premium Fleet Card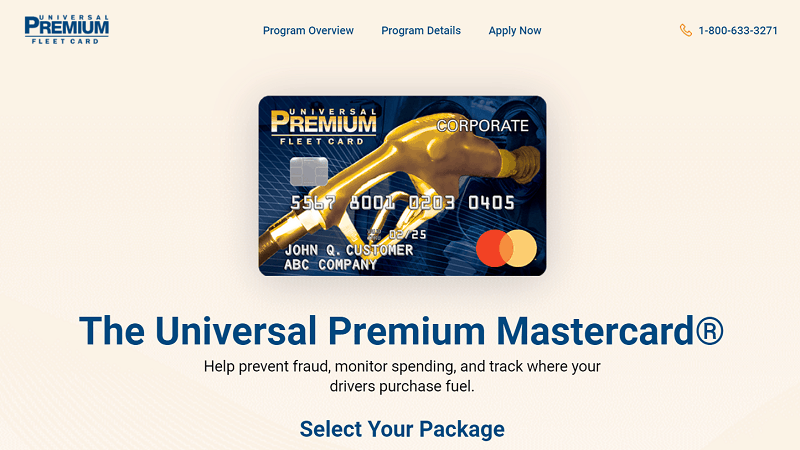 Includes a fuel card and Mastercard access
Works nearly everywhere
Provides up to a 5% discount for some types of maintenance
Allows non-vehicle payments, with added controls
As the name implies, the Universal Premium Fleet Card is designed for high-volume customers, with its maximum savings available to those who buy at least 30,000 gallons of gas. That's more than some other fuel cards require, but it does incentivize staying within its program.
Other services for truckers and trucking companies include fraud loss coverage, performance analytics, and assistance creating managed fuel programs. That last feature is relatively rare within the industry and helps the Universal Premium Fleet Card stand out from competitors.
Website: https://www.universalpremiumcard.com/
6. TCS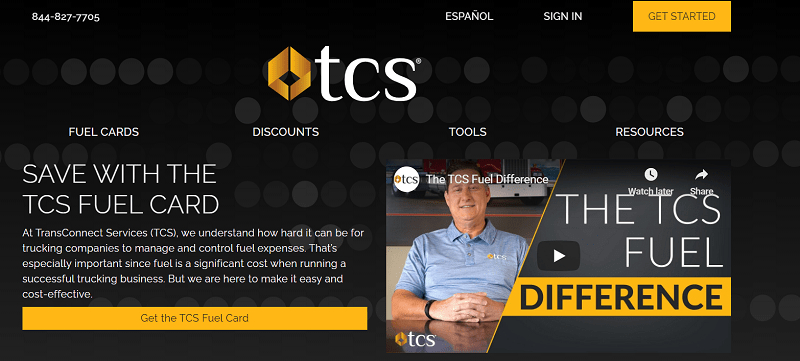 Designed for both companies and individual owner-operators
Accessible through an app and a website
Has one of the highest savings of all cards
Available in both Canada and the United States
TransConnect Services, usually abbreviated to TCS, offers clients an average savings of 63 cents per gallon. That's incredible in an industry where many cards are less than 10 cents per gallon, and it helps this card instantly stand out from others. However, these savings are limited to participating stations, and there aren't many of those.
Despite its geographic limitations, the TCS fleet card also offers other useful services like snapshots on a dashboard, fueling location finders, and personalized account management services. This card is worth considering because of the potentially-impressive savings, but be sure to check your intended routes to see if it makes sense for you.
Website: https://www.tcsfuel.com/fuel-card-trucking-company/
7. Fleet One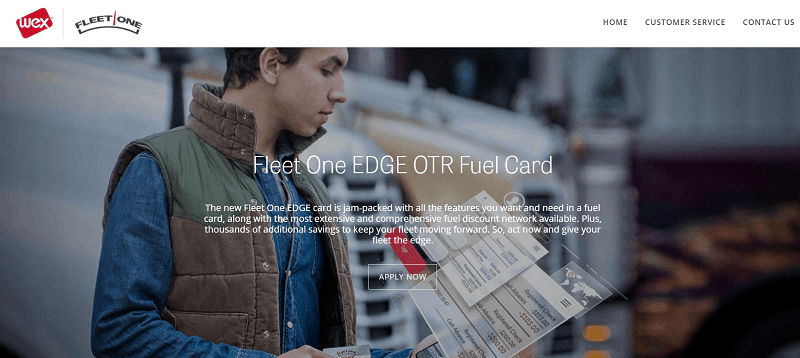 Has access to the WEX network
Does not have fuel transaction costs at most in-network stations
Designed for companies with up to 50 trucks
Has extra savings for internet and maintenance
The Fleet One Edge card is available in several ways, and it's also sold under the EFS brand described above. Thanks to participating in the WEX network, Fleet One has several thousand in-network fueling stations and can provide extra savings on things like vehicle maintenance plans.
More importantly, this card offers truckers an excellent balance between the number of stations that accept it and the amount saved for each gallon. This makes it highly competitive for most trucking companies, and therefore worth a look even if you think another card is better. It's always best to calculate the savings from each option instead of making assumptions.
Website: https://www.fleetone.com/
8. Voyager Fleet Card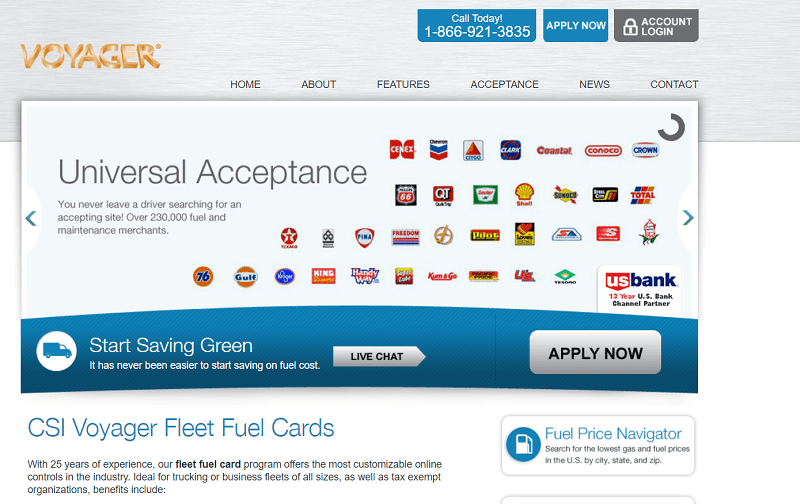 Supported by US Bank
Has an excellent mobile app
Encourages routine maintenance through collecting detailed information
Allows cardless payment options
Most fleet cards are offered by fueling companies or organizations dedicated entirely to running a fleet card program. The Voyager Fleet Card stands out from the crowd thanks to being proved by US Bank, which is about the fifth-largest bank in the United States. That's a level of back-end support that few other companies can match.
Outside of its unusual ownership details, the Voyager Fleet Card allows for cardless payments, which is still relatively rare within the fuel card industry. The wide access to digital options supports fleet efficiency and account controls. This card works particularly well when buying tax-exempt diesel fuel, but it's also competitive for other transactions.
Website: https://www.voyagercsifleet.com/
9. RTS Fuel Card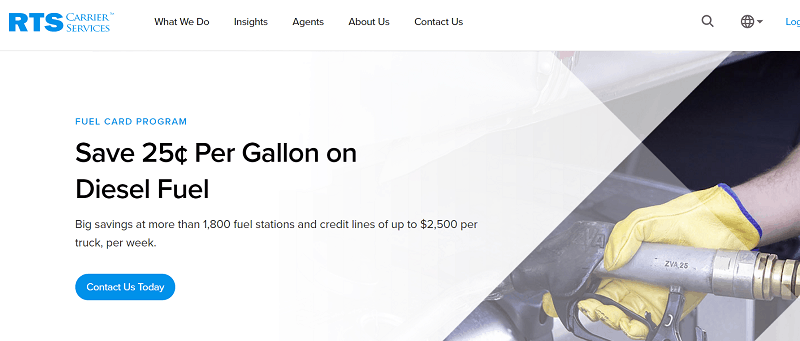 Provides better savings than most competitors
Optionally includes a weekly line of credit
Further savings at some fuel stations
Does not require a contract, or any annual fees
RTS stands out from the crowd by offering one of the largest fuel discounts in the fleet card industry. Like TCS, this is mainly because it has a small number of participating fueling stations and needs to incentivize people to visit them. The lack of contracts and annual fees makes it easy to use this card even if you're also using other fuel cards.
However, what really sets RTS apart from others is its use of a weekly line of credit. These lines of credit are available per-vehicle and they offer significantly more flexibility when it comes to liquidity and getting fuel when you need it. Most fuel cards only provide these features separately, so some businesses may find this alone makes the RTS card worth using.
Website: https://www.rtsinc.com/product/fuel-discount-program
10. Multi Service Fuel Card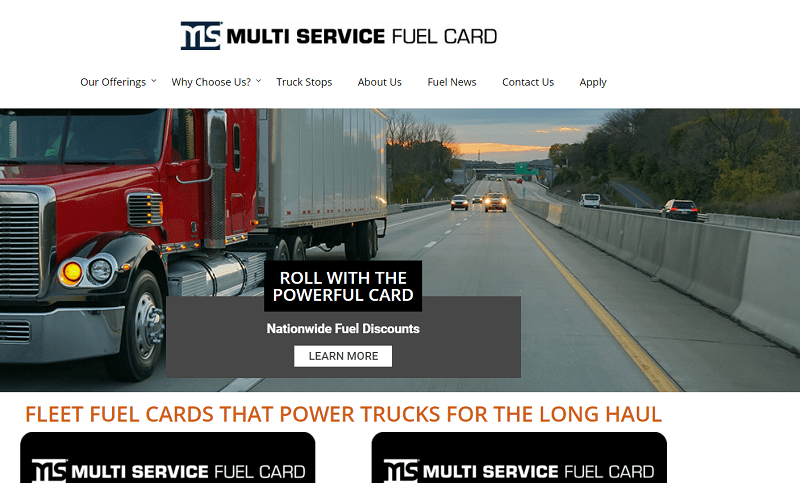 Flexible discount options compared to other fueling cards
Does not have transaction fees
Offers 24/7 customer support
Works with most types of truck control software
The Multi Service Fuel Card does not have a fixed or a variable discount rate, which is how most fuel cards for truckers work. Instead, they negotiate discounts based on individual fleet performance. This makes it extremely hard to estimate their potential value to your company unless you contact them, so you should do that no matter what.
Outside of the unusual approach to savings, the Multi Service Fuel Card is extremely compatible with trucking software and can report most types of information in real-time. When possible, it collects metrics ranging from fuel types and additive percents to merchant numbers and exact location. All of this makes it easier to maximize a driver's efficiency.
Website: https://www.multiservicefuelcard.com/truck-stops/
Frequently Asked Questions
Here are some of the most common questions people ask about fuel cards for truckers.
What Is A Fleet Card/Fuel Card?
Fuel cards are specialized payment cards that are exclusively for vehicle-related costs. This includes regular maintenance, tire replacements, and emergency repairs. However, most fuel cards are used primarily for gas (hence the name), and the cards compare based on the savings or benefits they can provide to customers visiting a participating fueling station.
Most benefits range from fuel discounts (either as rebates or directly-reduced costs at the pump) to help with oil changes or vehicle servicing. Some people refer to these cards as gas cards.
How Do Fuel Cards Work?
For truckers, fuel cards work similarly at the pump to how other payment cards operate. Transactions involve putting a card into a payment terminal, inputting any required information, and fueling up the vehicle. Unlike traditional gas stations, many locations for trucks also require inputting other data, such as the current odometer reading of the vehicle.
Fuel cards may also collect other data, such as how long you go between fuel stops, how much gas you purchase, and whether or not drivers are going at fuel-efficient speeds between stations. This helps form a clearer picture of drivers' habits and can lead to significant savings over time.
Most fuel cards show their true value when used at scale. If your company has dozens of trucks, a one-cent difference in fuel costs can equal significant savings over time. Most fuel cards provide comprehensive reports to help businesses isolate opportunities for saving money.
How To Get A Fuel Card
Acquiring a fuel card for your truck is usually straightforward, but it may require some verification to prove that you actually own or drive a truck. Most cards allow signups through the internet, while others will require calling the provider directly. This is especially true if you need to get multiple cards at once, which is common for small and mid-sized trucking businesses.
Fuel card providers may also ask you for other information to help determine which benefits you're eligible for. This is most true with the Multi Service Fleet Card because it offers individual discount plans, but other companies can also have complex regulations and guidelines detailing what benefits you're eligible for.
How Much Will I Save With A Fuel Card?
Savings vary greatly between fuel cards, especially for truckers. Each card wants you to prioritize visiting stations that are in-network, but how they do so varies.
Some trucking businesses use several fuel cards simultaneously. This is particularly helpful if they don't cost anything for you to use and you want to maximize access to different stations. However, you must research routes and costs to determine whether or not this makes sense for your business.
Most fuel card companies operate with one of two standard formats.
Those with discounts above 10 cents per gallon typically have a lower number of locations than other fuel cards. Note that a low number is relative – they could still have almost 2000 fueling stops, which allows a lot of coverage. However, these companies may not have full coverage if you want to send your fleet around the nation.
Companies that have lower discounts (typically 7 cents per gallon or less) usually have far more fueling stations than companies that have higher discounts. The idea is that while you may not save as much per trip, the fact that you can save almost anywhere could be a better deal than getting a huge discount at a smaller number of stops.
What Are The Differences Between Credit Cards And Fuel Cards?
Credit cards are useful for purchasing almost anything, assuming you have enough credit for the transaction. Fuel cards are limited to vehicle-related transactions and often gather much more information about that transaction than credit cards ever do.
However, the line between these two isn't completely clear. Some fuel cards also act as credit cards or even provide lines of credit that users can draw on. This gives far more flexibility to trucking businesses, especially if payments get delayed.
* Please note we have an affiliate relationship with Coast.