For necessary fuel and maintenance management tasks, a fuel and fleet card makes all the difference. Fleet One offers a card designed to help keep your drivers on the road and ensure you've got the reports you need come tax time.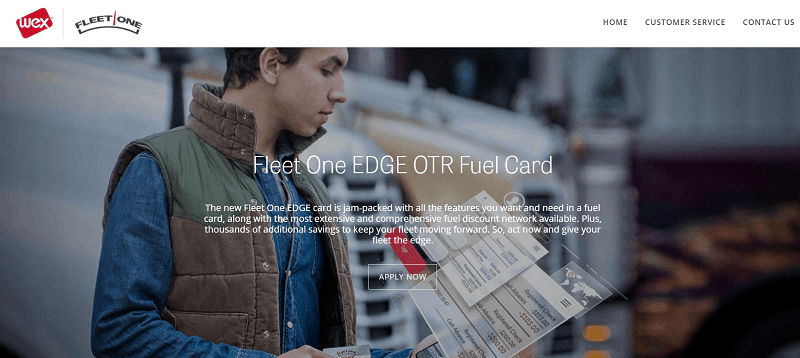 It claims an extensive connection of fuel and service centers to help pile on the discounts and savings, but is it worth it? Let's take a look at Fleet One's card to see if its the right option for your business.
The Overview
Fleet One was acquired by Wex in 2012 and brought much of that company's heft into the business side. They offer fuel savings that average around 15 cents per gallon off and maintenance discounts at any TA service center or Boss Shop.
The card is accepted at thousands of locations nationwide, making it simple for drivers to find a compatible service station. The card also gets discounts at over 3600 truck stops, offering further savings.
There are no transaction fees as long as your drivers stay in-network, jumpstarting your financial benefits right away. The card may take a few days for application, but your drivers enjoy tons of discounts once you have it.
The Benefits
The card is accepted at a wide range of centers, making it easier to stay in the network. Once your drivers stop, they can also enjoy discounts on other things, including hotel stays, repairs, and even wireless plans.
The card keeps maintenance and repairs straightforward with partners at TA Centers and Boss Shops ready to get your trucks back on the road. Fleet managers can enjoy steep discounts on things like tires and other savings on vital truck parts like mud flaps.
There's one card and plan, the Fleet Edge, and it charges no transaction fees as long as your drivers stop at a partner site. The average fuel savings runs up to 15 centers per gallon off by staying with these partner sites.
Fleet managers can also use the card to source new and used trucks with discounts offered on top of gas and fuel. Add that to nationwide discounts on a variety of things, and you have a reliable option for your fleet.
The Downsides
Getting the card may take a while, depending on a variety of factors. It's backed by a factoring company, which means many truckers and fleet managers may not inherently trust the card itself. However, you don't have to take advantage of the factoring side to use the Fleet Edge card.
The card prioritizes larger fleets and may not have as much to offer truckers who are owner-operators. If you have only one truck, you'll get the fuel and maintenance discounts but may not take advantage of the other offerings enough to feel the benefit.
There's a fleet card out there with benefits and pricing tiers that more closely align with small business owners' needs, and we aren't sure this is it. While we won't dismiss it entirely, it does give us pause.
What Others Say
The Wex takeover offered a mixed bag of reviews with some welcoming Wex's generous network and others angry over changes in fee structures. The card doesn't have a lot of positive reviews online as a result.
Many reviews are a combination of the factoring side of the company and the card, not so much the card itself. Users expressed significant dissatisfaction with the helpfulness and timeliness of customer service and the trouble loading the card.
Many of these negative reviews aren't very recent, but still worth considering if you're a smaller owner-operator without fleet management to back you up. The reviews suggest that this card may not be the best decision for a small establishment.
Quick Look
Discounts of up to 15 cents per gallon at in-network centers
Maintenance and service discounts at TA Centers and Boss Shops
Fleet Management savings — hotels, repairs, truck purchases, and wireless service
Simple card loading
Streamlined plans with no hidden fees
No transaction fees at partner institutions
The Final Verdict
The Fleet One card is a good option for medium to larger operations able to take advantage of the full web of discounts and savings. The reviews are too negative to risk it for smaller operations, although a deep dive into the savings possibilities could be in order if you plan to grow.
Again, you don't have to take advantage of the other side of Fleet One's business to enjoy fuel and service discounts. The Wex acquisition expanded Fleet One's reach, and now the Edge card is accepted at thousands of centers, making it easier than ever to find a partner.
Overall, the card would be suitable for bigger fleets, and small operations might want to stay away. There are other fuel and fleet cards out there with benefits more closely aligned with small operators' wants and needs.