An EFS card stands for Electronic Funds Source, LLC. It's a card that provides a solution for trucking companies. Truckers need to charge various expenses on the road, such as fuel and scale fees. So, an EFS card is the solution along with EFS checks.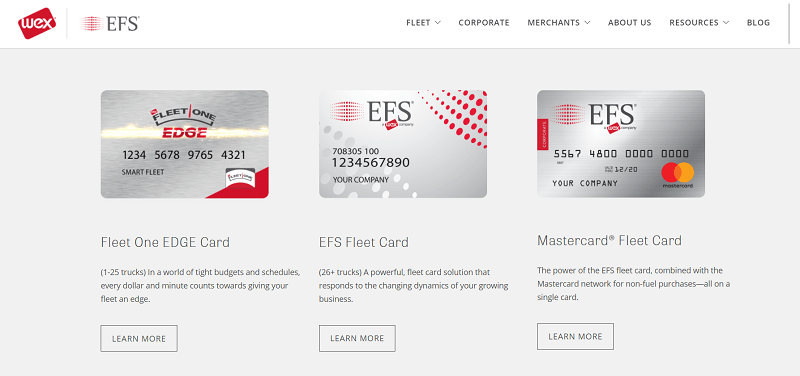 EFS cards are accepted at thousands of locations across the United States. Unlike a conventional credit card, the EFS allows the company to set purchase limits in real-time via the website. Also, data can be captured before authorizing a sale, and each card can be customized individually. 
Perhaps the best feature is you can save on the bottom line by taking advantage of pre-negotiated discounts by the card company. These savings come in the form of rebates and can be enjoyed at gas stations nationwide. However, the networks and accepted locations vary greatly.
Below, we'll look at the EFS fuel and fleet card providers.
Now we'll take a look at each EFS Fuel & Fleet Card provider individually. As you'll see, there are many differences, so choosing a card that best for your company takes some careful consideration.
Wex EFS Fleet Cards
According to the company, this card gives your business access to the largest fuel discount network available. The network includes 4,000 sites nationwide where you can pay later. Also, the card is accepted at over 12,000 truck stops.
As noted, the savings can average 15¢ a gallon. However, the discount doesn't come into play at all locations. Wex lists 2,200 sites that offer fuel discounts.
Customer service is available every day at all hours, and you get access to extra perks, including discounts on tires, wireless plans, and maintenance. Truckers may even get a discount at certain hotels, and you can carry a monthly balance, unlike some other EFS cards.
With numerous types of cards available, you can tailor your choice to the size of your flee. However, Wex, Inc. does not appear to be BBB accredited, and consumer feedback mentions challenges with customer service. 
Notable Features:
Large network nationwide
No annual fee
Potential highest savings depending on location
Carry a monthly balance
Numerous card types available
Comdata Fleet Card 
The Comdata Fleet Card is accepted at over 8,000 locations nationwide. Thus, it's one of the most widely known and accepted. At Pilot and Flying J gas stations, you can get cash price with an extra 10¢ off per gallon. 
Like the Wex card, Comdata has 24/7 customer service available for help. However, the company has an overall low review score via the BBB site, with most consumer complaints relating to customer service quality. The business is accredited, however, with an A+ BBB rating.
Perks include a savings of up to 65% on tires and retreads at over 3,000 locations. However, the card does come with setup and monthly fees.
Notable Features:
Widely accepted with 8,000 locations
Drivers can locate and plan their stops for the best prices
Great savings for tires
Real-time mobile card adjustments
Great savings at Pilot and Flying J
Fuelman Fleet Fuel Card 
Fuelman Fleet Fuel Cards give your business access to a vast network of over 50,000 stations nationwide and more with the Universal Card. Also, you can get discounts at up to 20,000 maintenance locations. Even so, these locations may not be as dense in the Northeast and other states. 
The savings for fuel varies by the card types, including the Mastercard-issued Universal Premium card. With these cards, you can use them nationwide, but savings are only available at select maintenance locations. However, there's a monthly fee that varies based on your plan.
Fuelman cards provide card activity reports and can help with tax filing with excise tax and IFTA standard reports. Unfortunately, there's not a much customer feedback to report on Fuelman; the business is also not accredited with the BBB.
Notable Features:
A vast network of stations are within the network
Discounts at a huge number of maintenance locations
Excellent activity reporting 
Help with tax filing and IFTA reporting
ExxonMobil Fleet Fuel Card
If your drivers use mostly Exxon stations, ExxonMobil Fleet Fuel Cards make sense. Drivers can save at over 11,000 Exxon stations. However, Exxon's Fleet National card issued by Wex can be used at 90% of gas stations. So, for drivers in areas where Exxon is less prevalent, you may opt for the National card.
When it comes to client feedback, ExxonMobil's reputation varies depending on location. BBB ratings range from A+ to F, and the business doesn't appear to be accredited.  
One of the best perks is there are no setup fees or monthly charges. And, saving go up the more gallons purchased, topping out at 6¢ per gallon.
Notable Features:
Cards limited to Exxon or most gas stations
Rebates highest at ExxonMobil stations
No monthly or membership fees 
East to use account management
BP Fuel Management Program Card
Like Exxon, there are two cards. The Business Solutions Plus Card is limited to 7,500 BP stations and is fee-free if you purchase at least 5,000 gallons each month. Next, the Business Solutions Universal Fuel Card by Mastercard unlocks access to 175,000 stations.
Like other EFS cards, you can secure purchases by requiring drivers to submit their driver ID and odometer reading. Any purchases made after hours are also monitored, and you have access to rewards on travel expenses.
One drawback is fuel rebates are limited to BP and Amoco stations. But, BP has provided a nice initial incentive with a 25¢ per gallon gas discount limited to the first 90 days. 
When it comes to customer feedback, TrustPilot reviews for BP are very low. However, not all reviews are for the Fuel Management card or customer service, so consumers should take them with a grain of salt.
Notable Features:
Cards with rebates limited to BP and Amoco stations 
Introductory offer can offer savings for a limited time
No fees if you purchase 5,000 gallons a month
Simple account management
Shell Fleet Plus Card
Like BP and Exxon, Shell's EFC Fuel Card offerings feature cards limited to Shell stations and JiffyLube for maintenance. Thus, you can choose the Shell Fleet Plus Card to get discounts at 14,000 Shell stations. Or, choose the Fleet Navigator Card, and you can stop at 95% of fueling stations.
As with the other cards, rebate savings go up the more gallons you buy, with a possible 6¢ per gallon if you buy 10,000 gallons in a month. However, if you choose the Navigator option, the savings are slightly lower at 5¢ per gallon.
One perk is the Shell card allows you to set spending limits depending on the driver's location. Unlike BP, you can find Shell stations with ease using the web app. Service may vary based on your location, however; reviews of most of Shell's gas stations are subpar. 
Notable Features:
Rebates are higher at Shell and JiffyLube stations 
Set spending limits based on driver location
No monthly or annual fees
Itemized purchase reports
Which EFS Fuel & Fleet Card is For You?
Before you decide which EFS Fuel & Fleet Card is for you, consider which fuel stations your company uses most often. Then, you can get the highest rebates by trying to fuel up at those locations. However, if you often drive far afield, a Nationwide card is probably a better option.
Also, consider the networks and where you will be most likely to take advantage of the card perks. After careful consideration, contact the card provider to find out more.